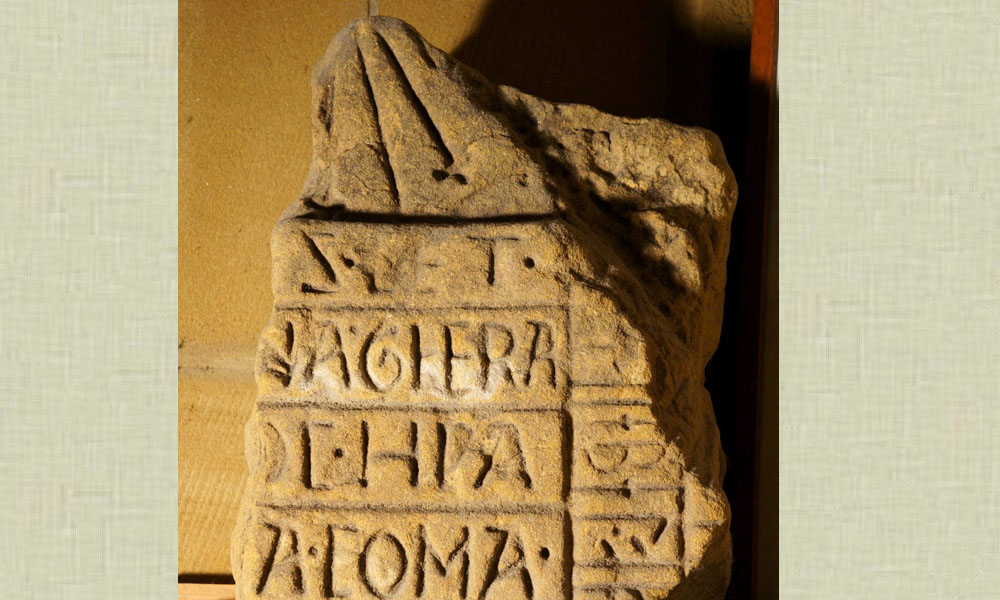 In the 1840's the piece of stone shown here was found in the old Churchyard, near the Castle, by a Mr T. M. Fallow.
It appears to be part of a sun-dial and must have come from the old Anglo-Saxon Church which was replaced in 1325.
[This second church was in turn replaced in 1785 by the present redundant Church.]
There are examples of Church sun dials in other parts of Britain and they usually follow the pattern of a semi-circle divided by radials spreading out from the gnomon at the top.
Beneath an inscription often gives credit to the Church builder.
One at Weaverthorpe in the East Riding of Yorkshire is in Latin.
Another is on St Gregory's Minster at Kirkdale, N Yorks, which is only about 40 miles from Skelton.
Some of the letters here are clearly similar to those on the Skelton fragment and the Old English, dated to the 10th Century can be read:-
The left and right panels say –
+ ORM GAMAL SVNA BOHTE S[AN]C[TV]S GREGORIUS MINSTER DONNE HIT WES TOBROCAN TOFALAN HE HIT LET
–Orm—Gamal's–son—-bought——-Saint———Gregorius'——Minster—-when—–it—-was-broken down and fallen—-and he had it
MACAN NEWAN FROM GRVNDE CR[IST]E S[AN]C[TV]S GREGORIVS IN EADWARD DAGVM C[Y]N[IN]G [I]N TOSTI DAGVM EORL
made——anew—-from the ground for Christ and—-Saint——–Gregory——-in——- King Edward's days——–and—–Earl Tostig's days.The words above the dial read –
+ + IS IS DÆGES SOLMERCA + ÆT ILCVM TIDE +
—-This is—the day's–sunmark——at—–each—time.

and below –
HAWAR ETH; ME WROHTE BRAND PR[E]S[BYTERI]
and Haward made me————and Brand the priest' .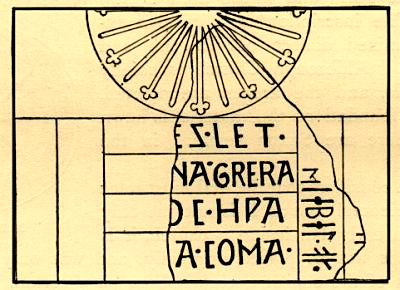 A work by Mrs Margaret Scott Gatty, 1809 – 1873 gives the following explanation of the Skelton stone:-
Part of the semicircle remains and 4 hour lines, two of which, viz., midday and 2 p.m are crossed.
Apparently the dial had been divided into twelve hour spaces.
Below these lines there are portions of 4 lines of an inscription in Old Norse or Danish, with part of a line of runes down the side.
"The runes", writes Bishop Browne, "I read as DIEBEL OK, which Mr Magnusson says is good Danish – of latish date – for 'devil and'.
He tells me that GRERA is part of the word 'to grow', and COMA is 'to come'. The words 'devil and' may well be a pious curse on creatures of that kind.
From the style of the inscription this stone appears to belong to the early part of the twelfth century."
Unless someone unearths other sections of the sun dial and a Jean Francois Champollion comes along, the meaning will remain unknown.
So, Skelton has its own undeciphered Rosetta stone.
---
Next Page 800 to 1066
Previous Page 410AD TO 800.
Contents Page