1660
CHARLES II
Restoration of the monarchy.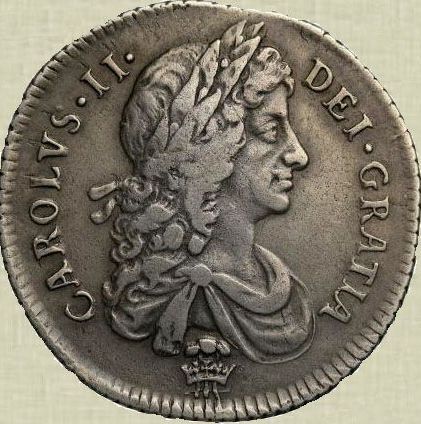 Charles II Shilling.
1662
DO NOT MOVE FROM YOUR HOME VILLAGE – THE ACT OF SETTLEMENT.
The Act attempted to prevent anyone from settling elsewhere than their place of birth.
Privileged people were excepted.
It was intended mainly to prevent paupers moving to be maintained by a Parish other than their own, as each Parish had to collect a Poor Rate to maintain their own.
Removal orders were made returning people to their own Parish right up to the 1840s and the start of the Workhouse.
Money was sent from one Parish to another to pay for the upkeep and funerals etc of paupers and chasing maintenance for bastards.
NEW PRIEST The priest, from this time until 1688, at Skelton All Saints Church was Christopher Thornton.
REGULARLY ATTEND TO YOUR LOCAL CHURCH – THE ACT OF UNIFORMITY.
This act prescribed the form of public prayers, administration of sacraments, and other rites of the Established Church of England.
and "for preventing mischiefs and dangers that may arise by certain persons called Quakers, and others refusing to take oaths."
The act declared it –
"altogether unlawful and contrary to the word of God" to refuse to take an oath, or to persuade another person to refuse to do so.
It further made it – "an offense for more than five persons, commonly called Quakers,to assemble in any place under pretense of joining in a religious worship not authorized by the laws of this realm."
HEARTH TAX.
To help raise over a million pounds for the Royal Household a Hearth Tax was imposed, whereby each household was compelled to pay 2 shillings per annum for every fireplace that they owned.
For a fuller explanation and a list of the Skelton payers see here.
1665.
THE GREAT PLAGUE OF LONDON.
During this year 100,000 citizens of London died from the Bubonic Plague.
People coming from there to the North Riding of Yorkshire were quarantined in their homes with their families for 40 days to guard against the spread of infection, by the order of the Justices.
Great Plague of London. 100,000 died.
EVERY COTTAGE MUST HAVE 4 ACRES LAND.
It was also ruled at this time that clergymen should not be charged on their revenues beyond the limit set by Act of Parliament, viz:
"every spiritual person shall pay to the King one yearely rent or pension of the tenth part of his living."
It was made a punishable offence to build a cottage without "laying four acres of land to it.".
In the days before State Benefits, people needed land to survive and often kept a family cow.
1666.
GREAT DROUGHT during August/September which contributed to the Great Fire of London in this year.
1670.
SKELTON LAD BOUND OVER FOR SOWING OATS.
October 3rd at Malton Quarter Sessions –
"That John Tooes of Skelton in Cleveland having been bound to appear at the Sessions to answere for alluring and entycing' mens wifes and on other complaints is to find good sureties for his good behavious and to appear at next Sessions".
1677.
SKELTON QUAKER HEAVILY FINED.
"Tobias Hoopes, of Skelton, was fined 20l [i.e. 20 pounds, an enormous amount in these times]
for suffereing a Meeting in his House, and 10 shillings for himself and wife being there;
for which Fines a Warrant of Distress was granted by Edward Trotter, Justice
[Squire of Skelton Castle],
by which his Goods were taken away to the Value of 23l. but sold by the Officers for 16l. 9shillings"
From "A Collection of the Sufferings of the People called Quakers" by Joseph Besse written in 1753.
1681.
CHURCH SILVER.
Among the plate held by Skelton church is a cup made by Marmaduke Best of York and inscribed:-
'the gift of Madame Jane Thwenge of Kilton to the Church of Brotton 1681'.
ALUM WORKS RE-OPENED.
The alum works at Selby Hagg, Skelton were re-opened by Edward Trotter and were worked until 1720.
MARY TROTTER MURAL MONUMENT.
On a mural monument in Egglescliffe church, Yarm:-
"Here lyeth the body of Mary y pious and most patient and dearly loving and the dearly beloved wife of Edward Trotter late of Skelton Castle in Cleveland, now of Aslaby in this Parish.
She had issue 3 Sons and 11 Daughters, of whom she was a careful and indulgent mother, & left this life for a better in y 46th year of her age, on the 17th Nove' in y year of our Lord 1681″

STOCKS ON THE VILLAGE GREEN BY ORDER.
It was an indictable offence for any village in the North Riding not to have the stocks and a "cucking stool".
The latter has been confused with a "ducking stool" and may have been used for this purpose in some parts.
A 1906 Skelton Parish Magazine states that the stocks stood on Cross Green, Skelton "within living memory".
Like the stocks the cucking stool was a form of punishment by humiliation.
Victims were fastened in it where they could be seen and derided in various ways for "going to the toilet" in public. Apparently the name comes from the old Norse word "cucken", meaning to defecate and some Northerners still use the word "cack" in this way.
1683.
ICE AGE RETURNS – The ice held from November this year to the February of the next. A sheep was roasted on the frozen River Tees, according to folklore.
1685.
JAMES II.
Death of Charles II and accession of his brother James II.
1687.
QUAKERS –
Tobias Hoopes of Skelton is one of four leading Quakers of the area who buy a room in a house in Westgate, Guisborough for a meeting place.
\\\\\\
George Fox, the founder of the Quakers, visited Cleveland in 1651 and prior to the Act of Toleration of 1689 the Quakers were forced to meet in secret in private houses.
1688.
WILLIAM AND MARY.
Flight of James II and accession of William and Mary.
William III and Mary.
TWO SKELTON PRIESTS IN TWO YEARS.
The priest at Skelton Church for just this year was John Chisholme.
1689.
NEW PARSON – The new priest at Skelton Church from this year until 1727 was Matthew Waters.
THE FORGOTTEN QUAKER CEMETERY.
Quaker Cemetery as shown on the map for 1894.
Skelton's Quaker Cemetery as it appears today.
Marked only by 4 oak trees, but overgrown with weeds.
The above entries in the Quaker records show that the Skelton Quaker Cemetery was known as the "Tobias Hoope's burial place".
Scan from documents held by the Mormon Library, kindly contributed by Margararet Long of Maryland, USA.
The paved track over the moors from Charltons to Commondale is called the 'Quakers Trod' and people from local villages are said to have walked to Commondale for illegal meetings. This may well be so, but it is also recognised as an ancient trackway, used by people for centuries and possibly dating back to the times when bronze age people took their dead up to their Sun god to cremate and bury in a pile of stones.
The Quaker Cemetery at Skelton is mentioned in this year.
[Researching Yorkshire Quaker History by Helen E Roberts.]
It was located on the New Skelton, Claphow road about 200 yards past Trout Hall Farm and on the opposite side going towards Lingdale.
The Quaker Hoopes family are mentioned in Deeds connected with nearby East Pastures Farm and it is more than likely that they owned the field where the burials were made, which is closest to Wet Furrows Farm. The cemetery was referred to in Quaker records as the –
"Tobias Hoopes buriing or buryall place".
Today there is no evidence above ground that a cemetery ever existed, but four large oak trees grow at the spot.
It is not known whether there was a Quaker meeting house in Skelton and it is possible that services were held in the field.
There is no evidence of any tombstones, which were were not allowed until the nineteenth Century.
We know from Quaker records that Tobias Hoopes was buried there on the 18th June 1720 and his wife Phily Hoopes in 1707.
Also their son, John Hoopes in 1742 and his wife Abigail in 1732. Also their son Onesiphorus Hoopes was buried there on the 13th February 1777.
It was more than just a family cemetery, though.
Other known burials there are:-
1716 Thomas Duck of Glaphowdale.
July 1719 John Duck.
1727 Richard Jowry ?.
1730 Margaret Natris.
1732 Mary Stamper of Guisborough.
1732 Joseph Wilson, son of Joseph and Sarah Wilson of Sadler Hill.
1736 Rachel Barker, wife of John Barker, of near Guisborough.
1737 Hannah Wilson of Guisborough.
1739 Sarah Duck of Skelton.
[Details from the Mormon Library, USA.]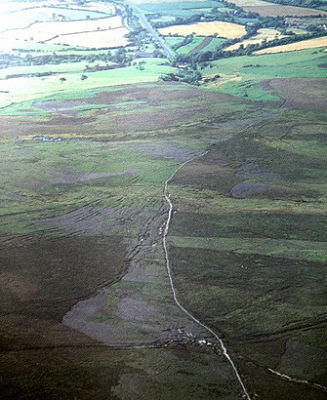 The Quakers' Trod
It is a disgrace to our area that this piece of land which was sacred to the Quakers and where their ancestors lie, is so neglected and not marked in a significant way.
1691.
16 April –
SKELTON CONSTABLE CHARGED WITH NEGLECT –
Bill of indictment of Robert 'Lynus', late of Skelton, for neglecting his duties as Constable of Skelton.
1693.
ORDERS TO CHIEF CONSTABLES REGARDING VAGRANTS.
The Quarter Sessions for the North Riding sitting at Richmond –
1. The Constable to give notice to all housekeepers in his Constabulary, not to relieve vagrants begging out of their parish, but to take or report them to him for punishment.
2. The Constable to give notice to all poor in his Constabulary not to wander or beg out of their parish under pain of punishment.
3. The Constable to give notice to the Overseers of the Poor to see that their impotent and aged poor are relieved, and that there is sufficient stock of flax, hemp, wool, etc., for setting to work such as can work but cannot find employment.
4. The Constable to set watch to apprehend vagrants, beggars, etc for punishment, and to turn back suspected persons or see them pass through the town without begging or unreasonably staying.
5. The Constable to render an account, when required, to the nearest Justice of the Peace of offenders apprehended and punished and the Overseers of the Poor to meet monthly to consider providing for their own poor.
6. The Constable shall take all begging vagrants to the Justice of the Peace for punishment, or shall have them whipped and sent by testimonial under his own hand and seal wth those of the Minister of the parish, to the place of their birth or last legal settlement, testifying the time and place when and where last punished, the destination, and the time allowed for the journey.
7. That distressed seamen, soldiers, and labourers going to work and others having testimonials or passports to travel, are not to be disturbed or punished in a reasonable time providing they are of good behaviour.
8. Constables neglecting their duties, or not setting up stocks or whipping posts sufficient for these uses, are to be fined according to the severity the law.
THE VILLAGE CONSTABLE'S OATH.-
1. Swear to serve the Monarch.
2. See that his Majesty's Peace is well kept.
3. Arrest armed offenders and commit Felons, Rogues, Vagabonds, Strowlers, Scouts, Thieves, Night-Walkers, Idle persons, Tipplers and Gamblers.
4. Levy 'Hue and Cry' and pursue until taken.
5. Make best endeavour that Watch and Ward be kept.
6. 'Hue and Cry' be raised against murderers, thieves and other felons.
7. The laws against rogues and vagabonds and idle persons be duly executed.
8. A watchful eye to be kept on innkeepers and frequenters thereof.
9. Restrain inordinate haunting and tippling in same.
10. Make a presentment of all concerned in bloodshedding affrays and outcries.
11. Once a year at Quarter Sessions present all Popish Recusants and their children above nine years old and also their servants, (those who absented themselves from the Services in the Parish Church).
12. Execute well and truly all warrants from J.P's against unlawful providing of provisions.
13. Cause all persons to meet to serve in corn and hay harvests.
14. In Easter Week see to the parishioners mending the highways.
Next Page 1693 to 1713.
Previous Page – 1642 TO 1660.
Contents Page.