ABLE BODIED MEN TO OPPOSE NAPOLEON
schedule to oppose Napoleon's threatened invasion is continued from the previous page.
1 Gamekeeper:- Frank Thomas who had 1 draught horse and 2 loads of hay.
1 Churchman:- The parson's son John Duck.
1 Woodman:- William Bean.
1 Innkeeper:- Moses Harrison who had 1 cow, 1 riding horse, 1 cart, 12 loads of hay and presumably ran the Royal George.
1 Butcher:- Robert Johnson [junior] who had 1 cow and 6 loads of hay
1 'Breadbaker':-John Allan who had one oven and can bake 4 quarters of bread in 24 hours.
1 Clogger:-John Metcalf.
1 Wool Comber:- John Briggs.
2 'Yeomen':-James Cole who had Had 9 cows, 8 calves, 10 sheep, 4 pigs, 1 riding horse, 2 draught horses, 2 carts, 20 q of wheat, 30 of oats, and 15 loads of hay.
Robert Gill who had 8 cows, 10 calves 20 sheep, 8 pigs, 1 riding horse, 4 draught horses, 1 wagon, 2 carts, 20 q of wheat, 40 of oats, 10 of barley, 3 of beans, 25 loads of hay and 6 sacks of potatoes.
1 Glazier:- James Gowland who had one riding horse and 2 loads of hay.
There were 8 infirm men and 250 people below the age of 15.
Females owning stock were:-
Jane Robinson 2 cows, 4 loads of hay;
Mary Wood 1 cow, 10 pigs, 1 riding horse, 1 draught horse, 1 corn mill, 6 q of corn, 6 loads of hay;
Elizabeth Green 1 cow, 4 hay; Hannah Richardson 2 cows 4 hay;
Mary Castley 3 cows, 2 pigs, 1 half wheat, 2 half oats, 3 hay, 2 straw; Jane Hutton 1 cow 2 hay; Margaret McNaughton 1 draught horse, 2 hay;
Elizabeth Dixon, 1 cow, 2 hay.
Skelton's total possessions were:-
234 cows, 299 calves/foals, 516 sheep, 298 pigs, 26 riding horses, 110 draught horses, 3 wagons, 82 carts, 1 corn mill that can grind 16 q of corn in a week, 2 ovens that can bake 10 q of bread in 24 hours, 443 qu of wheat, 740 oats, 47 barley, 96 beans, 800 loads of hay, 716 of straw, 400 sacks of potatoes.
16 pioneers, 4 felling axes, 10 pick axes, 30 spades, 20 shovels, 12 bill hooks, 14 saws, 24 servants with cattle, 20 servants with teams and 6 guides.
1802

JOHN WHARTON M.P won the election in Beverley.
The third placed candidate, Morritt of Rokeby Park claimed that he was beaten by a combination of "bribery and mobbing".
5th July –
NOT MY BASTARD.
Robert Ward gave notice to the Churchwardens and Overseers of the Poor of Skelton that he would appeal at the next Sessions against the Affiliation Order, relating to the bastard child of Mary Harrison of Skelton, singlewoman.
Mothers of bastards were compelled to name the father of their child in order to prevent the maintenance of it falling on the local Parish. The named father was brought to Court and at this time ordered to pay the mother around 2 shillings per week.
1803

LOCAL VOLUNTEERS FORMED.
Local volunteer associations were formed and remained in being until 1813.
SKELTON VOLUNTEERS.
Ableson
Appleton
Appleton
Baker
Beadnall
Bean
Briggs
Brown
Brown
Brown
Bulmer
Bunton
Calvert
Carter
Child
Craddock
Crusher
Cuthbert
Dawson
Dillowfield
Dowson
Dunn
Edon
Ellerby
Elliott
Elwick
Farqueson
Fidler
Frank
Gowland
Gowland
Hall
Harrison
Harrison
Harrison
Headley
Hutton
Hutton
Hutton
Jackson
Johnson
Johnson
Jolley
Jolley
Knaggs
Knaggs
Lattimer
Lawson
Lowe
Lynas
Marley
Marshall
Marshall
Marshall
Marshall
McNaughton
Metcalf
Milburn
Mills
Oxley
Page
Peart
Porritt
Pybus
Pybus
Readman
Rickaby
Rigg
Rigg
Robinson
Robinson
Robinson
Robson
Rotherford
Sanderson
Seaton
Seaton
Sharpe
Smith
Sowerby
Stephenson
Stephenson
Stephenson
Stonehouse
Story
Swales
Tate
Thompson
Thompson
Turner
Ward
Ward
Ward
Webster
Webster
Welfoot
White
Wiley
Wilkinson
Wilkinson
Wilkinson
William
Wilson
Wilson
Wilton
Wilton
Wood
Wood
Wren
Wren
Wright
Young
Stephen
William
John
John
Thomas
William
John
Thomas
John
Eliazor
William
William
Robert
Thomas
William Jun
Christopher
James
John
George
Philip
Thomas
John
James
William
George
Thomas
John
John
Thomas
George
James
John
Moses
James
Francis
Thomas
Isaac
Duncan
John
Joseph
Matthew
Robert
John
Robert
Hill
Thompson
Davis
William
Thomas
Ralph
Robert
Andrew
Ralph
Solomon
Joseph
Duncan
John
Christopher
Thomas
John
Thomas
John
William
Robert
John
John
William
John
Richard
John
Joseph
Thomas
Ralph
John
John
William
Jonathan
John
William
John
William Jun
Anthony
Andrew
Roger
George
William
Peter
Joseph
William
John
John
Robert Senior
Robert Jun
Richard
George
William
Thomas
Ralph
Robert, Weaver
Isaac
John
Robinson
Jonathan
Marmaduke Jun
Robert
Andrew
Abraham
William
John
William
John
William
JOHN ANDREW, THE SMUGGLER. [see Skelton Stories page 106] was commissioned as an Ensign in the Cleveland Volunteer Force. The Commander was Colonel Dundas.
Andrew was rapidly promoted, probably due to the fact that he could supply the establishment of the day with goods that were cheap, if illicit, and some that were otherwise unobtainable, as due to the war with France, trade with that country was forbidden.
The gentry no doubt financed much of the smuggling activities, while keeping their own hands clean.
Spirits, tea, coffee, tobacco, lace, silk were among many commodities subject to excise duty at that time to raise money for the war with France.
1804
10th February –
POOR SKELTON WOMAN BEGGING AT UPLEATHAM.
Settlement examinations of Elizabeth Judson.
She says that she was born at Skelton and is legally settled at Guisborough.
She works at hay and harvest work in the summer and spins in the winter.
John Marr stated that on the 1st February he saw her begging in the township of Upleatham.
The Poor Law demanded that unemployed beggars, vagrants, were returned to their Parish of their birth to avoid becoming a charge on any other Parish.
1805
TRAFALGAR Admiral Horatio Nelson defeated the French fleet at the Battle of Trafalgar, removing the threat of invasion.
1806
JOHN WHARTON M.P. again won the election in Beverley.
The second placed candidate, Burton, angered by his defeat blamed Wharton and fought a bloodless duel with him.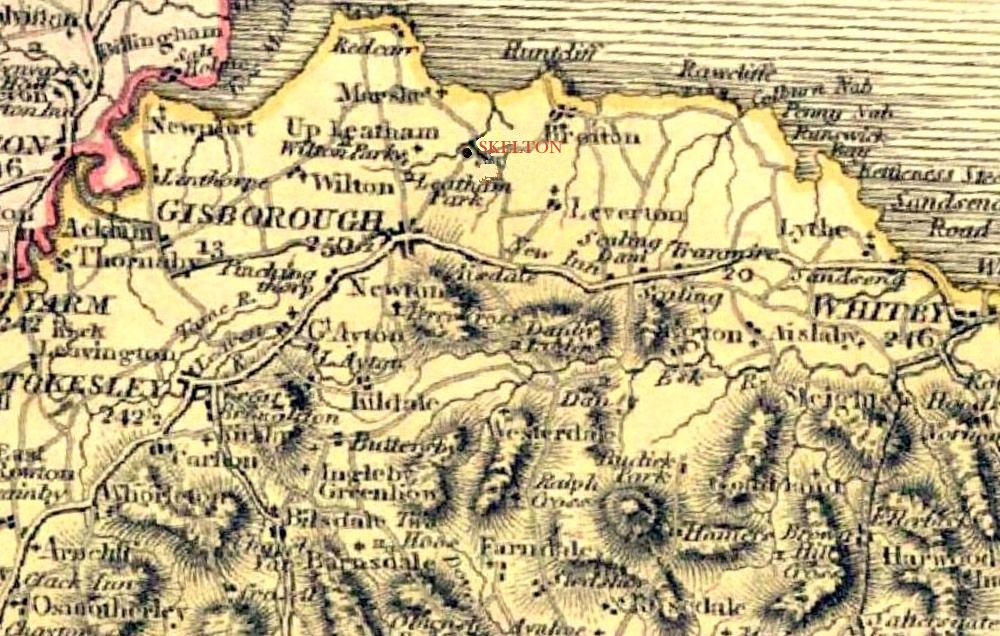 1807
JOHN WHARTON M.P. was returned to Parliament for Beverley in second place. The third placed candidate petitioned for bribery but was unsuccessful.
It is known that the first placed candidate, Vyse, had paid all but 78 of those that voted for him at the rate of "£3 8s for a plumper and £1 14s for a split vote".
1808
1st April –
ALL SKELTON INHABITANTS ARE CHARGED WITH BEING A 'NUISANCE'
The Poor Law had made each Church Parish responsible for many things, including the maintenance of local roads.
At this time a charge was brought:-
'for not repairing the bridge over Skelton Ellers Brook called Upleatham Bridge, being 20 feet in length and 12 feet in breadth, half in the township of Skelton and half in the township of Upleatham, on the highway from Upleatham to Guisborough.
3rd January –
GOOSE PINCHER – John Marr, a miller of Tocketts Mill was indicted to appear at the next Quarter Sessions charged with stealing 2 geese from Peter Tait [probably Tate] of the Parish of Skelton.
1811
CENSUS – The census of this year estimated the national population at 10.2 million.
1812
JOHN WHARTON M.P – again returned as MP for Beverley.
PARISH REGISTERS – Specially printed books were issued to all Parishes so that the Registration of Baptisms, Marriages and Burials could be kept separately. Much the same format continues to the present day.
1813
FIRST METHODIST CHAPEL – Building of the Wesleyan chapel, Green Rd.
THE ENCLOSURE ACTS were passed in Parliament, by which much common and waste land was fenced off and brought into use, although it was some years before all its provisions were completed.
'Whereas there are within the manor of Skelton in Cleveland in the County of York diverse moors, commons and waste grounds, containing 6000 acres, or thereabouts, called the High Moor, Low Moor, Boosbeck, Manless Green and Town Green……and whereas the open and unenclosed grounds in the said Manor are in their present state incapable of any considerable improvement'
The 'open field' system was inefficient and the land was divided up by hedge and dry stone walls into continuous areas.
Most of the 'common'grazing land was also brought into cultivation and apportioned to individual owners.
Many local farms date from just after this time and new roads and tracks developed to service the new system.
1814
SCHOOL BUILT in Skelton at a cost of £100, which was raised by subscription.
Mawer's endowment [see 1793] paid for some 'free' pupils and the rest paid 3d for reading, 4d for reading and writing and 6d for the full three R's
Next Page – 1813 TO 1823.
Previous Page – 1801 TO 1801.
Contents Page.