1868
18th August –
DAMAGE TO FIELD.
Timothy Wilkinson of Skelton, a Miner, was convicted at Guisborough court, for wilfully damaging a seed field belonging to John Thomas Wharton esquire and occupied by William Wood of Trouthall Farm, Skelton.
4th September –
HALFPENNY BRIDGE STARTED.
Middlesbrough News and Cleveland Advertiser:-
"On Monday the foundation stone of the bridge, which is being built across the glen by Mr J T Wharton esq. of Skelton Castle, was laid by Mr Wilman, the Engineer in charge.
The spot selected for the site is a little south of Balmoral Terrace,close beside the entrance to the path leading down to the wood.
The bridge will be a handsome structure, mainly of iron, and is being erected by Messers Hopkins, Gilkes and Company Limited.
The cost will be £7,500 and it is expected that the bridge will be ready for traffic next year.
It is understood that Mr Wharton's object in the construction of the bridge is the bringing into use a large tract of building land on the east side of the glen; and, therefore, a considerable increase in the rising little town may soon be looked for."
This latter expansion never materialised and the bridge, apart from saving the local populace a long and circuitous trip across the valley of Skelton Beck, turned out to be something of a white elephant.
17th October –
DAYLIGHT POACHER CAUGHT.
Thomas Waite of Skelton, a Miner, was convicted at Guisborough Court for trespassing in the daytime in search or pursuit of game on land belonging to John Thomas Wharton esquire and occupied by Robert Wilkinson.
28th October –
POACHING RIFE.
Robert Garbutt of Skelton, a Miner, for trespassing in the daytime in search or pursuit of game on land belonging to and occupied by John Thomas Wharton esquire. Offence committed at the township of Kilton.
5th December –
MINERS DRUNK AND RIOTOUS.
Richard Calvert and Walter Baxter of Skelton, both Miners, were convicted for being drunk and riotous in the street.
29th December –
BUTCHER'S LOOSE HORSE.
Jonathan Whitlock, a Butcher of Saltburn by Sea was convicted for allowing his horse to stray on the highway at Skelton.
30th May –
SKELTON SHAFT MINE – MEN SEVERELY INJURED.
On Wednesday an accident occurred at the Shaft, Skelton Mines to two men, Thomas Thompson of Guisborough and Joseph Winter of Skelton.
They were engaged in removing the centre pieces from a newly erected powder magazine, when the top fell in upon them cutting and bruising them severely. They are recovering.
16th September –
DEATH OF JOHN VAUGHAN.
Aged 69, ironmaster and the discoverer of workable ironstone in East Cleveland.
He left half a million to his only son, Thomas Vaughan, a massive fortune in those days. �3,000 per annum to his widow and besides this the estate and mansion of Gunnergate, Cleveland Lodge and other properties.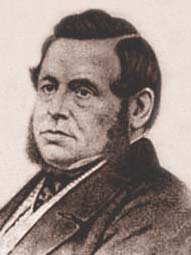 SKELTON MADE A RECTORY.
Brotton constituted as a distinct parish. The Skelton curate's 'living' was £570 per year.
SKELTON CASTLE STARTS TO MAKE A FORTUNE OUT OF MINING ROYALTIES.
Mr John Thomas Wharton of Skelton Castle leased land between Waterfall Farm and Skelton side of Airy Hill to Bell Bros for iron stone Mining at 6d per 22 and a half hundredweight.
Skelton Shaft and Park Mines would go on to produce thousands of tons right up to 1938 and it was said later that as other Nations, notably Germany, entered the market, the percentage taken by the landed gentry made British iron and steel production less competitive.
When it was harder to sell the product, the people who really suffered were the Miners at the bottom, who had their pay cut or were put out of work in an age of no National Welfare.
FREE TRIPS TO AUSTRALIA ENDED.
The transportation of criminals to the Colonies was ended.
At the local Quarter Sessions and the York Assizes, this had been a common sentence for some of those charged with offences that were considered serious at the time.
1869
RUSHPOOL HALL BUILT.
Rushpool Hall was erected for John Bell of the Bell brothers, who owned Skelton Shaft Mine.
It was built with blocks of ironstone taken from the mine, which gives its red appearance.
INCOME TAX – A 'TANNER' IN THE POUND.
Income tax was sixpence in the pound or 2.5%.
16th February –
SKELTON FLASHER CONVICTED.
William Sutcliff was convicted for obscenely exposing his person in a public highway at Skelton with intent to insult a female.
19th Feb –
CHURCH ORGANIST AND MUSIC TEACHER BANKRUPT.
Robert Bell, of Skelton, near Marske-by-the-Sea, in the county of York, late Musician and Musical Instrument Dealer, and now a Musician, having been adjudged bankrupt under a Petition for adjudication of Bankruptcy, filed in the County Court of Yorkshire, holden at York on the llth day of January, 1869, which petition has now been transferred to the County Court of Yorkshire. holden at Stokesley, a public sitting, for the said bankrupt to pass his Last Examination, and make application for his Discharge, will be held at the said Court at Stokesley aforesaid, on the 19th day of February instant, at eleven o'clock in the forenoon precisely…
24th March –
DRUNKEN HAWKER.
William Smith, a Hawker of Skelton, was convicted for being drunk and riotous in the Skelton streets. Case heard at Guisborough.
27th April –
DRUNKEN MINERS.
Henry Taylor, a Miner of Skelton was convicted for being drunk and riotous in Skelton.
John Frankland, a Guisborough Miner was convicted of the same on 16th June.
11th May –
QUARTER SESSIONS FOR STEALING 18 PENCE.
Henry Taylor of Skelton was charged to appear at the next Quarter Sessions for stealing 1s 6d from the person of John Thompson of Skelton.
Recognizance was made by George Morgan, Noah House, Landlord of the Royal George, for Harriet wife of Thomas Clark of Guisborough and Robert Haw, Policeman, all of Skelton, for their appearance at the next Quarter Sessions to give evidence in the case against Henry Taylor.
DRUNK AND RIOTOUS.
William Mitchinson and William Ayers, both Miners of Skelton, were convicted for being drunk and riotous in the street at Skelton 12th June.
John Smith, a Skelton Hawker, same offence on the 13th July.
John Buckstone, same offence on the 24th August.
James Layton, a Brewer of Middlesbrough, same offence at Skelton on the 31st August.
George Smoker, a Skelton Miner, same offence on 28th November.
22nd June –
FARM WIFE AND SHOEMAKER ASSAULTED.
Jane Gowland of Skelton was charged with assaulting Hannah wife of William Knaggs of Skelton, Farmer.
John Puckrin of Skelton, a Shaft Sinker, was convicted of assaulting John Knaggs, a Shoemaker of Skelton.
Maria Knaggs, a singlewoman of Skelton was convicted of assaulting Jane Gowland, a singlewoman of Skelton.
13th July –
FARMER'S DOOR DAMAGED.
Jane Gowland was convicted of damaging a door, the property of William Knaggs, a farmer of Skelton.
31st August- conviction of John Nesbitt of Saltburn, Labourer, for assaulting Edward Hodges of Saltburn, Contractor. Offence committed at Skelton and case heard at Guisborough.
2nd November –
INNKEEPER ASSAULTED.
Timothy McCarthy, a Labourer of Skelton was convicted of assaulting John Temple, an Innkeeper of Saltburn.
16th November –
SKELTON BLACKSMITH AND MINER'S WIFE DAMAGED DOORS.
William Dawson, a Blacksmith of Skelton, was convicted for maliciously damaging the front door of the dwelling house occupied by William Riley, and also damaging a cloth waistcoat, the property of the said William Riley. Offence committed at Skelton.
Ellen, the wife of George Cook of Skelton, a Miner, was convicted for maliciously damaging the front door of a dwelling house occupied by James Bower of Skelton Labourer.
Pall Mall Gazette
Wednesday, 7th April 1869.
FRIGHTFUL ACCIDENT – THREE MEN KILLED.
The Leeds Mercury reports that yesterday afternoon a shocking accident happened at Saltburn-by-the-Sea, causing the death of three workmen, through the falling off a bridge.
Messrs Hopkins, Gilkes, and Co., of Middlesbro' are building an iron bridge of 700 feet in length across the famous glen, along which the Skelton beck runs at Saltburn-by-the-Sea, for Mr. J. T. Wharton of Skelton Castle.
The work has been in hand some time and the whole of the piers, eight in number, which consist of cast-iron columns, were finished some time ago, and four of the girders, which are about 85 feet in length, are fixed, and the flooring completed.
Yesterday a strong force of workmen were employed fixing a pair of girders upon two of the piers, which are eight tiers in height, reaching 130 feet from the ground.
Everything appeared to be progressing favourably, when suddenly one of the girders, from some as yet unexplained cause, slipped from its holding upon the pier, swung to and fro, and then struck against the other pier, smashing the two girders and one of the piers absulutely into scrap iron.
Upon the pier which was broken there were three workmen employed.
One of them, seeing the impending danger whilst the girder was swinging in mid air, jumped to the ground, a distance of some 130 feet, but was overtaken by the falling girders and killed upon the spot.
The other two men remained at their dangerous posts, and one of them was killed instantaneously.
The other was fearfully injured, in fact he had to be literally "jacked" out from underneath the debris.
The bodies were a sad mangled sight, one man having his head literally smashed to atoms.
The man who breathed a few minutes had both his legs broken.
The names of the deceased are George Simpson, James Denny (Foreman), and James Miles.
HALFPENNY BRIDGE COMPLETED.
Pedestrians paid one halfpenny to cross, with other tolls rising to sixpence for horse-drawn carriages.
Only three workmen were killed in the course of its construction. See above.
There were many other suicide cases during its existence, who, the old sick joke said, paid only a farthing to jump off halfway.
See page 1886-89 for a copy of Toll Book and page 1909 to 1910 for the Bridge Keeper.
The bridge stood for 105 years and was finally demolished in December 1974, but it had long been considered unsafe and closed to vehicle traffic.
Next Page – 1870.
Previous Page – 1865 TO 1867.
Contents Page.