1736
REWARDS FOR TAKING VAGRANTS. –
The Quarter Sessions for the North Riding sitting at Thirsk ordered:
'For the future the several Justices of this Riding do allow to every respective Constable for the conveying of each vagrant to House of Correction,
or in passing him as ordered by any Justice or Justices from time to time,
after the rate of 3d a mile per head, and 6d a night, in case the vagrant be kept all night, towards maintenance, and that every Constable for his encouragement to take up vagrants shall be allowed 1s for each vagrant he brings before any Justice who shall be corrected for vagrancy.
It was furthered ordered that carriers, who had been charging excessive rates, could ask no more than 2s per stone for carriage goods from London to the N Riding and no more than 4d per stone for goods from York to local towns, with a £5 penalty for breach of the order.
1739
SEVERE WINTER. – Winter into 1740 was long and severe. Rivers iced up with damage to shipping.
1740
MARRIAGE OF JOHN HALL.
John Hall of Skelton Castle married Ann Stevenson, the daughter of Ambrose Stevenson of Lanchester, Co Durham.
Ann's dowry was £25,000. [£2.4 million at 2002 values].
John Hall added Stevenson to his own name.
Laurence Sterne, who had become vicar of Coxwold, officiated at the ceremony.
Hall-Stevenson, clearly spoilt by privilege, later bemoaned this marriage in a letter to his son:-
These advantages [of going up to Jesus College, Cambridge and meeting influential people] were lost to me and blasted by premature marriage ;the scantiness of my fortune forced me to vegetate in the country, and precluded me from every laudable pursuit suggested by ambition."
31st March –
INDENTURE between (1) Cuthbert Hoggett, late of Brotton, now of Skelton in Cleveland, weaver, (2) John Langstaffe of Marske in Cleveland, clerk, and John Scarth of Wilton in Cleveland, yeoman, and (3) Mary Barker of Marske aforesaid, single woman, concerning a tenement in Brotton and parcels of land in Brotton and Skelton.
Witnesses: William Wilkinson, yeoman, and George Wilkinson, blacksmith, both of Skelton, George Havelock of Gisborough, joiner."
1744
ROGUES, VAGABONDS AND OTHER IDLE AND DISORDERLY PERSONS ACT. –
prescribed punishment of up to one month in the "House of Correction" for those who abandoned their wives and children to the support of the Parish, lived idly and refused work or begged alms.
A reward of five shillings could be paid to any person apprehending an offender.
The Act also prescribed punishments for confidence tricksters and other deceivers.
The justices were empowered to impress incorrigible rogues into naval or military service.
1745
THE JACOBITE REBELLION.
The grandson of James II, "Bonnie Prince Charlie", came over from France, where the Stuarts had been in exile since 1688.
He raised an Army of some 5,000 men in Scotland, defeated a smaller English force at Prestonpans and advanced into England with the intention of taking back the throne.
On the 4th December they reached as far as Derby and there was panic in London.
News of a large English army heading towards them caused a retreat.
The "rebels" won a skirmish at Falkirk, but continued to fall back.
Finally on the 4th April, the English, led by the King's son, the Duke of Cumberland, "Butcher Cumberland", came upon them at Culloden, near Inverness. The Prince fled "like a bird on the wing, over the sea to Skye" and back to France.
There were many recriminations against his supporters.
One of these was Lawson Trotter, who had inherited Skelton Castle and sold it in 1727 to his sister's husband.
He too made a tactful emigration to France, probably never to return, for he was still there in 1765, when there is a record of him carousing in Paris with Laurence Sterne, the author and great friend of Lawson's nephew, John Hall-Stevenson.

GROWTH OF SMUGGLING.
As a result of the government's imposition of Customs and Excise duties on drink, tobacco and a variety of other goods, the smuggling trade grew more and more profitable and the running of contraband from coastal inlets to local villages continued for the next 70 years.
1746
24th February –
THE WILL OF WILLIAM EMMERSON OF HOLLYBUSH FARM, SKELTON.
The Emmerson family figure often in Skelton village history, especially in the later Victorian times when Stephen Emmerson was known as the "Miners' Friend".
The Wills of Thomas Em[m]erson, 1524, Philip Emmerson, 1583 and William E Emmerson, 1633 are on the webpages for the respective dates.
William Emmerson, of Skelton, County of York, Yeoman [farmer with own land], 24 Feb 1748. [XCI, 249.]
To be buried at discretion of the executors.
To eldest son, Stephen Emmerson, at 21, that part of my land called Windells or Wandell Banks [presumably Wand Hill, where the present industrial estate is located]
And that part called Fowfells, [Hollybush Farm was called Faughfield House on later maps] which was lately exchanged of Mr Hall [John Hall-Stevenson of Skelton Castle] he paying my wife, Jane Emmerson, £10 a year for her life, or if she marry again, £7 a year.
To Wife, my household furniture.
To Son, william Emmerson, at 21, my house, garth and orchard, except the parloour, which my wife is to have her life or widowhood, he paying thereout to my son, John Emmerson, £20.
To Daughters, Elizabeth, Jane, Ann, Margaret and Mary, £50 each at 21.
To youngest son, John, £50 at 21.
All these to be paid out of that part of my land called Hankill and Kirkflats and Breekonhead and Aliser ffowfels to be sold. [location of land not identified].
Land called Laylands [present day New Skelton to Layland Housing Estate] and all my personal estate to my brother in law, John Wilson and my own brother, George Emmerson, upon trust to sell and pay my debts and divide the surplus amongst my daughters and my youngest son.
The said John wilson and George Emmerson to be guardians for all these my children till of age and to be Executors.
Witnesses – Philip Emerson, George Slates, Peter Cartwright.
Proved at York, 26 May 1747.
Inventory of all and Singular the goods and chattels of Wm Emerson late of Skelton in the County of York. Yeoman, deceased. Total value = £106:1s:0d
Uxor (wife) purse and apparel
Also eight cows valued at
Also three heifers valued at
Also two steers valued at
Also Five two year olds valued at
Also two one year old stirks at
Also two horses valued at
Also sixteen sheep valued at
Also six acres of winter corn valued at
Also twelve acres of ware corn valued at
Also all the husbandry gear valued at
£4:0:0
£32:0:0
£9:0:0
£6:5:0
£8:5:0
£2:0:0
£11:11:0
£7:0:0
£12:0:0
£12:0:0
£2:0:0
Image and research kindly contributed by Josie Bland of Skelton, who is a descendant of the Emmersons.
SKELTON CHURCHWARDENS' ACCOUNTS FOR 1746.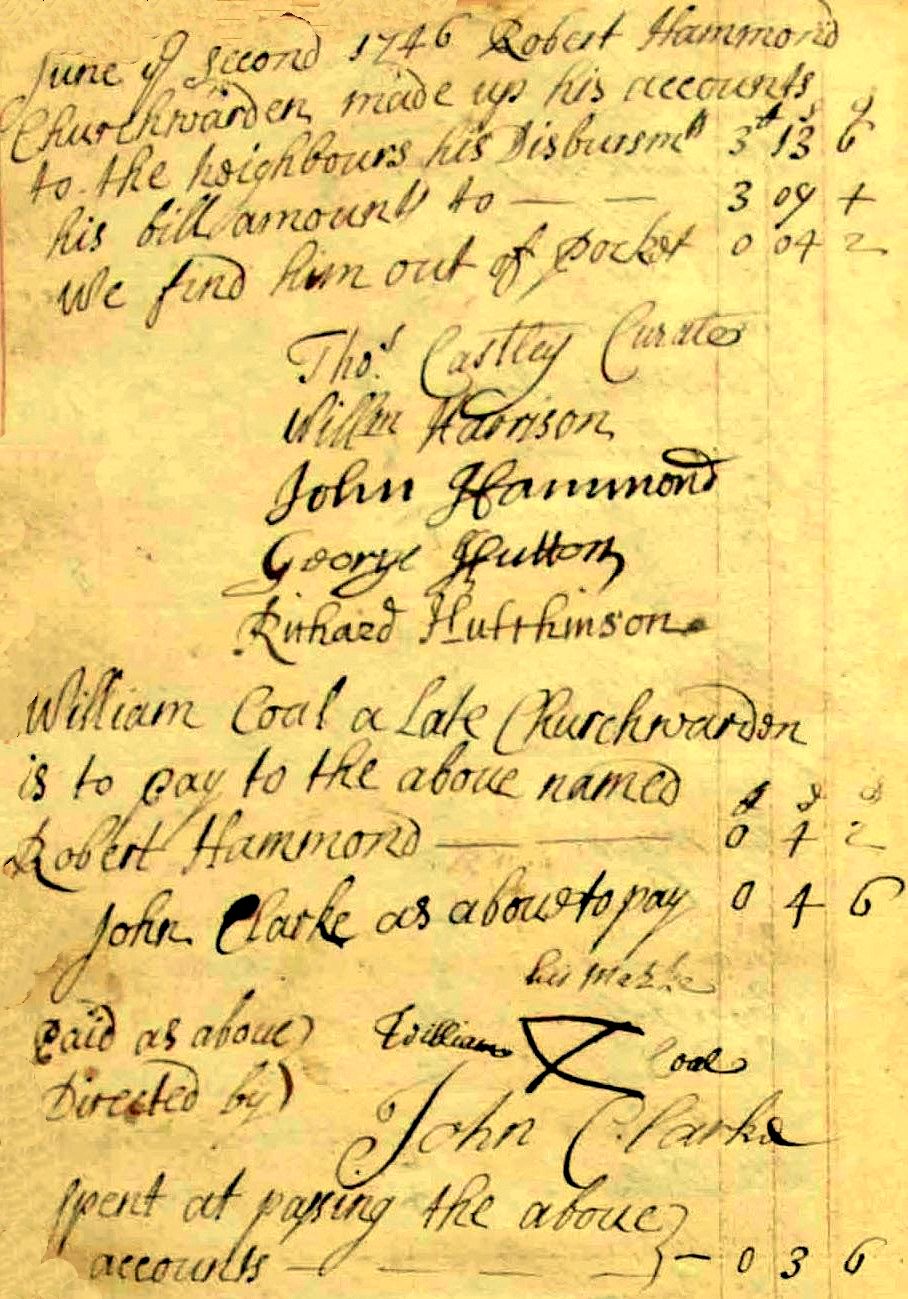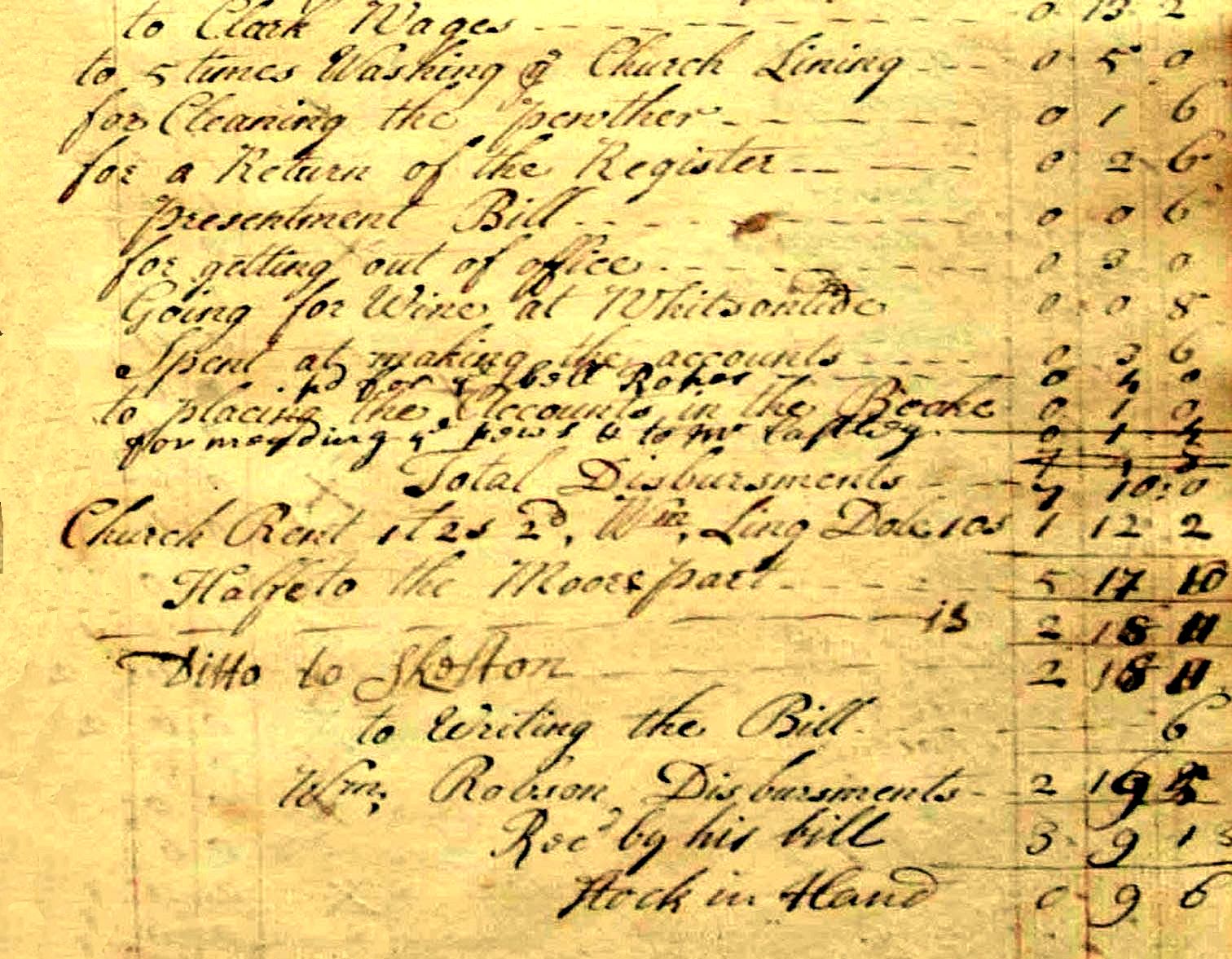 Next Page – 1748 to 1755.
Previous Page – 1713 TO 1736.
Contents Page.