1865
PRIMITIVE METHODISTS IN SKELTON.
Building of the Skelton Primitive Methodist Church on Green Road.
The Primitive Methodists in Skelton had previously been meeting in local rooms.
The movement was by now 50 years old. It was started by a person called Hugh Bourne, who was born in 1772 at Stoke. He built his own church 1811 and sent out evangelists.
Within thirty years he had 100,000 followers and 1,000 churches.
They were popularly known as the "Ranters".
"Primitive" to them meant, original, getting back to the real beginnings of whatever they believed in.
John Thomas Wharton of Skelton Castle, being a strong adherent to the Anglican Church, disapproved of them.
At first he refused to let them have the land on which to build their own Chapel.
He finally relented and sold it to them at a high price.
A newspaper of the time reported that one of the Primitive Church members made 30,000 bricks for the structure, working after his normal daily stint at work.
His employer provided the clay and means of leading them to the site.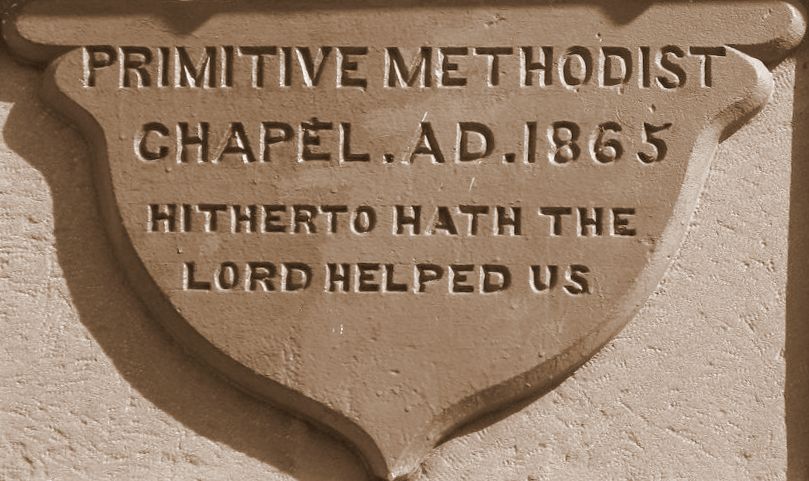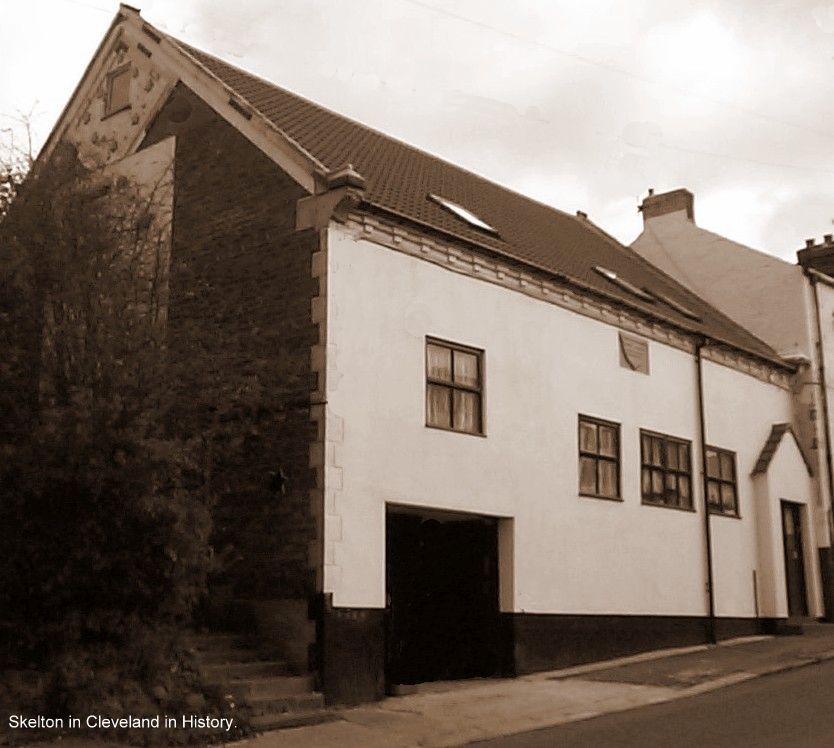 The chapel later became known as 'Timmies', after a Mr "Tim" Bannister, who held several posts at the chapel over a long period of years.
His photograph and the following family information has been kindly contributed by his Grandson, Terry Bannister, now living in Burnley.
He was actually Benjamin Bannister, who had been born in Coddenham, Suffolk on the 2nd May 1861.
Unemployment in these agricultural areas and the opening of ironstone Mines in East Cleveland had brought him and his three brothers, George, David and William to Skelton.
Originally the idea was to make bricks for all the houses that were needed for the booming population.
But the Bannister Co brick making business scheme did not succeed and they soon had to find jobs elsewhere.
The 1901 census shows Benjamin as a Groom at Skelton Castle and living at 12 North Terrace, with a Skelton-born wife, Susan, and 7 children.
The age of the eldest indicates that the Bannisters came to Skelton about 1880.
Brother George was a Waggoner for Skelton Castle at Home Farm in 1901 and living at 143 High St.
[George was to lose his son Fred in May 1918, while serving with the local 4th Yorks Battalion, when they were decimated on the Aisne.]
Brothers David and William were ironstone Miners in Park Pit.
Benjamin probably had various jobs at the Castle.
His Grandson, Terry Bannister, remembers him delivering milk to the Mill below the Castle from the Estate dairy.
He remembers him too as a "typical, narrow-minded Primitive Methodist", but he must have been a long-serving and well respected workman at the Castle, for Mrs Ringrose Wharton presented him with a Ruby tie-pin for his wedding anniversary.
Benjamin died in his eighties during the Second World War.
His son and Terry's Dad, Robert Bannister, was a POW in the Second World War and sent back the amazing cards shown here.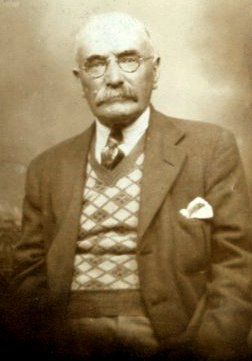 EXPLORATORY SHAFT FOR NORTH SKELTON MINE – MAN KILLED.
December – In the search for the best place to locate North Skelton Mine, an exploratory shaft was being dug on the level ground between Saltburn Lane and Skelton Beck, close to Rigwood, to find the depth of the Cleveland main seam of iron ore.
The spoil was lifted out by tubs and one of these fell back down the shaft striking Robert Wilson on the head and killing him.
SKELTON CASTLE LEASE LAND FOR MINING.
Mr J T Wharton of Skelton Castle leased land [roughly bordered by Skelton Beck, Brotton and Stanghow] to Bolckow Vaughan and Co for 42 years at £2,986 for 134 thousand tons of iron ore and 5d for every ton over.
RAILWAY LINE AND VIADUCT OVER SKELTON BECK STARTED – The railway line from Saltburn to Brotton, for taking ironstone back to Teesside works was started.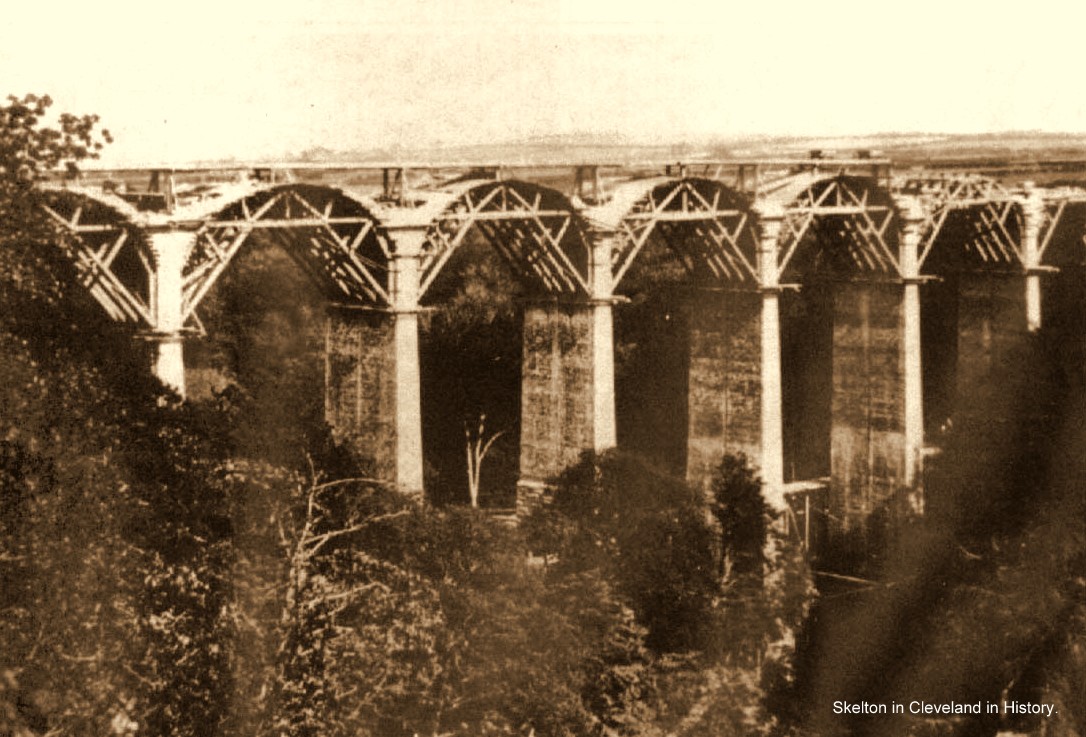 SKELTON HAS "AN IGNORANT, UNEDUCATED POPULATION WITH MUCH BIGOTRY AND DISSENT."
At this time the Church of England still held much power.
From time to time the Diocese of York sent out questionnaires to the local Minister and the Churchwardens.
See – here for the Churchwardens.
Skelton Parish was called "Skelton cum Brotton."
I have found only the Rev John Gardner's answers.
He reported when he held Church Services apart from those at Skelton old All Saints Church,
"as to Brotton Chapel: Afternoon 2 Sundays, Morning 3rd 10 a.m 2.15 p.m.
Every third Sunday I have a service in a rom at Moorsholme in the Parish 6 miles from the Parish Church at 5 p.m.
Regarding Education –
Skelton has an ignorant, uneducated population with much bigotry and dissent.
There is a day School [mixed] under a certificated Master, under Government. Supported by payments, subscriptions. I am responsible for the deficiency. 80 -90 children.
There is also a "dame school" and a small private school in Skelton.
A dames school in Brotton and I have taken a new building for a school in Moorsholme, but it is only just opened and I cannot therefore specify any particulars.
In response to a question about Dissenters, people who did not attend Church and at this time Methodists, he replied –
Skelton, Brotton, Stanghow, Moorsholme have each their dissenting chapels and the number of Dissenters if very considerable.
In response to a question about a Church School he replied:-
There has been no Church School till within the last 12 months.
I have not been able to exercise any "controul", therefore, over children, the Master of the principal school having been very antagonistic to me.
I have however at last succeeded in having him removed and commenced both Sunday and day schools under better auspices and under God.
I look for great improvements, which are sadly required.
1866
LOCAL GOVERNMENT BOARD.
Local government boards were authorised for the township of Skelton. They remained in force until 1894, when they were replaced by the Skelton and Brotton Urban District Council.
GROUNDHILLS BUILT.
Groundhills cottages, 12 in number, were started to house the Miners exploring for the main seam of iron stone for Bolckow Vaughan.
These have now been demolished and were sited off Stanghow lane, just past Trout Hall Farm, and on the same side.
9th Febrauary –
NO COWS ON THE HIGHWAY.
John Child of Skelton Mill was fined 6s for driving cattle on the highway against the orders of the Quarter Sessions.
9th Febrauary –
LITTLE GIRL ASSAULTED.
William Brader, a boy of Skelton assaulted a little girl, Elizabeth Mary Shepherd.
9th Febrauary –
LOCAL DRUNKARDS.
James Cook, Shoemaker of Skelton was fined 11s for being drunk.
9th Febrauary –
COULD NOT RESCURE DRUNKARD.
John Saunders was fined 15 shillings and sixpence for being drunk and riotous at Marske.
James Kennedy was fined 11s 6d and severely reprimanded for trying to rescue him from Police custody.
8th June –
DRUNK RIOTING.
John Bland , George Cook and Isaac Stonehouse were fined 13s 6d for being drunk and riotous at Skelton.
7 September –
TAILOR BUTCHERED.
George Lawson, a Butcher of Skelton assaulted John Dormond a Tailor of Skelton and was ordered to pay 15 shillings including costs.
9th November –
RIOTOUS MINERS.
William Baxter and Charles Dunning, ironstone Miners of Skelton, were each fined 12s 6d for drunk and riotous behaviour and using threatening language to K Hardy Baxter. Old offenders.
23rd November –
FIREWORKS FINE.
George King and George Overton were fined 5s for throwing fireworks in the street at Skelton.
23 November –
EXPENSIVE BOOZE.
Thomas Waterhouse was fined 5 shillings and 7s 6d costs for being drunk and riotous at Skelton.
1867
22nd Feb.
FRAUDULENT MINER.
Joseph Bell, a miner of Skelton, was charged with fraudulently removing goods to the amount of £2, for the purpose of evading payment of his rent. Now moved. He was ordered by the court to pay double the value of the goods and costs.
In default to be committed to Northallerton Prison to hard labour for 2 months.
19th July.
KEEP OFF THE GRASS.
Addison Thompson was charged by PC Robinson of Skelton with trespass and damaging grass in field belonging to W Coates of Barns Farm.
2nd August –
RIOTOUS DRUNKS.
John Frankland and Matthew Priestman were charged by PC Robinson with being drunk and riotous at Skelton.
Fined 10 shillings and sixpence each, including costs.
15th August –
REFORM ACT – 13 PERCENT OF MEN CAN NOW VOTE.
The Second Reform Act of this year extended the right to vote.
Prior to this of the 7 million adult males in England and Wales only 1 million had right to vote.
Now about 13 percent of adults were enfranchised and by the following year all male heads of households could vote.
Lord Derby, with Disraeli as Chancellor had formed a Conservatiev Ministry on 26th June and persuaded their Party to vote for this move believing that the electorate would be grateful.
In fact the people voted Liberal next time and put Gladstone in power.
There were only few changes in the redistribution of seats, but Middlesbrough was created a Borough with its own MP.
7th September –
NOT A JOLLY MILLER.
John Duffy of Marske was charged with trespass and damage to seed growing in a field belonging to Miller, Nathaniel Stonehouse of Skelton.
27th September –
ASSAULT.
James Pashley, miner of Skelton, was fined 17s for assaulting David Gibb and using abusive language at Skelton.
TAILOR BANKRUPT.
John Dormand, a Tailor of Skelton was adjudged bankrupt and required 'to surrender himself to Mr Frederick Perkins, a Registrar of the County Court of Yorkshire, holden at Stokesley at the first meeting of creditors to be held on the 10th day of October 1867 at 11 o'clock
Next Page – 1868 TO 1869
Previous Page – 1857 TO 1865
Contents Page