The Bell Family of Rushpool Hall, Skelton.
---
CHRISTINE NEWSON of Great Ayton has kindly contributed some wonderful images of the John Bell family of Rushpool Hall, Skelton.
Her husband is the Great Great Grandson of Addison Langhorne Steavenson.
He was the Chief Mining Enginner for Bell Bros as well as Agent and actually took some of the photographs shown below.
A photograph album has been passed down the family, which Christine has extensively researched.
Details of Addison's life, created by Christine, can be read - Here.
His son, Charles Herbert Steavenson was a local Mine Manager. Details of his life, with much East Cleveland information can be read - Here.
Please note that Christine has Copyright to the above PDFs and the following images of the Bell family. Permission should be obtained before copying and showing elsewhere, especially for commercial purposes.
Addison Langhorne Steavenson, Bell Bros Chief Mining Engineer.
---
With Christine's research assistance and that of my good friend, Owen Rooks, an old Skeltoner now living in Sunderland, I have attempted to make a timeline of events concerning the Bell family to hopefully place the photographs in context.
Additional newspaper articles and adverts have been kindly contributed by Howard Wilson of Skelton in Cleveland History Group.



Sir Lowthian Bell of Rounton Hall.

---

1818. - BIRTH OF JOHN BELL at Tynemouth, Northumberland, the son of Alderman Thomas Bell and Ann Bell.

HOW THE BELL BROTHERS FAMILY FORTUNE WAS MADE.
John's brother, Sir Lowthian had been born 2 years earlier. He was to gain fame through much innovation in the Iron, Steel and Chemical Industries.
Without his genius, the East Cleveland Steel making story would never have been the same, as our local iron ore contained too much phosphorus.
Sir Lowthian, with 50,000 pound investment invented a process to reduce it to competitive proportions.
Along with another brother, Thomas, the boys were born into the business, as their father was a partner in a Newcastle firm of merchants who branched out into the manufacture of alkali and iron.
In 1844 they established the family Company of Bell Bros by opening Iron works at Wylam, near Newcastle.
The year 1852 saw them move into the East Cleveland area by acquiring a lease to mine iron ore at Normanby and 2 years later they had opened 3 blast furnaces at Port Clarence on the North bank of the river Tees.
In 1858, with the extension of the Railway from Guisborough, they leased land from Skelton Castle Estate to mine first Skelton Old Shaft and Skelton Park Mines.
In the mid 1860s they had drilled possibly for iron ore and discovered a large seam of salt, which they mined and developed into a process for making soda.
They acquired all the means of making Iron and Steel - Coal mines in Co Durham, Limestone quarries and in this area owned in addition to the Skelton Mines, Carlin How [Duck Hole], Normanby, Cliffe, Huntcliffe and Lumpsey [Brotton].
It was a monopoly of vertical integration, with which only the Bolckow and Vaughan Co could evenly compete.
Like these two magnates they built their own East Cleveland mansions: - Sir Lowthian at Rounton Grange, Northallerton and John Bell at Rushpool Hall, Skelton.
Rounton Grange. East Rounton, N Yorks. Built 1873 to 1876 for Sir Lowthian Bell. Demolished in 1953.
---



John Bell of Rushpool Hall.

---

Each of them made and left a fortune:-
WILL OF SIR ISAAC LOWTHIAN BELL. of Rounton Grange, Northallerton, Yorkshire, Baronet. Died 20th December 1904.
Probate London, 30th January to Sir Thomas Hugh Bell, Baronet, and Charles Lowthian Bell, Ironmaster. Effects £768,676 7s 6d.

JOHN BELL'S FIRST MARRIAGE.
No record of this first marriage has yet been found, but from 1845 to 1858 5 children were born to John and Margaret Ann Bell. In 1851 and 1861 they seem to have been living apart:-

1845. BIRTH OF AMELIA [AMY] SERENA BELL.
24th January baptised at St Oswald's. Parents Margaret and John Bell, Iron Merchant of Church Street, Durham.

1851. CENSUS.
John Bell, age 32, is recorded as Ironmaster and living at 2 Picton Place in the Parish of St Andrew, Newcastle Upon Tyne, with his mother Catherine, Widow, age 62, an Annuitant and his sisters Mary G, age 31, and Catherine, age 29, Proprietors of Iron Works.

Margaret A Bell, age 26, wife of a Miner of Coals, is recorded as a Lodger, Married, in St Mary's Parish of Edinburgh, with daughter Amelia S Bell, age 6.

1853. BIRTH OF JOHN CHARLES BELL.
13th December of this year in the Parish of Ripon, Yorks, the Baptism of John Charles Bell is recorded with Parents Margaret and John Bell, Gentleman.

1856. BIRTH AND DEATH OF MARGARET LOUISA BELL. January 10th. The Baptism of Margaret Louisa with Parents Margaret and John Bell, Iron Merchant.
January 14th. The Burial of the baby is recorded in the Chapel of Sharow, Ripon, Yorks.


Rushpool Hall, Skelton. Before the Fire of 1904.
---
1857. BIRTH OF CLARA ANN BELL.
August 6th. Her Baptism is recorded in Sharow, Ripon, Yorks with Parents Margaret and John Bell, Engineer.

1858. BIRTH AND DEATH OF WILLIAM HENRY BELL.
Feb 18th. Baptism recorded with parents Margaret and John Bell, Ironmaster.
Feb 22nd. Burial of the 10 day old infant recorded in the Chapel of Sharow, Ripon, Yorks.

1861 - CENSUS - JOHN AND MARGARET BELL RECORDED AT DIFFERENT ADDRESSES.
John Bell is recorded as an Ironmaster, age 42, born Newcastle upon Tyne living in the Parish of St Mary Abbott, Kensington. A difficult to read note under his occupation appears to read 'Manufacturer of Coal remover' or 'Manufacturer of earth remover'.
Living with him is a Daughter, Amelia, age 16, a Scholar, born Durham and a Son, John Charles, age 7, Scholar, born Ripon, Yorkshire.
Margaret Ann Bell, Wife, aged 34, born South Shields is living at 36 Elswick West Terrace, Newcastle upon Tyne with Clara Ann, age 4, born Ripon and a 16 year old Servant.

1863 -1865 - RUSHPOOL HALL BUILT.
Rushpool Hall was erected at a cost of £100,000 by John Bell, an enormous sum in those days.
The Architect is reckoned to be the great Gothic revivalist, Sir George Gilbert Scott (1811-1878), who was possibly the most prominent and successful architect of modern times.
A second architect, Cuthbert Brodrick (1821-1905), of Leeds Town Hall (1852-1858) and Leeds Corn Exchange (1860-1862) fame, was advertising around Leeds and Newcastle areas in the spring of 1863, requesting tenders from interested parties for the building work.
It is said to have been built with blocks of ironstone from Old Shaft Mine, which gives its red appearance.
The foundation stone was laid using an aluminium trowel made in Isaac Lowthian Bell's factory.
'Italian artists created a ballroom with arched pillars, a marble staircase, even a suite of rooms complete with a swimming pool below the Conservatory where Edward VII is said to have attended bathing parties prior to his Coronation.
That promiscuous King is certainly remembered in folk lore for visiting the Zetland Hotel, Saltburn and supposedly taking his mistresses to 'Teddy's Nook' below the top Saltburn Promenade for a glass or three.

Rushpool Hall, Skelton. This photograph shows that there were rooms below the Conservatory, reportedly containing a swimming pool.
---



Margaret Elizabeth Bell [nee Robinson],
the Second Wife of John Bell.

---

1865 - MYSTERY SURROUNDING, MARGARET, JOHN BELL'S FIRST WIFE.
At the 1861 census Margaret Ann Bell is recorded, age 34, as above in Newcastle.
In this year John Bell remarried, but no further record of his first wife has been found. Nor has any record of their marriage.
The birth registrations of both John Charles Bell and Clara Bell give the maiden name of Margaret as 'Cowan'. This recording of the mother's maiden name is unusual and perhaps indicates that she was not married to John Bell.
The first English census of 1841 shows a Margaret Ann Cowan, age 15, living at Chatham Place, All Saints, Newcastle upon Tyne with her parents, George, a Grocer and Charlotte and male siblings.
Her children went on to the privileged life of the rich with their father, John Bell, but no more is heard of Margaret.
It seems that she must have died between 1861 and 1865, but there are so many records of similar names, it is impossible to prove.

MARRIAGE OF DAUGHTER AMELIA [AMY] AND SECOND MARRIAGE OF JOHN BELL.
23rd August - Amelia [Amy] Bell married Major Hugh Stewart Cochrane, V.C. of the 7th Royal Fusiliers at St George's, Hanover Square. There were apparently children to the marriage, but all died young.

11th November. John Bell married Margaret Elizabeth Robinson at Christ Church, Lancastergate. He was aged 47/48 at this time. She was 22 [born 1st December 1842] and had been a Ladies Companion to Amy Bell.

The two couples honeymooned together in Egypt and it is said the idea of purchasing a holiday home abroad originated. In December the Cochranes sailed to Calcutta.

1866.
25 September - EVELYN FRANCES BELL eldest daughter born in Skelton.
1873.
7th January - DEATH OF AMELIA [AMY] COCHRANE [NEE BELL]
At Cork, Ireland, age 28. She left £4,000.

1875.
16th September - BIRTH OF LILLIAN MARGARET BELL.

27th September - 50 YEARS OF RAILWAYS CELEBRATION.
The Railway Jubilee, the 50th Anniversary of the opening of the Stockton and Darlington Railway was celebrated all over Cleveland.
Special trains were run in all directions. Processions and festivities were held in all the towns. Skelton Castle, Rushpool Hall, Saltburn Pier were all thrown open in this area to anyone with a Jubilee Ticket.

1877.
19th October - SEWING MACHINE EMBEZZLER.
Adam Stainsby Allison, a salesman and collector for the Middlesbrough branch of the Singer Sewing Machine Co was charged with embezzlement.
On the 2nd Aug he collected £3 14s from Miss Catherine Middleton, housemaid at Mr John Bell's Rushpool Hall, Skelton in settlement of an account of £4 4s, but accounted to his employers for only £1.
On the 1st October he collected 3 shillings from Mrs Simpson, the wife of a miner at Skelton, but never paid it in.
The Bench sent him to prison for 4 months with hard labour.

1879.
6th August, MARRIAGE OF CLARA ANNE BELL [daughter by John Bell's first marriage] to William Loftus Wigram, a Captain in the Highland Light Infantry, who served in the Malakand and Brunei Field Force in India. His father was the Biship of Rochester.
They were married at Skelton Old All Saints by the Rev John Gardner. Clara was 22 and her husband 26. They had no children. Wigram died 20 May 1897 at Neuilly sur Seine, France.

1881. CENSUS.
The Bell family do not appear on this census and almost certain that at the time they were at their second home, 'Mustapha Rais', Algiers.

MUSTAPHA RAIS, ALGIERS.
By the late 1800's when the Bell family started wintering in Algeria, the country had become an overseas possession of France.
For 300 years before the French invasion of 1830 Algeria was certainly not the place to be for any Westerner.
It was a section of the infamous Barbary Coast, part of the Turkish Ottoman Empire in name, but allowed autonomy to successfully control that part of the Mediterranean sea by piracy.
Any passing ship was at risk of capture, ransom and the Christian crew would be sold into slavery in the Muslim markets.
This Piracy had been the cause of many conflicts with Western nations and the French eventually used it, in the age of Empire building, as an excuse to increase their territory.
The French, after much fighting, began a process of European colonisation.
The Turks were banished and Moors emigrated, selling up, it was said, for a pittance.
Through the 1850/60s rich European visitors increased.
Stories of the pleasant, healthful winter temperatures in Algiers, 18-22, circulated until a community of settlers grew and developed their safe confines and eventually a home from home way of life.
The Protestant Church was established in Muslim lands, a Hospital, Doctors, an English Club, a Cemetery, golf course, American bar, English newspapers etc , while an area called Mustapha Superieur was established to create an administrative area separate from the urban area of Algiers. The European visitors seem to have little to do with them.
The French even planted there another extensive Bois de Boulogne.
It was to this winter retreat from the cold North East blast at Rushpool Hall, Skelton that the Bells first arrived in 1868.
In 1873 they bought the 5 acre property of Mustapha Rais from Mr Pierre Olivier, the Count Charlin de Gerson and more adjacent land from Alexander Lauwick.
The villa was built around 1525 A.D. and could have belonged to an Algerian Pirate, Mustapha Rais.
John Bell, who is remembered as a 'leading member and benefactor of the British community and Anglican Church of Algiers' remodelled the property extensively.
On the entry hall wall, near 3 carved hands in a niche, was a brass plaque reading:-
This unfinished and last work from the hand of John Bell expressed, in one brief work, the spirit with which he met everyone who crossed his threshold, Mustapha Rais 1888'
When he died in Algiers in 1888, aged 69, he was placed in the narthex of the Anglican Church by
'friends who appreciated his many sterling qualities'.
In that same year the British community of Algiers also erected an 'elegant fountain of stone, marble and mosaic tile' in his memory at what is now the intersection of the Boulevard Souidani Boudjemaa and Boulevard des Martyrs, across from the Mustapha Rais property and the entrance to the Hotel El Djasair.
It bears silent and somewhat forlorn testimony to Mr Bell to this day.
| | |
| --- | --- |
| John Bell with Sybil, youngest daughter. | Sybil Maud Bell. |
---
3 of the Bell family photographs, shown here, were taken in Algiers.
---
1883.
30 August 1883, BIRTH OF YOUNGEST DAUGHTER - Sybil Maud Bell in Skelton.

1884 2nd August - SKELTON - NEW ROAD.
At a meeting of the Skelton Local Board a communication was received from Mr Bell of Rushpool Hall, achnowledging the Board's letter offering the sum of £50 for the land in front of the new Church at Skelton and stating that he had been authorised to accept the offer.
The Surveyor reported that the new road at the South-East side of Stanghow Lane School was completed. He was instructed to post notices declaring it to be a public highway, under section 152 of the Public Health Act. It was agreed to call the street "School Road".

8th November - MARRIAGE OF JOHN CHARLES BELL - Age 31, residing at St James's to Ethel Dobree, age 26, home at Beverley, Yorks. At St James's, Westminster, Middlesex. Fathers present, John Bell, Ironmaster and Nicholas F Dobree, Merchant.
August 23 1885 - a daughter, Una Clara Margaret, was baptised. August 31 1886 - a second daughter, Enid, 26th October 1887 - a son John Dobree Bell and 17th August 1889 - a second son, Charles. All at the Parish Church, Great Ayton, N Yorks, residence given as Langbaurgh Hall, occupation - Gentleman.
Charles and Enid died in infancy.
---
This photograph of the Bell family at Rushpool must have been taken around 1885/1886.
The youngest daughter Sybil would have been 2/3 years old and this will be her sitting on her mother's knee. The owner of the photograph, Christine Newson, says that it was taken by Addison Langhorn Steavenson, Chief Engineer and Agent for the Bell Bros and presumably a family friend.
Christine says the lady standing at the back is Addison's wife and a couple of the children are his.
The girl standing on the Left is almost certainly Evelyn Bell and the girl in front of her is likely Frances Lillian Steavenson who was a similar age.
Christine believes that the dark haired child seated on the ground is Lillian Bell, age about 9 at this time, and the smaller child behind in another Steavenson daughter, Hilda Maria.
The two ladies on the right are not identified.
---
Another photograph of around this time, showing the two eldest daughters, Evelyn Left and Lillian, with John Bell in the background.
---
The glass plate negative owned by Christine Newson.
---
Rushpool Hall Stables built of Park Pit Ironstone.
---
1888 - 21st January.
DEATH OF JOHN BELL.
John Bell, Ironmaster, of Rushpool Hall, Skelton died at the age of 68 in this year at his holiday home in Mustapha Rais, Algiers.

1889 - 11th May.
THE WILL OF JOHN BELL.
- with two codicils, was proved at the Principal Registry by Thomas Hugh Bell of Middlesbrough, the Nephew, and John Charles Bell of Langbaurgh Hall, Great Ayton, the Son, two of the surviving Executors. His personal estate was £187,312 4s 1d.



John Arthur Dorman 1848 to 1931.

---

1890. JOHN ARTHUR DORMAN RESIDENT OF RUSHPOOL HALL.
A Trade Directory of this year gives the resident of Rushpool as John Arthur Dorman, Ironmaster.
It is understood that the property was only leased to him by the Bell family.
He was born in 1848 at Ashford, Kent and and when he was aged 22 had been sent up to this area to work in an Iron foundry at Stockton-on-Tees, where a family relative was a partner.
He learned the arts of the trade from the shop floor up and by 1875 was able to form a partnership with Albert de Laude Long and take over the West Marsh Ironworks in Middlesbrough.
By exploiting new steel-making technology their business grew and outstripped others.
In 1902 they merged with Bell Bros and took over the North Eastern Steel Co.
By 1914 they were the largest steel producers in Britain and employed over 20,000 people. Dormanstown was built close to their Redcar works to house many of their employees.
The firm made a fortune during the War supplying the bulk of the vast number of shells that were fired.
By the end of the War Britain was even supplying its allies. John Arthur Dorman was made a KBE in 1918 and a baronet in 1923 in recognition of his contributions to the nation.
His son was killed in the First War and in his memory he gave the Dorman Museum to the town of Middlesbrough.
The Company of Dorman-Long made the steel for many national structures including in Middlesbrough the Newport and Transporter bridges and in Australia in 1932 the famous Sydney Harbour Bridge. At the 1901 census Rushpool was again occupied by Mrs Margaret Bell and her Daughter and John Arthur Dorman had by that time built his own mansion, Grey Towers, Nunthorpe, Middlesbrough.
1891
CENSUS - The John Bell family are not recorded on this census and were very likely living at their second home at Mustaphal Rais, Algiers.

John Charles Bell, son by first marriage is recorded living in Great Ayton, N Yorks, occupation Ironmaster, with Ethel Bell, age 31 and John Dobree Bell, age 3 and Una Clara Bell, age 5.Plus 5 Servants.



Evelyn Frances Bell.

---

12th May. MARRIAGE OF EVELYN FRANCES BELL to John Edward Courtenay Bodley, son of the late Edward Fisher Bodley of Dane Bank House, Congleton.
He was an author, lawyer, Barrister of the Inner Temple and private secretary to Sir Charles Dilke.
The marriage took place in the English Church at Algiers.
The lovely young bride was attended by her two little sisters, Lillian and Sybil, and given away by her mother, Mrs John Bell, who afterwards received the Governor General M Jules Cambon and Madame Cambon and all the notabilities of Algiers at Mustapha Rais, the picturesque Moorish villa standing in its tropical gardens, which was purchased by the late Mr John Bell twenty years ago, and the white marble terraces of which are a familiar landmark to yachtsmen in the Mediterranean.
The bride and bridegroom left Algiers for Corsica on their way to Paris, where Mr Bodley purposes completing his projected work on contemporary France, before seeking a seat in the House of Commons.
They had 2 sons and a daughter, but were divorced in 1908. Gertrude Bell alludes to a problematic marriage in some of her letters.
Evelyn re-married an American citizen, Mr Herbert L Hunt and died in Guethary, Basse-Pyrenees, France on the 31st October 1955, aged 83.

1892 29th April - UNEMPLOYED MINERS GIVEN WORK AT RUSHPOOL.
Mr A J Dorman, Rushpool Hall, Saltburn, has given employment to a number of Miners. This gesture was at the suggestion of Sir Lowthian Bell and repeated by other large estate owners in the East Cleveland area.

20th May - DISTRESS RELIEF BY ARTHUR DORMAN, RESIDENT OF RUSHPOOL HALL.
London Daily News -
Mr Dorman of Messrs Dorman and Long, the well known steel girder makers, of Middlesbrough, gives away every day at his house Rushpool Hall, a bread loaf and a pound of bacon to every applicant supplied with a ticket.
170 persons are relieved in this way at Rushpool.
When the distress began he sent the Miners President and agent a cheque for 10 pounds and this contribution has been continued and is given by him regularly every week since then.
A considerable number of destitute people called at the Miners' Office today and got their tickets and took them to Rushpool.
When Mr Dorman saw what the distress was coming to he gave up his summer holiday in order that his unfortunate fellow citizens should be properly looked after.
He employs between 30 and 40 men on his grounds at Rushpool, paying them 3 shillings per day, though probably his regular gardeners could all the work he requires.

1893 September - SKELTON PARISH MAGAZINE - Our Agricultural Society made a new departure this year by having a garden party in Rushpool grounds, kindly lent to them for the occasion by A J Dorman Esq, instead of the usual concert.



Langbaurgh Hall, Great Ayton.
By William Dudley Richardson.

---

SUICIDE OF JOHN CHARLES BELL- BLOWS HIS BRAINS OUT.
25th February.
He was aged 39, married [1884] and had occupied Langbaurgh Hall, Great Ayton, in 1891 with his wife Ethel [nee Dobree] and two children, but it appears had lately been living elsewhere.
His death had occurred under mysterious circumstances a few days ago and on this day an inquest was opened on his body by Mr H W Barnes, the deputy coroner for Westminster, London, at the St Martin's Vestry Hall.
Mr Bossall appeared for the near relatives of the deceased.
The first witness was John Charles' cousin, Mr Thomas Hugh Bell of Redcar, who said that the deceased had recently lived at Harrogate, but during the last few weeks had been at the Junior Carlton Club and had a bedroom at 43 Pall Mall.
He had suffered a great deal from fever abroad and that had weakened his heart. He had been a Major in the Turkish Army.
He did not know of any reason why the deceased should commit suicide, although he fancied John Charles had been in the habit of taking narcotics and possibly the effect of the reaction to these would be the cause.
He had no reason to think the deceased was in straits for money.
The Coroner - "We heard a report to that effect. Had he any delusion about it ?
Witness - "None at all."
Mr Watts, landlord, said the deceased had slept at his house since the 1st of February.
Thomas Barsby, servant at 43 Pall Mall, said that on Thursday morning last he took breakfast up to Mr Bell's room and found him lying in bed with blood on his face.
He at once sent for a doctor. He had seen a revolver in Mr Bell's room whenever he slept there.
Mr Frederick Augustus Baton, surgeon, said that he was called in to see the deceased and found him lying on his left side. There was a bullet wound in the right temple and another on the opposite side.
The bed clothes were not disarranged and turning them down found the deceased's hands across his chest, with a 5 chambered revolver in the right hand.
One chamber had been discharged and the bullet had passed right through his head.
The Doctor had made inquiries and found that John Charles had taken 15 grains of chloral the night before. He told the chemist from whom he obtained the draught that he had a lawsuit on in the morning and wanted to be well braced up for the occasion.
PC Ralph, who searched the deceased's rooms, produced a gold watch and chain and other jewellery belonging to the deceased and also a mass of correspondence relating to business matters.
None of the letters had any bearing as a reason for his tragic end. He had plenty of money. His father was a large iron-founder and the deceased inherited money sufficient to keep him in ease and affluence.
Only 1 shilling and fourpence was found in his pockets and tickets showing that he had been to the Empire Theatre the night before his death.
There was nothing in the room to show any reason for his committing suicide.
The Hugh Bell recalled did not think the deceased had any reason to be worried about the Court action alluded to, but it was of a domestic nature and would probably have caused him a good deal of annoyance, whatever the issue might have been.
His wife was bringing a post-nuptial action against him which would have caused him great unhappiness.
The jury returned a verdict of "Suicide whilst temporarily insane".

His last Will was dated April 1892 and left two thirds of his estate, valued at £42,000, to his son John Dobree and one third to his daughter Una Clara.



Gertrude Bell.

---

23rd April, DIARY OF GERTRUDE BELL.
The famous traveller was the daughter of Sir Hugh Bell and Grand daughter of Sir Lowthian.
Sunday. Read and did history for the children.
At about 5 got to Algiers [Alger] and found Aunt Lizzie and Willie W. [Wigram] waiting for us.
Drove up to Villa Mustapha Rais where the garden is a paradise of roses and hideous bougainvillea covers the house. Charming Moorish house with columned court.
The Guƈschins father and daughter there and Mittie and Frank Stobert came in to see us and Clara W. I was attracted by the latter's sweet face. Dined and early to bed. Nightingales in the garden.

1st December - KANGAROO IN SKELTON RIPPED TO PIECES.
From the Hull Daily Mail -
According to a London Evening paper, the Cleveland Hunt hounds were in full cry across the park and grounds of Rushpool Hall, Skelton, the other day, when up jumped a semi-tame kangaroo, brought from Australia last year.
The dogs, wising to enlarge their knowledge of Natural History, left reynard for the pursuit of the colonial curiosity, soon pulling it down and killing it.
Three of these interesting creatures were brought from Australia together. Two died some time since, but it was hoped that this one was becoming inured to the English climate.

1894. 3rd August - BELL BROTHERS JUBILEE - Parish Magazine -
An interesting event took place at Skelton Park Pit on Friday, namely, the celebration of the Jubilee of Bell Brothers.
It is just 50 years since the firm first commenced the manufacture of iron at Wylam.

Nine years later they laid the foundation of the Clarence Works, where 20 million tons of Cleveland ironstone have since been converted into "Clarence Iron".
The celebration took the form of a tea, which was provided by Sir Lowthian Bell, Bart for all the workmen at Park Pit and Skelton [Shaft] Mine.
The arrangements were carried out by a committee elected by the workmen and some idea of the work to be performed may be gathered from the fact that it took 74 stones of hams, beef and tongues, along with 86 stones of white bread, 41 stones of spice bread, and 253 gallons of tea with the necessary adjuncts to provide for the assembled guests.
The tea was set out in two large tents, in a field near to Park Pit, kindly lent for the occasion by Mr Thos Petch and was presided by the wives of the committee. On the platform were Sir Lowthian, Mrs Hugh Bell, Miss Gertrude Bell [explorer], Mr Charles Lowthian Bell, Mr Maurice Bell [later Officer Commanding the local 4th Yorks Battalion in the First World War], Mr Steavenson and Mr [Tommy] Varty, manager of the pits, who was just recovering from a serious illness.
Sir Lowthian was thanked by Messrs S Loftus, W Jackson, Chas Jackson and J W Johnson on behalf of the employees. [spelt employes with a French accented "e"] Sir Lowthian, in reply, gave a short resume of the vicissitudes of the firm, shewing that, like other people, they had their ups and downs, but he hoped that they might be able to continue to find steady employment for them all.
The after proceedings consisted of running and skipping for prizes, distribution of sweets and nuts and a small present was given to each of the 500 younger children.

The Skelton and Guisbro' Bands were in attendance and played till darkness drew to a close.
A day that will be long be remembered by the employees of Park Pit and Skelton Mines.



Lillian Bell.

---

1898. - MARRIAGE OF LILLIAN MARGARET BELL to Clive MacDonald Dixon, son of Shipbuilder, Mr Raylton Dixon and Elizabeth Walker of Gunnergate Hall, Marton.
They lived at Langbaurgh Hall, Great Ayton, until 1909 and then Chapelgarth, Great Broughton, nr Stokesley.
They had 3 sons and 3 daughters. Raylton was Mayor of Middlesbrough in 1889.
Clive was an officer in the 16th Lancers and also a talented artist and illustrator.
He was killed on the 5th November 1914 at the First Battle of Ypres just after being promoted to Major. He is buried in Niewkerke Churchyard.
Lillian also a talented artist thereafter exhibited her work with the Cleveland Sketching Club as Mrs Clive Dixon.

1901. - CENSUS.
Only Margaret Bell, widow, age 58, 'living on own means', born Silcoats, Alverthorpe and her daughter Sybil, age 17, born Skelton, were living at Rushpool, with a Governess and 6 Servants.

1904 - 20th February. RUSHPOOL BURNT DOWN.
A maid was blamed for having a candle too close to the curtains and leaving it unattended in the servants quarters in the West end of the buildings.
The fire started while Mrs Bell and her daughter Sybil, aged 20, were having dinner.
A maid heard a crackling noise and efforts were made with buckets of water but with so much flammable material the fire was soon beyond control.
News of the fire reached the neighbouring residence of Rigwood, the home of Mr E Hamilton and from there aid was summoned by telephone.
The Hall bell was rung vigorously and the conflagration had already been spotted from the Halfpenny Bridge.
The Saltburn Fire Brigade was called on and the Captain Mr John Metcalfe and Sergeant Haw quickly attended.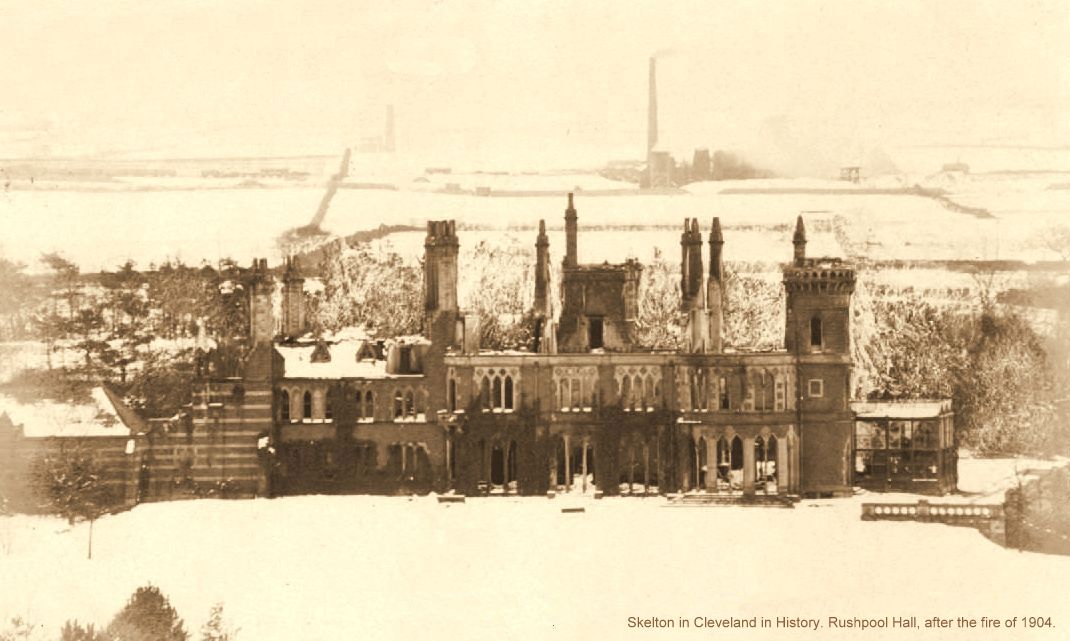 Rushpool after the fire. In the middle distance is Longacre Ironstone Mine and in the far distance North Skelton Mine.
---



Margaret Elizabeth Bell.
This photograph looks very much like the one above of John Bell's wife, but in the family album it has been entitled 'Lady Bell', so it could be the wife of Sir Lowthian Bell.

---

The flames meantime had forced their way through the roof and it was too evident that the Hall was doomed.
The main consideration now, therefore was the safety of the inmates of the Hall and happily this was ensured.
Mrs Margaret Bell, an invalid, the 61 year old widow of John Bell, was wrapped in blankets, placed in a bath-chair and wheeled to Rigwood.
The Saltburn Brigade, assisted by a hundred willing workers, managed to attach a hose to the only hydrant available, but the appliance was incapable of subduing the flames.
The Middlesbrough fire engine raced 16 miles through darkness, then thundered across the Halfpenny bridge before one horse, exhausted, fell dead in the traces as it came to a halt under the flame reddened sky.
The efforts of the workers and the Hall servants were directed to saving as much of the valuable movable effects as possible and this they were successful, though the operations were conducted under circumstances of great peril.
A member of the Saltburn Brigade, William Spragg, a lifeboatman, had a very narrow escape. He was assisting to lift a heavy carpet, when a charred beam from the roof fell upon his back and for a time he was incapacitated. He would not go home and pluckily returned to helf his colleagues.
The horse-drawn fire brigades from Redcar, Brotton, Middlesbrough and Skelton attended and did all they could to prevent the fire spreading.
When the fire was at its height, during the midnight hours it could be seen for miles around and many hundreds of people from all parts of the district flocked to the Hall grounds to witness a sight such as had not before been seen in Cleveland.
The Hall was turned into a furnace which burned fiercely until 6 o'clock next morning and practically smouldered the rest of the day.
The roof of the main building collapsed and damage was estimated at £25,000. [£1.5 million in 2000]
It is believed Mrs Bell and Sybil moved to Langbaurgh Hall, Great Ayton. This property had been occupied by John Charles Bell, [son of John Bell's first marriage].

1904. MARRIAGE OF SYBIL MAUD BELL -
In this same year, 1904, she married Henry John Pack-Beresford in Easthamstead, Berkshire. They had 2 children, Denis John in 1905 and Tristram Anthony in 1907.



Sir Joseph Walton in 1911.

---

They were divorced in August 1913, apparently triggered by the birth of her next child, Sybil Jean and she was re-married to that child's father in 1914.

1905/6. - RUSHPOOL HALL RESTORED.
The Hall was restored and occupied by Sir Joseph Walton, Liberal MP for Barnsley. [born 19 March 1849, died 8 February 1923].
He was the second son of a Colliery owner and a lifelong Wesleyan Methodist.
He began his own enterprise in Middlesbrough in 1870 and realised early the importance that coal would have in the growth of the Railway, Iron and Steel industries and built up a large concern of Colliery ownership and related businesses.
His resulting wealth afforded him time to enter politics and pay what must have been an enormous bill for a restored Rushpool.
No details of the actual cost are presently known.

SKELTON NEEDLEWORK GUILD.
Parish Magazine.
The Secretary begs to thank the Members of the Guild for their kind gifts of articles of clothing for the poor.
Articles have been received from Miss Armstrong, Mrs George Brown of Greenhills, Mrs William Brown, High St, Mrs Dickinson, Miss M Dobson, Darlington, Mrs Ellis, Miss Ellis, Mrs Charles Ellis of St Bartholomews, Sheffield. Mrs Mackenzie, Mrs Maughan of East Pastures, Miss Petch of Hobdale, Mrs Robert Stephenson of Trout Hall, Mrs Tutin, Mrs Walton of Rushpool and Mrs Wharton of Skelton Castle.

1909. TRADE DIRECTORY . Rushpool Hall resident - Joseph Walton MP DL JP [Reform and National Liberal clubs london].



Winston Churchill, then Liberal President of the Board of Trade, speaking at Rushpool Hall, Skelton on 9th August 1909.

---

9th August - CHURCHILL SPEAKS AT RUSHPOOL HALL - A SUFFRAGETTE DEMO AND CRIMINAL ASSAULT ON A LADY.
This Liberal Party Meeting was attended by Winston Churchill and Herbert Samuel, then Postmaster General.
It is said that they were heckled by Suffragettes, and that the ringleader of the female protestation was ducked in the pond.
One of the ladies brought a charge of assault:-
'A mountain out of a molehill', was the figure applied by Mr H Hoggett, solictor, to a charge of assault preferred at Guisborough Magistrates Court against William Armistead, described as a Manager of basic slag works, who resided at Balmoral Tce, Middlesbrough, by Miss Catharine Minnie De Legh, of Coatham, Redcar.
[Major De Legh was a hero in the action at Ypres in 1915. Relationship to him not yet traced. See my 4th Yorks Battalion website.]
The case which arose as a result of the recent anti-Suffragette demonstration at Rushpool Hall, provoked considerable interest on Teesside, both parties being well known.
A lengthy hearing was concluded by the Justices imposing a fine of 3 pounds.
Complainant was represented by Mr R E Wethey, who characterised the offence as a most unwarrantable and unprovoked assault, carried through in a most offensive and he almost say, savage manner, all the more astonishing when the Justices had before them a respectable man and one holding an important and responsible position.
The incident occurred at a political demonstration held in the grounds at Rushpool Hall on the afternoon of August 4th, at which the principal speaker was Mr Winston Churchill.

1910. 23rd April.
DEATH OF MARGARET ELIZABETH BELL - SECOND WIFE OF JOHN BELL.
She is buried in St Augustine's Churchyard, Kirkby, near Great Broughton, Cleveland.
Probate granted to daughter, Lillian. Effects £14,348 10s 7d.
Mustapha Rais passed to her daughter, Sybil Maud Bell, Lady Burnett.

1910. 19th August -LIBERAL POWER SHOW AT RUSHPOOL HALL.
The annual Cleveland Liberal Association will hold its annual demonstration at Rushpool Hall, where a great crowd is expected tomorrow.




Sir Joseph Walton.
Owner of Rushpool Hall
Liberal MP for Barnsley.

---

Sir Joseph Walton, Bart, M.P., the owner of the Hall will occupy the Chair at the speech making.
Mr Herbert Samuel, the Postmaster General and M.P. for the area will give an important address.
The Skelton Old Band will play selections throughout the afternoon.

1911. CENSUS.
At the census Clara Wigram [nee Bell] is age 53, Widow, living at Redriff, Maidenhead. Private means - with a Cook, Parlour Maid, House Maid, Between Maid and Kitchen Maid.

1912. 15th February - MARRIAGE OF SIR JOSEPH WALTON'S DAUGHTER OF RUSHPOOL HALL.
A pretty wedding took place at Saltburn Parish Church yesterday, when Mr George Frederick Lucas, youngest son of Mr and Mrs Herbert Lucas of Bosworth House, Huntingdon was married to Miss Josephine Walton, elder daughter of Sir Joseph Walton, the MP for Barnsley and Lady Walton of Rushpool Hall, Skelton.

1913. 4th February - EARLY DEATH OF SIR JOSEPH WALTON'S ELDEST SON AT RUSHPOOL HALL.
Yorkshire Post and Leeds Intelligencer -
Mr Joseph Walton, eldest son of Sir Joseph, the MP for Barnsley, died after a very short illness on Sunday night at Rushpool Hall, Skelton.
He was only 30 years old. He was called to the Bar a few years ago and practised on the North Eastern circuit.
As recently as last Thursday he was engaged in a case at Middlesbrough County Court, but on the following day he became seriously ill and his father was summoned from London.
He was unmarried, was the Captain of the Redcar Company of Territorials, a member of the Cleveland Hunt and took a keen interest in the social affairs in Middlesbrough, where he carried on an up to date club for the poorest boys of the town.
He had often visited his father's constituency of Barnsley and all had formed a high opinion of his ability and courtesy.

RUSHPOOL HALL - Skelton Parish Rate Book - Occupier - Miss Walton. Owner - The Executors of Walton Joseph. Rates £208 5s.



Major Clive M Dixon.

---

1914 5th November -
WAR DEATH, YPRES.
Major Clive Macdonald DIXON , 16th Lancers was killed in action at Ypres and buried in Niewkerke Churchyard.
He was the husband of Lillian Margaret Bell, the daughter of the late John and Margaret Bell of Rushpool Hall, Skelton.
They lived at Chapelgarth, Great Broughton, nr Stokesley and had 3 sons and 3 daughters.
His father was Shipbuilder and Mayor of Middlesbrough in 1889, Mr Raylton Dixon of Gunnergate Hall, Marton.
Clive was also a talented artist and illustrator. Lillian, also a talented artist, thereafter exhibited her work with the Cleveland Sketching Club as Mrs Clive Dixon.

30th November
RE-MARRIAGE OF SYBIL MAUD BELL at a Registry Office in London, to Sir Charles Stuart-Burnett, of Barra Castle, Oldmeldrum, Aberdeenshire, with whom she had 4 daughters, Sybil Jean, Dorothy Rosemary Joan, Kathleen Sheila Gaughan and Ann Margaret.

1937. Resident of Rushpool - Miss G Walton. Death and disposition of property not known.
1939. DEATH OF CLARA ANNE WIGRAM [NEE BELL]
17th November, age 81, at Redriff, Boyn Hill, Maidenhead.

1940. RUSHPOOL DERELICT.
Alan Ward, an old Skeltoner, who has contributed much to this website remembered as a young lad climbing in the windows of a derelict Rushpool in the War years and wandering through the rooms.
It is reckoned to have been so neglected for some 20 years.
Since then it has gone through various commercial ventures, being a private school, country club, an hotel holding medieval banquets and today is a Hotel providing Wedding Functions and the like.

1946 to 1954. RUSHPOOL CONVERTED TO A SCHOOL AND CHILDREN'S HOTEL.




1948. MUSTAPHA RAIS SOLD TO USA GOVERNMENT.
2nd June - The US Government bought the property from Mrs Sybil Maud Bell, Lady Burnett.

1965. 12th June.
DEATH OF LILLIAN MARGARET BELL. Age 90. Buried in St Augustine's Churchyard, Kirkby, near Great Broughton, Cleveland.

1983. THE ALGERIAN GOVERNMENT acquired the title to Mustapha Rais from the US Government.
---
JOHN BELL'S CONTRIBUTION TO INDUSTRY NOT ADEQUATELY REMEMBERED -
WAR WITH THE PEASE FAMILY -
PROPOSAL TO TURN SKELTON BECK INTO A RIVER FOR STEAM YACHTS.

FROM RICHARD MURPHY'S - 'A BRIEF HISTORY OF RUSHPOOL HALL'