---
1st January -
PETITION TO TRANSFER OLD SALTBURN FROM THE SKELTON AND BROTTON AUTHORITY TO SALTBURN URBAN DISTRICT COUNCIL.
Until the second half of the 19th century Saltburn, as we know it, did not exist.
Saltburn and Redcar have been called the ancient De Brus fishing villages.
The land to the East of Skelton Beck had been for centuries part of the Skelton Castle estate and Old Saltburn, was just the few buildings around Cat Nab and the Ship Inn.
The Castle owners had in the 17th Century an Alum House there and their Corn Mill long stood close to Cat Nab.
The land on the other side of the beck was open fields and considered to be part of Marske, which is why the Corn Mill near the Viaduct is known as Marske Mill.
By this time, however, Saltburn had grown to be the much richer and larger community and it was accepted that logically their Council should have control over the whole beach and adjoining land around Cat Nab and Huntcliff.
A provisional agreement had been reached on the 7th May 1931, but was not ratified.


Now the Saltburn Council petitioned the North Riding of Yorkshire County Council for the transfer to be made.
It was pointed out at an inquiry that it was -
invidious for Skelton and Brotton to retain the small corner of sands between Skelton Beck and Huntcliff, which was virtually a continuation of Saltburn's fine stretch of beach.
Dividing the two, [to laughter], it was only a narrow stream, which did not know its own mind for a week together.
On the one side they had Saltburn, with its shelters and up-to-date bathing facilities and everything that made a modern resort and on the other side, apart from the old cottages and Inn, there was little property and that of slight worth.
Skelton and Brotton Council were agreeable to the transfer but were concerned about the financial aspect. The rateable value of the area to be transferred was some &pound247 and the population only 16, but the outstanding debt due on the bridge over Skelton Beck at the foot of Cat Nab was some &pound100 pounds less if the transfer was back-dated to the original negotiation of 1931.
2nd January -
SKELTON FARMER FINED FOR UNDER-PAYING.
Alfred Ross, of Skelton Green Farm was charged at Guisborough with two counts of paying less than the minimum wage to Harry Carr.
Carr had received &pound1 6s 6d for the first 3 months and had been underpaid 2s 8d to 3s 6d a week on account of overtime.
Later Carr went to live on the farm and received 14s per week, plus board and insurance contribution.
The total amount due to Carr was &pound6 11s 6d and defendant informed the Court that he had just paid over that sum.
Ross declared that he did know he was wrong until being informed by the Ministry.
He was fined 10s and costs in each case.

3rd January -
OLD AGED PENSIONERS TREAT.
About 120 pensioners of North and New Skelton were entertained by the members of the local Brotherhood.
A tea was provided and followed by a Concert given by Mr George Gott's male voice octet.
Mr J Morgan, President of the Brotherhood and Mr F Laidler, secretary, assisted in the proceedings.
---
Skelton Cross Green about this time.
---
4th January -
CHILDRENS' PARTY AT THE TUTE.
North Skelton was a scene of riotous enjoyment for over 300 children, who were entertained by the members of the local Workmen's Clubs.
The youngsters were from all the surrounding districts and were given fruit, sweets and nuts after Committee members helped to serve a meal.

5th January -
NORTH SKELTON SPECTATOR TAKES CONTROL.
In the North Riding of Yorks Amateur Cup North and New Skelton Brotherhood were playing Pease and Partners of Lingdale in terrible conditions.
A linesman told an inquiry the he was unable to see properly for the rain and sleet. He had asked the referee to stop the game, but he refused.
On hearing this a spectator sounded a whistle and the Skelton team walked off the field.
As the Lingdale team were leading 1-0 at the time of the unofficial abandonment the tie was awarded to them.

9th January -
SKELTON UNIONIST PARTY.
Last night Wharton House was crowded on the occasion of the Skelton Conservative's annual party.
An excellent Concert was provided. Commander and Mrs Ringrose and Lieut-Commander Bowers visited.

5th February -
CASTLE WEDDING AND PRESENTATION.
A large gathering of some 500 people met at Skelton Castle for the Cleveland Hunt and a presentation to Margaret Wharton to commemorate her recent marriage to Commander C H Ringrose.
Margaret and her father, Colonel W H A Wharton are joint Masters of the Cleveland Hunt.
The presentation was of a portrait in water colours, by F A Stewart, of Col Wharton in riding habit, followed by a pack of hounds, together with a handsome sofa table and a leather bound volume containing the names of over 400 subscribers.
The presentation was made by the oldest member of the Hunt, Sir Alfred Pease.

Sir Alfred Pease presents a painting to Margaret Wharton and her new husband Commander C H Ringrose. Major Robert Bell Turton is on the Left.
---
9th February -
NORTH SKELTON CLUB THRIVING.
The Club completed a successful half year with a gross profit of &pound167. &pound21 net.
Officials re-elected were president, D Grainger, secretary, J H Thomas and treasurer, J Embleton. Mr J Bean became vice-president in place of Mr W Templeman.



13th February -
OFFICIOUS OFFICER - ILLEGAL SHANDY AT SKELTON WORKMENS' CLUB.
PC Thompson of the N Riding Constabulary stopped a woman leaving the Club and questioned her regarding the contents of a can that she was carrying.
She said that it was lemonade, but the officer tasted it and found that it was a mixture of lemonade and beer, known as shandy.
At the Guisborough Court George Duncan Bain, aged 63, a steward of the club was fined 10 shillings for supplying intoxicating liquor to a non-member.
Mary Jane Bringloe, aged 50, of Park Street, Skelton was fined 5 shillings for obtaining it, but pleaded that she did not know it was wrong.

15th February -
MOONSHINE.
At the Skelton and Brotton Urban Council meeting it was decided on an extensive system of water carriage. It was stated that the Cleveland Water Co could provide sufficient water for the scheme.
Mr Morgan said electricity was being wasted by burning street lamps on moonlight nights. He proposed switching them off 3 nights preceding and 3 nights after a full moon.
The hours gained could be used for morning lighting.
"Any seconder to this moonshine business ?" enquired the Chairman, Mr M Kirkbright.
Mr Coatsworth suggested that the electrical engineer should be put in touch with the ruler of the Moon. The motion was defeated.

1st March -
BODY FOUND UNDER THE HALFPENNY BRIDGE.
MYSTERY OF NEW SKELTON MAN'S DEATH.
Yesterday the body of a man was found in Skelton Beck where it runs through Saltburn Pleasure Gardens.

It was identified as that of Robert Micheal Madden, aged 24, a bricklayer, who had lived with a married sister at Charlotte Street, New Skelton. Injuries to his head, arms and legs suggested that he had falled from the Halfpenny Bridge, which spans the ravine, but no impression in the ground could be found.
At the inquest at the Ship Inn the Doctor's description of his injuries established that he had fallen or jumped from the bridge, which is 140 feet high in the middle.
Robert Madden of Carlin How, the father, identified the body and said that his son was employed on the Brambles Farm estate, Middlesbrough and had been in regular work ever since finishing his apprenticeship as a builder.
Charles William Cooper, the brother in law, told the Coroner that Madden left the house about 6.30 on Sunday night.
The deceased had attended a meeting of the Skelton Brotherhood in the afternoon. He was not in any trouble whatever and there was no reason to commit suicide.
"Nobody could have been happier in disposition."
Mrs Hannah Heselton, a widow of High Row, Loftus revealed that he had gone straight to her house from his home and stayed there for about 2 hours.
The Coroner, Mr H P Barugh, said there was no evidence to show how he came to fall and he returned an Open verdict.

8th March -
SKELTON GASHOLDER.
The Cleveland Gas Company show a total credit balance of &pound5,034 for the current half year.
It is understood that &pound200 is to be used on repairs to the Skelton Gasholder.
Click here to see a webpage about the Gasholder and Gas coming to Skelton.

10th March -
SKELTON GREEN MOTOR CYCLIST FINED.
Fred Snaith, aged 20, of Skelton Green, collided with a cyclist and was charged before the Loftus Bench with driving without due care and attention. He was ordered to pay 16 shillings costs.

17th March -
DIVORCE - SKELTON PLUMBER'S WIFE USING WRONG TAP.
Samuel Waller of Green Road, Skelton was granted a divorce for the misconduct of Edith Waller, of Richmond with Archibald Wood at Richmond and at Catterick Camp.
Petitioner asked for the discretion of the Court in respect of his own misconduct in Canada and his Lordship consented.

20th March -
RECEIVED STOLEN GOODS.
Charles Tooley, aged 18, of Thompson St, Guisborough was found guilty of stealing goods to the value of &pound40 from Guisborough Council's electrical department.
Three men were charged with receiving, one of whom was Frank W R Frankland, aged 36, of Skelton Green, who pleaded guilty to taking items worth &pound12 8s.
Tooley was bound over on probation for 3 years and Frankland was fined &pound5 or one month's imprisonment.
William 'Tiger' Flower.

---

24th March -
TIGER FLOWER - SKELTON BOXER - AND WAR CASUALTY.
At the O.K. Boxing Palace, Redcar, Tiger outshone the main bout and provided the surprise of the evening when he outpointed Shipley of West Hartlepool in an 8 round challenge contest for &pound2 a side.
Shipley is a hardened boxer and well used to 8 round contests, but his opponent has rarely fought longer than 4 rounds.
From the start, however, Flower was out to win.
A terrific first round, in which both boxers drew blood, served to make the crowd sit up and take notice of 7 of the fiercest rounds ever seen at the O.K. Palace.
Shipley was obviously as surprised as anyone at the remarkable form shown by his opponent.
Though he rallied several times, Flower was the undoubted victor.
After the bout Shipley challenged Flower to a 10 rounder for &pound4 a side.
William 'Tiger' Flower was the son of William Edward and Margaret Elizabeth Flower of Harker St, Skelton Green.
He was killed in an accident, aged 27, on the 27th August 1940, while serving in the War with the Royal Engineers in Egypt.
He is buried in El Alamein War Cemetery.
See his Memorial page here.
The return fight took place on 2nd April.
Boxing fans expected another fierce struggle and they were not disappointed.
Flower was the aggressor throughout.
Shipley's terrific right hand dealt him some terrible punishment, but he always returned to the attack and deservedly won on points.
3rd April -
WHARTON ARMS EXTENSIVE IMPROVEMENTS.
Consent to these were given today by the Guisborough Bench. Messrs Nimmo, the owners of the premises provided plans that had been prepared in collaboration with the Superintendent of the Police, Mr George Thornton. Details not given.

4th April -
INQUEST - MYSTERIOUS NORTH SKELTON DEATH.
WOMAN FALLS FROM BEDROOM WINDOW.
Mrs Sarah Ann Maria Roper, who lived with her sister at 50 Richard Street, North Skelton was found on the concrete pavement 16 feet below the bedroom window.
Assistance was called and she was attended for her injuries for some days by the local doctor, who later advised her removal to the North Riding Infirmary, where she died.
Her sister, Alice Elizabeth Cooper, said that the deceased was subject to fainting fits.
On February the 19th, the deceased went upstairs to her bedroom to do some writing and shortly afterwards witness heard a scream.
She went upstairs and the bedroom window was open.
The senior house surgeon at the Infirmary who made a post mortem examination gave the cause of death as septic broncho pneumonia following injuries accidentally received. This cause of death was recorded.


5th April -
"WICKED BRIDGE" AT APPLE ORCHARD. At the meeting of the Skelton and Brotton Urban District Council Councillor F Hatfield brought up the dangers to traffic at the Apple Orchard Bridge, which he described as the 'most wicked in the whole of Yorkshire'.
He complained that the North Riding Council failed to make any improvements, despite it having been called to their notice several times.

12th April -
ANOTHER DEATH IN NORTH SKELTON MINE.
Robert Emmanuel Horton, aged 27, of 25 Cross St, Boosbeck was working the night shift at Messrs Dorman Long and Co's mine, when he was fatally injured by a fall of stone.

He was taken to the Skelton Green Hospital and died 4 hours later.
At the inquest Ernest Sanders, a miner of Boosbeck, who was working with Horton stated that the deceased was getting down some overhanging stone with a bar.
Suddenly he saw some stone falling. Horton tried to avoid it, but it knocked him to the ground.
Witness added that Horton was using the method usually employed.
Henry McCann, a mines Deputy, said that he examined the place about an hour before the accident.
Some shots had been fired and Horton and his mate were boring a hole to fire another one.
The place was safe, except for the overhanging stone with which the men were dealing.
The amount of stone which fell was between one and two tons.
Horton was a married man. Details of his family are not presently known.


13th April -
NEW SKELTON MAN PLASTERED IN REDCAR.
"I found him lying on the pavement in the High St, Redcar." was reported to the Redcar Bench, "the time was 11.20 at night.", concerning Ernest Hodgson, aged 29, of Thomas Street, New Skelton.
He was fined 10 shillings. [50 new pence.]

14th April -
POST YOUR LATE LETTER ON THE LOCAL BUS.
In order to provide a later collection of letters in the Loftus area it has been decided to place a post box on the United bus leaving Loftus at 7.22 p.m.
Skelton time is 7.48 and will be used weekdays except Bank holidays.
2nd May.
APARTMENTS TO LET AT SKELTON GASHOUSE.
Terms moderate; near the sea and the moor. Apply Watson. Gashouse, Claphow, Skelton. Cleveland. Tel.- Skelton 10.

19th May -
SKELTON GROCER AND DRAPER FOR 53 YEARS.
Well known and respected in the district Mr and Mrs Watson T Dowson of 151 High St, Skelton celebrate their Golden wedding.
Both are aged 73, but are still actively interested in the welfare of their shops.
They were married at Skelton Church on May 21st 1884. Mr Dowson was born at Rosedale and Mrs Dowson at Eston.
For over 12 years Mr Dowson was a member of the Skelton and Brotton Urban Council.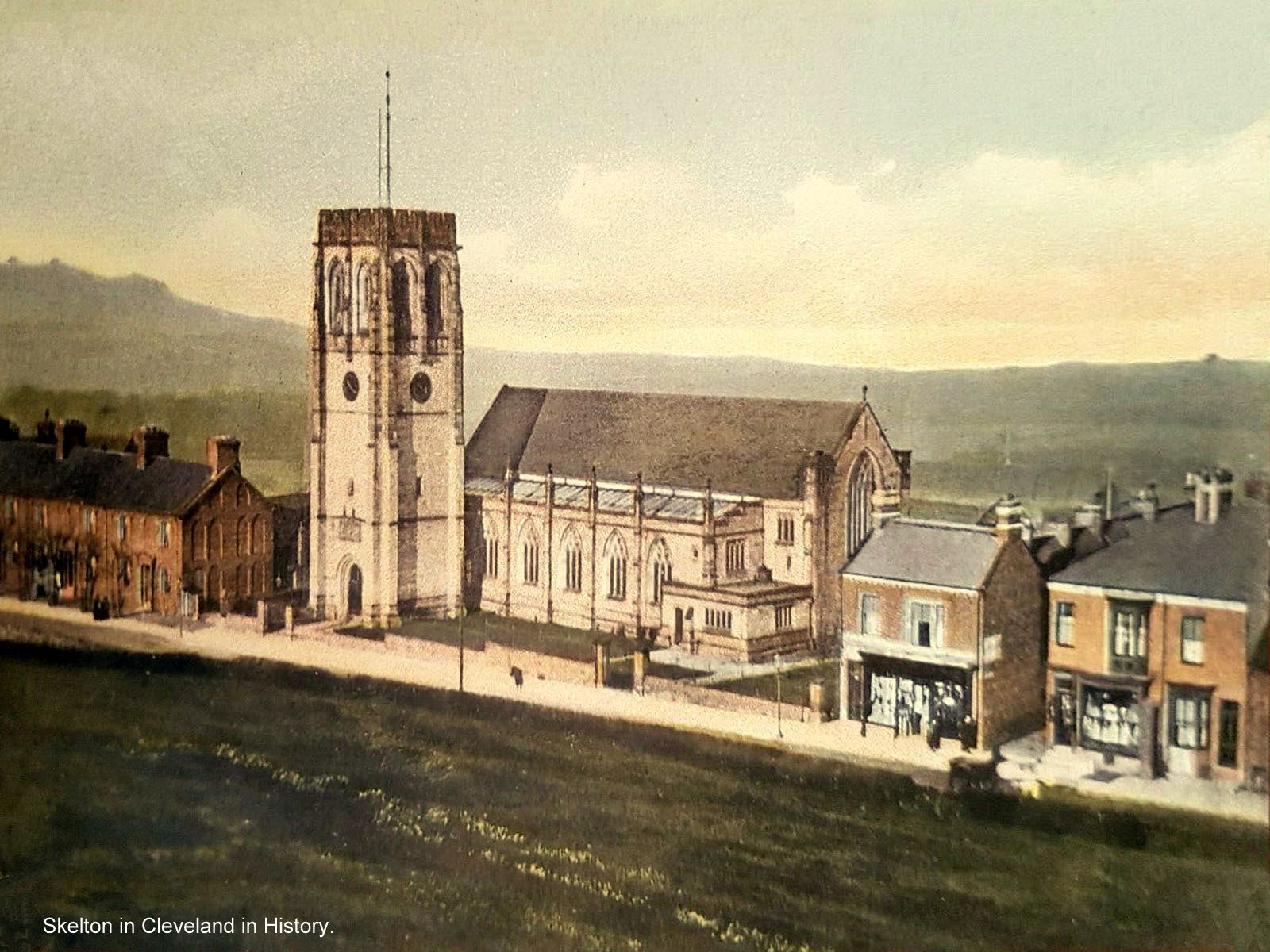 The Dowson shops at 149 and 151 High Street can be seen on this photograph. 151 is on the Right of the entrance to Robinson Street.
The date of the photograph is not known, but the Church was built in 1884 and the sandstone has not yet been blackened by the village coal fires.
In 1890 the occupants were - 149 - Elizabeth Mary Blackett, Draper. 151 - Dowson Bros, grocers - Henry and Watson.
At the 1901 census -
149 Dowson Thomas - Draper and Grocer, age 39. born Rosedale Abbey.
151 Eliza wife, born Eston, children - Lillie, 20, Gordon, [grocer's assistant. He later opened a grocery shop in North Skelton.], Amy 13. Harry 11, Eliza 6, all born in Skelton,
At 153 - Sarah Small, born Rosedale, Sweet Stuff Baker, Shopkeeper and Amy, aged 8.
At 155 was Thomas Hight Shoe and boot maker, aged 40, with his wife and 7 children.
In 1909 149 Dowson Bros, Drapers and 151 Dowson Bros grocers.
---
8th June - CONCERT BY GREEN HOWARDS BAND.
On Sunday afternoon there will be a performance by the 4th Battalion of the Green Howards in the beautiful grounds of Skelton Castle.
A modest charge will be made in aid of the Territorial funds and a small charge made for car parking at the Castle gates.
The Band will be conducted by H Housam, the Bandmaster with an excellent and varied programme of music.

29th May -
OUT OF TUNE ON THE DOLE.
Joseph Ronald Husband, of Cleveland St, Skelton Green was charged with obtaining a "dole" of 3 shillings 10 pence and a halfpenny by making a false statement.



He had signed to say he was out of work on the 14th February, whereas he had on that day earned 5 shillings by tuning a piano.
He pleaded to the Bench that he was under the impression that if a man had a spare time job before he went on the dole he was still allowed to continue it unless his earnings exceeded &pound1 per week.
He declared that by hard work he had managed to get off the dole. The Bench fined him 10 shillings.



---

29th June -
KILLED BY FALL OF STONE - NORTH SKELTON.
A verdict of accidental death was returned at an inquest at Brotton Hospital on William Blows, aged 37, a miner of Charltons, Boosbeck, who was fatally injured by a fall of stone in North Skelton Mine.
Benjamin Murrell, who was working with Blows, stated that they were busy loading a tub about 5 feet from the face, when a piece of stone weighing 28 cwts came away from the face, without any warning.
It struck the deceased, knocking him down and falling on top of him. He was removed unconscious to Hospital.
A shot had been fired about an hour before the accident and the place was immediately examined with a rod.
James Pierce, a deputy, stated he examined the place shortly before the shot was fired and put in a baulk afterward the shot. He noticed nothing to question the safety of the place.

19th July -
FREAKS OF LIGHTNING.
The Skelton firemen were all called out by the persistent ringing of their alarm bells, only to find later it was caused by lightning having struck the connecting wires.
Following this the electric supply was cut off by the blowing of a high tension switch at the Skelton and Brotton Council's sub-station.
A house in William St, New Skelton had its chimney knocked off and a window broken.

24th July -
DOMESTIC VIOLENCE AT NEW SKELTON.
AFRAID OF HUSBAND AND SEPARATED.
Constance W Clarke appealed to the Bench for protection from her husband Matthew Clarke of John Street, New Skelton.
They had been married a little over a year and a half.
Mr S Nixon on her behalf stated that her husband had struck her on two or three occasions and had threatened to "swing for her."
On one occasion he had seized her by the throat, but a neighbour intervened.
Constance kept a fish and chip shop and Matthew was on the dole.
On Fridays and Saturdays he got drunk and when his money was finished he demanded more from her, threatening physical injury.
"In fairness," Mr Nixon, added, "he has only once struck his wife when he was sober and but for the drink these two could live happily together."
Matthew denied the allegations of persistent cruelty and declared that neighbours were the cause of the trouble.
The Bench granted a separation order and gave Constance custody of their child.
25th July -
NORTH SKELTON BROTHERHOOD FC.
At the Annual Meeting of the South Bank and District Football League the North Skelton club applied for membership of the Second Division which now had 11 teams, with 14 in the First Division.

27th July -
MARITAL MISCONDUCT AT SKELTON GREEN.
A divorce was granted by Mr Justice MacNaughten at Leeds Assizes to Wilfred Carter of Mowbray Cottages, Leeming Bar, Northallerton for the misconduct of his wife, Isabel Carter of Ground Hill Cottages, Skelton with Robert Spence at Skelton Green. His Lordship exercised discretion in favour of petitioner in respect of his own misconduct.

9th August -
JUBILEE OF SKELTON CHURCH.
A garden fete and country fair was held in the grounds of Skelton Castle yesterday to celebrate the Jubilee of the erection of All Saints Church in Skelton High Street.


The Rev R W Wheatley expressed his thanks for the loan of the grounds, where a large variety of entertainments were provided, including folk dancing and a Pageant, "A Summer Fantasy", arranged by the curate, Rev F. J. Mann and presented by the congregation and Sunday School of the North Skelton Church.

13th August -
SKELTON CASTLE GENEROSITY.
Colonel W H A Wharton opened the grounds of his beautiful home once again to the public and this time the admission money was given to the Skelton Branch of the British Legion.

14th August -
PERMANENT METHODIST MINISTER IN SKELTON.
The Primitive Methodists, who had split from the Wesleyans in the previous century had algamated in 1932 and the joining of the Guisborough circuits meant that a Methodist Minister was permanently stationed in Skelton for the first time.
Ex Wesleyan, the Rev J. W. Dent, came to live at 'Rockville', The Hills with the supervision of 12 Methodist churches in the area.

15th August -
PARK PIT - FOOT CRUSHED, HEAD INJURED.
As a result of falling stone in Messrs Dorman Long and Co's Park Pit, Skelton in Cleveland two miners were admitted to the Chaloner Memorial Hospital, Guisborough.
They were Fred Turner of Allison St, Guisborough, who had a foot badly crushed and Arthur Robinson, of Boosbeck Rd, Skelton Green, who had head injuries.

27th August -
SKELTON ERRAND LAD FINED 1s 6d [7.5 NEW PENCE] FOR RIDING ON THE PAVEMENT.
Gordon Cole of Elliott St, Skelton Green along with Leonard Prouse of Marske, two errand boys, were summoned before the Redcar Bench, for riding cycles on the footpath.
They blamed the rough and stony state of Prince Rd, where the offence was committed.


4th September -
PARSON WANTS A HOUSEKEEPER.
Under a good cook; bachelor's house, housemaid kept. Apply to Rector, Skelton-ln-Cleveland.

28th September -
HANGED IN THE SLAUGHTER HOUSE AT HOME FARM.
John F Halliday of Home Farm, Skelton yesterday afternoon visited his private slaughterhouse and found a man hanging from the roof with a rope around his neck.
The man was Robert T Barker, aged 63, of 71 High St, Skelton and he was dead.
He was a retired butched and well liked in Skelton.
He was in perfect health, but had of late been somewhat depressed.
Earlier the deceased had been in the slaughterhouse to cut up a sheep, but had been home for lunch.
The inquest takes place at the Green Inn, Skelton Green.

30th September -
CRUSHED BY STONE - ANOTHER MINE DEATH.
Accidental Death was the verdict on George Robert Thurlow, aged 53, of 19 High St, Lingdale, who was crushed by a fall of stone at Dorman and Long's Skelton Mines last Wednesday.
He died on Sunday as a result of chest injuries.



1st October -
OLD SALTBURN TRANSFERRED OUT OF SKELTON COUNCIL CONTROL.

4th October -
NEW PRIEST AT NORTH SKELTON.
The Rev J. E. Cottrell has accepted the position in succession to the Rev F. J. Mann.

18th October -
SERIOUS ACCIDENT WITH DOG IN NORTH SKELTON.
John Atkinson of Brotton on a motor cycle with Miss Dorothy Morley of Loftus as a pillion passenger ran into a dog in Vaughan Street, North Skelton last night.
Dorothy was thrown onto the pavement and rendered unconscious.
She was taken to the Cleveland Cottage Hospital, Brotton and was still unconscious and in a very serious condition at noon today.
Atkinson had only minor injuries.

2nd November -
WATER OFF - DOES IT RING A BELL ?
At the meeting of the Skelton and Brotton Council last night many complaints about the water supply were ventilated.
It was decided to ask the Cleveland Water Company to give a warning that could be more generally heard by the communities affected when the water was to be cut off for a time.
The Chairman, Mr M Kirkbright suggested - "Instead of workmen going to the top of the street and shouting 'Water Off', a bell should be rung."

14th December.
MINERS HAVE TO WORK ON BOXING DAY AND EASTER MONDAY -
WHY SHOULD COUNCIL WORKMEN HAVE A HOLIDAY ?



Skelton and Brotton UDC's workmen are to get holidays on these days, in spite of a recommendation to the contrary from a special sub-committee, whose report was considered and amended at the monthly meeting of the Council last Thursday.
It was revealed during the discussion that the report, copies of which were not given to the Press, dealt with the working conditions of the employees and advocated:-
1. That Easter Monday and Boxing Day should not be regarded as special holidays.
2. That the workmen should normally retire at 65 years of age.
3. That the Clerk to the Council should be appointed Chief Executive Officer over the other officials.
These 3 points raised were discussed at length. The first was defeated, the second approved and the third referred back for consideration.
Mr H C R Morris [He was the Castle Estate Agent and known by local lads as "Rubberneck"] in support of the sub-committee's recommendation opposing the inclusion of Boxing Day and Easter Monday as additional holidays for Council workmen, said that other local authorities did not give their employees such holidays.
"If anyone thinks that we are well enough off to give a lead to Redcar and Saltburn and other authorities, I disagree", he said.
Mr Morris pointed out that the Council employees were given a week's summer holiday with pay and maintained that they were better off than Miners and Steelworkers of the District.
If the men in the pits wanted extra holidays they got no pay and yet it was suggested that these ratepayers should sweat themselves to pay a wage bill of &pound6,000 a year and get less value for it.



"There is not a single Miner or Steelworker in the District, who would not gladly exchange his job for a sheltered position on the Council," he added.
County Councillor, J R Johnson, protested that the principle of giving holidays on these days was only questioned when it was proposed to extend it to the working men.
Nothing was said about the Officials having the holidays. He saw no reason why officials should have one standard of consideration and workers another.
"Mr Morris has mentioned steelworkers. I am one of the lower paid steelworkers, but I do not begrudge our Council workmen the extra holidays.
It is one thing we trade unionists have been fighting for for years and the Miners are fighting for the same privilege.


If we refuse it to the Council's workmen, because we have so far failed ourselves, it is a proper dog-in-the-manger attitude."
A plea for equal treatment for workers and officials was made by Mr M Kirkbright, who said they would lose nothing by treating their men well.
The better the understanding and sympathy between them the better the results would be. As a public body it was the Council's duty to set an example in the treatment of its staff to other organisations.
Mr R Young contended that the workmen were already well treated. Considering the type of work they did and the holidays already granted them, he thought they were getting a fair deal.
Mr E W Oxborough echoed previous statements in favour of the workmen.
Mr T Coatsworth referred to the question of equality and said he was willing to support a suggestion that neither workmen nor officials were to be given the extra holidays.
Mr G W Simpson and Mr J Morgan deplored the taking of "such a retrograde step". It would be better to bring the workmen up to the standard of the officials.
The Council voted to give the extra holidays by 12 to 6.
Those for were Messrs M Kirkbright, J Morgan jun, R Morgan, J Morgan, E Ringrose, E W Oxborough, J I Howe, J Garthside, J Duffey, J R Johnson, G W Simpson and T G Ward.
Those against were Messrs W H Bottomley, E Scarth, T Coatsworth, H C R Morris, R Young and M Hatfield.
The voting was recorded in the Minutes at the request of several members.
A suggestion in the report that workmen should normally retire at 65 received some opposition, but an amendment that the retiring age be raised to 70 was defeated.
It was made clear that retirement at 65 would not be rigidly enforced and where any hardship would arise elasticity in interpretation would be exercised.

22nd December -
SKELTON GREEN HOWARDS HEALTHY POSITION.
Congratulatons on the strength of the 4th Battalion Green Howards was offered in Skelton Drill Hall by the Chairman, Major T K G Ridley.
"The Territorials of the whole country"," he said, "have rather depreciated in strength, but the Skelton detachment has increased."