---



The Johnson Family at what is believed to be 1 Carrick's Yard about this time.


---

Mr Anthony Johnson, aged 38, appears on the 1901 census as the Caretaker for Skelton Institue. He died in 1914.
He had come to Skelton from Catton, a village in Allendale, Northumberland.
He had married Margaret, aged 36, in 1891. The five children are John Person, the eldest. Mary Alice. Thomas. Victor [believed to have been killed in a mining accident in the 1930's] and George [born 1906].
The eldest son, William A Johnson, then aged 13, lived with his Grandmother back at Catton.
He appears on the list of Skelton Men Who Fought in the Great War, when the family had moved to 18 Green Road,
[The photograph was kindly donated by of George's Grandson, Peter Wells of Reading, Berks.]

---

SKELTON AND BROTTON WARDS.
The Urban District was divided into 8 separate wards:- Skelton, North Skelton, Brotton, Kilton, Boosbeck, Lingdale, Moorsholm and Stanghow.

4th January -
HANDRAILS IN THE WOODS.
At a meeting of the Council it was decided, subject to the permission of Mr Wharton, to place handrails by the side of the footpath from Skelton to Saltburn on the incline at Riftswood.

9th January -
RELIGION AND REFORM.
Under the auspices of the Skelton Wesley Guild an instructive limelight lecture on the 'Life of Christ' was given by the Rev Albert E Salmon of Saltburn. Dr Wigfield presided.
At the Literary Institute, North Skelton, a successful Meeting took place by the Women's Liberal Association. Miss Robinson gave an address on the progress of social reform.

10th January -
SMASHED CELL WITH TOILET SEAT.
James Adams of Skelton, a mechanic, was charged with being drunk and disorderly and damaging a cell at Skelton Police Station.
Sgt W Marwood and PC Hope stated the defendant was refused drink at two public houses in Skelton. He became disorderly and when requested to go away, began to use very bad language.
So he was locked up. Whilst in the cell he commenced to kick the door and so his boots were taken off.
He then commenced to tie his rug into knots and this was also removed.
He afterwards broke off the closet seat and with it broke ten panes of glass in his cell window.
Adams denied being drunk, but admitted doing the damage, saying that he was sorry for being so foolish, but he lost his temper on finding himself locked up.
A fine of 5 shillings and costs were imposed in each case.



Postcard sent by William A Johnson to his mother at 1 Carricks Yd.

---

13th January -
'HALLED' BEFORE THE COURT FOR 8 PENCE THEFT.
Thomas Hall, aged 21, described as a labourer belonging to North Skelton was brought up at a special Court at Guisborough this afternoon and charged with breaking into a penny-in-the-slot machine gas meter in an unoccupied house at 11 George St, Redcar, and stealing 8d from it.
Inspector Haw gave evidence that on Saturday night the defendant was arrested leaving the house and on being charged at the Station pleaded guilty.
Supt Rose said there were 6 similar charges against the defendant and remand was granted.

16th January -
RIFLE RANGE FOR THE SKELTON CHURCH LADS BRIGADE.
Mr W H A Wharton of Skelton Castle has presented the Skelton Company of the Church Lads' Brigade with a rifle range which can be fixed in their barracks.
Lieut Mitchinson has been promoted to the rank of Captain and Mr F Dickinson appointed Lieutenant to the Company.
23rd January -
MINERS ASSOCIATION - ONE IN, ALL IN OR ALL OUT.
At a meeting of the Cleveland Miners' Association, Mr Toyn presiding, it was decided that Notices to terminate employment should be tendered on Saturday first at those Mines and Quarries where non-unionists are employed, unless those outside, numbering 123 fall into line.
At Skelton Shaft and Skelton Park all were affiliated. At North Skelton 9 men were out and at South Skelton 5.
By the 27th all North Skelton men had joined.

24th January -
DE-CARTED BY CLOTHES LINE CLAIM.
George Smith, a miner of Skelton, made a claim against Fred Carter, another Skelton miner, and his wife for &pound8 damages for personal injuries.
He claimed to have been thrown out of a butcher's cart on the 5th September 1907, through a clothes line being left across the back street of Boosbeck Rd, Skelton Green. He was struck on the head as he was riding down to the stable in company with the butcher's boy.
He said that he had noticed the line across the street in the afternoon, but had no idea that it was still there when he was riding down to the stable at a quarter to eight at night. The line pulled him backwards off the cart and as a result he was unable to work for 4 weeks and 2 days, his collar bone being injured.
Mr Hoggett, for the defence, elicited that when he was knocked off the cart he remonstrated with the lad for not driving more carefully
William Wilson, the boy on the cart admitted that the horse was walking quickly when the accident occurred and said that there were not clothes on the line at the time. He saw the line and bowed his head in time.
Mr Hoggett contended that Smith had been guilty of contributory negligence as he had the same opportunity of seeing the line as the lad.
Fred and his wife swore that there were some children's clothes on the line at the time, which was seven and not eight o'clock.
His Honour said that the Defence had failed to establish contributory negligence. It was a dangerous thing to put a clothes line across a road to a stable to which somebody had the right of access. It was fortunate that Smith's injuries were not more serious. He found judgment for Smith for 5 guineas to be paid by instalments.

7th February -
RECHABITES SUPPER AND GAMES.
The "Prosperity" Tent of the Independent Order of Rechabites [anti-alcohol society] held a social evening in the Institute at North Skelton. About 70 members and friends attended and had games and supper. It was early morning when the company dispersed.

14th February -
COURT - DOG - CART - DRUNK.
Frederick Gill, a miner of Lingdale was fined 1s 6d and 8s 6d costs for allowing his dog to be in public at Skelton without a collar.
William Roberts, a hawker of Middlesbrough, was fined 5s and 8s 6d costs for being such a distance from his horse and cart that he had not control of same.
Thomas Davis was fined 2s 6d and 4s 6d costs for being drunk at Skelton on the 10th Feb.


15th February -
THE WHITE HOUSE SALE - WITHDRAWN.
There was a large comapany at the Wharton Arms, Skelton, last night, when Mr Charles Turner of Lazenby, offered for sale the White House farm buildings with cottage attached and one and a half acres of grassland at Skelton.
The opening bid was &pound100 and the offers rose to &pound200, at which sum the property was withdrawn.

18th February -
HOPE TO PROSPER - COME AND JOIN THE BAND.
The Annual balance sheet of the North Skelton 'Hope to Prosper' Band showed a gain of some &pound13.
The committee pointed out that the only drawback during the year was the smallness of the Band.
They appealed to parents to encourage their sons to join as they would like the Band to occupy a foremost place in the District Association.

24th February -
SKELTON CHORUS OVER 100 STRONG.
The members of the Skelton and District Choral Society make their bow to the public this week on Wednesday, when they will give a performance of Van Bree's 'St Cecilia's Day' and other selections.
An orchestra will assist at the Concert, which will be conducted by Mr W H Boynes, who will have a chorus of over 100 strong to respond to his baton.

28th February -
NORTH SKELTON COWL COMMITS DIRTY FOUL.
Mr T Shorttle, Middlesbrough, the referee in the Amateur Cup-tie between Redcar and North Skelton reported Cowl of North Skelton for deliberately kicking Foster of Redcar and severely injuring the latter.
He send Cown off the field and the Council decided to suspend the player until the end of the season.

28th February -
21 DAYS HARD FOR 2 TRAMPS.
George Reynolds and Thomas Collins, two tramps, were sent to gaol for 21 days each for begging at Skelton that same morning.

4th March -
MINE DEATH - FALL OF STONE.
William Cheshire, a married miner, aged 47/48 of Errington St, Brotton, was killed in Long Acres Mine today.
"He tried to bar down a piece of ironstone, but failing in his purpose, began to cut the stone out beneath; the upper piece then fell suddenly upon him."
Life was extinct when his body was recovered and removed to Brotton Hospital to await an inquest.
At the same Mine yesterday afternoon, William Holden of N Skelton was hurt about the back by a fall of stone. Afterwards he was attended by Doctor Thorney at the Skelton Miners Hospital.

6th March -
DRUNK FINE.
William Sturman was ordered to pay 4s 6d costs for being drunk at Skelton Green on the 29th Feb.
---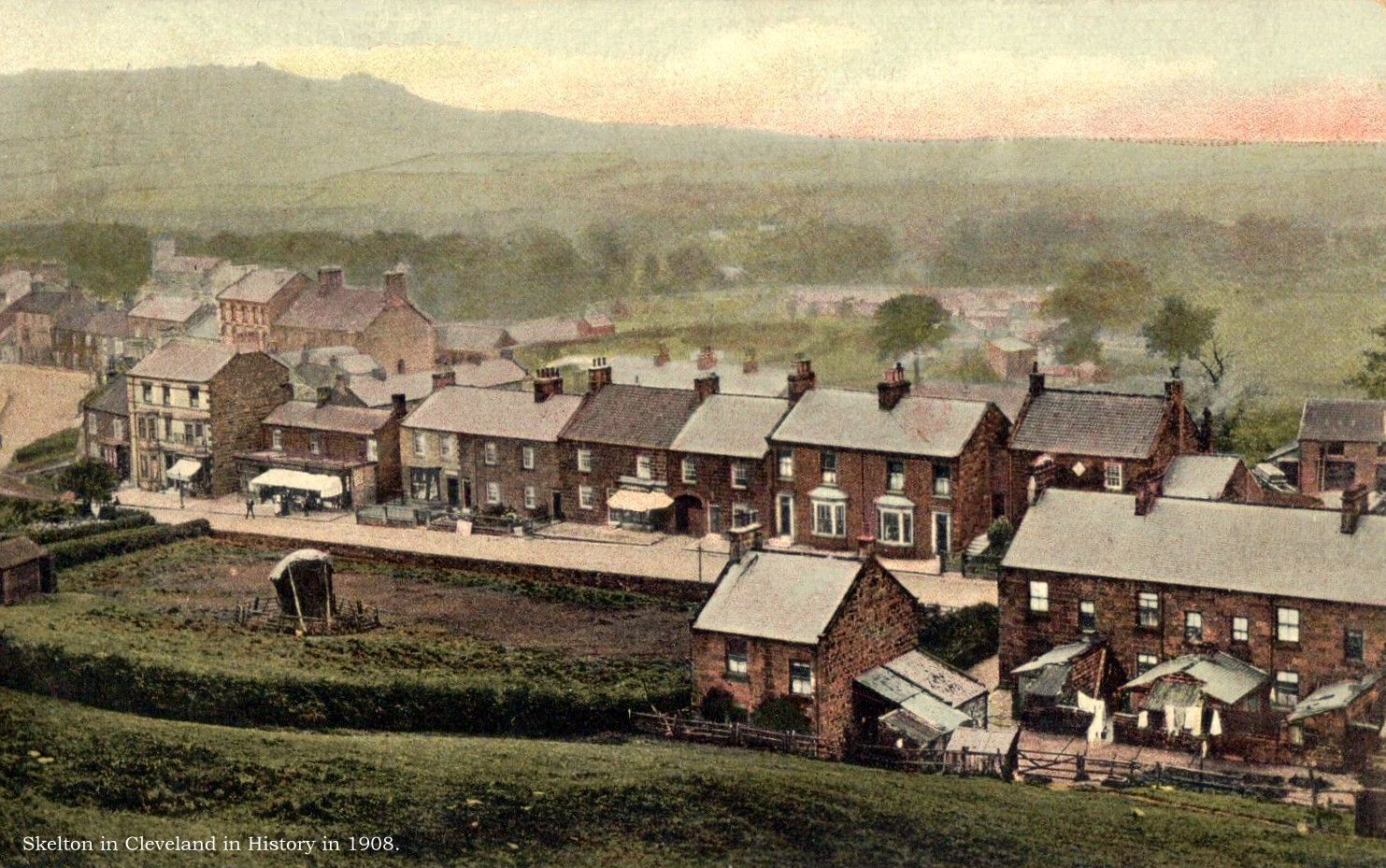 Postcard with Skelton postmark dated March 1908.
Part of message says -...we have had our oldest boy, Jim, down with the Pneumonia and it has been a very anxious time for us, I tell you. He started the first week I arrived. He got a change on Friday and is going on as well as can be expected.
---
13th March -
SKELTON GARDENER OFF TO A SUNNIER SPOT.
Mr George Charlton, late second gardener to Mr W H A Wharton of Skelton Castle left Cleveland yesterday to take up a more lucrative appointment in Natal.
He was the recipient of several presentations from his Skelton friends.

13th March -
LIGHT-FINGERED LAMPLIGHTER.
Charles A Wright, a lamplighter of Skelton, was charged with breaking and entering the shop in Wharton St, North Skelton, in the occupation of Arthur Suddick Shepherd and stealing the sum of &pound4 6s 3d.
According to the evidence Mr Shepherd locked up his shop safely on Saturday and left part of the money in the till, under the counter.
When he returned on the following morning, the shop was still locked, but he found that the till had been opened and the money gone.
Defendant was in his shop on Saturday and saw the assistant, Arthur Lack, looking under the counter.
Defendant asked Lack what he was looking for and Lack said some silver in a tin.
When apprehended by PC Hutchings, on Sunday, defendant stated that he got into the shop with a key, which he had found near Shepherd's coal depot. He had put the money in a stable at Skelton, where the policeman had found it.
He also found the key in a field where Wright had said he had thrown it.
Mr Hoggett, for the defence, said he was sorry the Magistrates could not deal with the case there, as it was one in which the Probation of Offenders could well be used.
Defendant had been led away by bad companions and by reading trashy literature, with which his mind had become saturated.
Wright was committed for trial at the next Quarter Sessions, bail being allowed, himself in &pound10 and 2 sureties of &pound10 each. This was forthcoming.

26th March.
MINE DEATH.
Frederick Woodward, aged 32, a married man and an Ironstone labourer, who resided at Green Rd, Skelton, was killed in Park Pit.
He was engaged in detaching empty tubs from the 'endless rope'.
How this came about is not known, but it appears that a youth close by heard deceased moaning about half past eight this morning and on going to him found him lying on his right side with his legs drawn up.
Two detached tubs were found a short distance away.
It was understood that his neck was broken.
The Mine was laid idle for the remainder of the day.
Inquest to be held at Skelton tomorrow afternoon.

27th March.
UNEXPECTED EVIDENCE INTO MINE DEATH.
Two doctors showed that the death of Frederick Woodward was the result of heart disease.
There was nothing to show that he had been struck by any of the tubs and his heart had extensive valvular disease.

27th March -
DISTRICT COUNCIL CANDIDATES.
The following have been nominated for seats on the Skelton and Brotton Urban District Council:-
Skelton North Ward --- Robert Cross, butcher of 26 Vaughan St, North Skelton. Robert Gott, miner, of 4 Yeoman St, Skelton. Thomas Varty, mines Manager of Park House, Skelton.
Skelton South Ward --- John Snowdon, innkeeper, of the Lingdale Hotel. Noah Teasdale, mines deputy, of 4 Catherine St, Lingdale.

28th March -
HORSE BOLTS - CHAPEL PILLAR KNOCKED DOWN.
Henry Gibson, a Groom, employed by Mr Wharton of Skelton Castle had an 'exciting' experience in High St, Skelton, yesterday.
His horse took fright at a passing motor car, belonging to Saltburn, and bolted.
In attempting to turn Green Rd corner it ran into the wall at the front of the Wesleyan Chapel and knocked one of the pillars down.
The rider was thrown off, but retained his hold of the reins.
He sustained no injuries and the horse had no bones broken.

30th March -
PARK PIT INJURY.
William Hughes, a Miner, residing in Bennison St, Guisborough, was admitted to the Guisborough Mines Hospital today suffering from injuries to his back, the result of a fall of stone in Skelton Park Pit.

31st March -
BEGGAR WARNED AND JAILED.
Stephen Walsh, a tramping labourer, was today at Guisborough committed for 14 days for begging at Skelton. The Police evidence showed that 2 months ago he was caught begging in the same village and was let off with a caution.

1st April -
LOCAL VOLUNTEERS BECOME TERRITORIALS, THE 4TH BATTALION OF THE YORKSHIRE REGIMENT.
The Local Volunteers were absorbed into the Territorial Force by Haldane's Act of Parliament.
They were now to be organised on the basis of the Regular Army and became Territorial Battalions of the local Regular Army Regiment.
But, with only Home Defence responsibilities at that time.

Herbert Henry Asquith.
Liberal Prime Minister
1908 to 1916.

---

The 4th Battalion, Alexandra, Princess of Wales's Own (Yorkshire Regiment) became part of the Territorial Force with Headquarters at Northallerton, which at that time was the centre of North Riding Authority and remained so up until the 1960's.
The Battalion was divided into Companies designated A to H.:- The Skelton Company was "G" with detachments at Carlin How, Lingdale and Loftus.
Others were -
A - Middlesbrough, [transferred from 1st Vol Bn, Durham Light Inf.]
B - Middlesbrough, [transferred from 1st Vol Bn, Durham Light Inf.]
C - Yarm-on-Tees (dets at Great Ayton, Stokesley and Hutton Rudby)
D - Guisborough (dets at Eston, South Bank and Grangetown)
E - Richmond (dets at Catterick, Eppleby and Reeth)
F - Redcar (det at Marske by the Sea)
H - Northallerton (dets at Bedale, Thirsk, Easingwold, Brompton and Helperby)

3rd April -
CAMPBELL-BANNERMAN DEAD - ASQUITH THE NEW PRIME MINISTER.
After a series of heart attacks the Liberal Prime Minister, Campbell-Bannerman resigned. He died 19 days later, the only PM to date to do so in 10 Downing St. He was replaced by the Chancellor of the Exchequer, Herbert Asquith, who held the post until 1916.
4th April -
INSTITUTE CONCERT WITH INFANTS.
A successful Concert took place in the Skelton Literary Institute last night in aid of a new pipe organ for the Wesleyan Church.
It was organised by head teacher, Mrs Herring and included children from the Infants' School with Mrs Hodgson and Miss Herring as accompanists.

7th April -
INSTITUTE BENEFIT CONCERT FOR DISABLED MINER.
Another successful Concert took place in the Skelton Literary Institute for the benefit for Thomas Bonnard, a Skelton Miner, who has been unable to work for the last 3 or 4 years.

8th April -
MINE DEATH - 7 TON STONE FALL.
Skelton Park Pit. Samuel Kime, a deputy aged 62, was killed.
The evidence showed that he was engaged in re-timbering an old place and that suddenly the stone came away and buried him.
He was heard to moan twice, but when extricated he was dead.
A workman, named Daniel Chilvers was working in the place at the opposite side, but he escaped unhurt.
This was almost certainly the Daniel Chilvers who became a Prudential Agent and was murdered in Skelton Beck in the following year.
Many Miners are known to have witnessed death in such accidents and decided never to go down a Mine again.
"When setting up a baulk, a huge piece of stone, weighing about 7 tons, fell away from a visible, but not well-defined back. The place was near the goaf, and no doubt there was great weight on the pillars which caused the stone to fall."
Mr Thomas Varty, the Mine Manager, told the Coroner, Mr W Richardson, and the Jury that the deceased was one of the most careful and best experienced Miners he had ever had under him.
Representatives of the Government Inspectorate, the Miners Association and the Mineowners Association attended.

9th April -
NORTH RIDING SESSIONS - IT WAS THE 'PENNY DREADFUL' WHAT DUNNIT.
See 13th March above.
Charles Arthur Wright, aged 17, pleaded guilty to breaking and entering the shop of Arthur Suddick Shepherd at North Skelton and stealing &pound4 6s 3d on March 7th.
His defence of reading trashy literature and committing the offence out of bravado rather than anything else led the Court to a lenient view and bound him over under the First Offenders Act.

9th April -
THE NEW TERRITORIALS - YOUR COUNTRY NEEDS YOU.
Speaking at a largely attended Meeting of electors last night, Mr W H A Wharton, the Chairman of the new Territorials Army Association referred to question of Home Defence.
No one who had seen War wanted conflict, but you had to be prepared.
A bully would fight a weak man, but run away from the strong.
Because we had a 'little ditch' running round the country, some thought we were safe.
It was the duty of every man in the Country to be ready and capable of doing his best to defend it.
Britain had always prided itself in having a Volunteer Army and he appealed to give the new Territorial Army a chance. Otherwise when the time came it would be conscription.
And so it proved in 1916.

15th April -
SENT DOWN FOR SMOKES.



Arthur Henry Swainson, a miner of North Skelton, was charged with stealing 2 boxes of "Woodbines", the property of George Bulman, a cartman of Seymour Hill, Loftus.
Bulman said that the previous day he put up his cart in the Crown Hotel Yard, Brotton, for about an hour.
When he got to Carlin How, he missed the 2 boxes of cigarettes. They were produced in Court and were worth 6s 6d.
He went back to the Crown and saw Swainson coming out with the two boxes under his coat.
He tried to hide them in a rubbish heap. Bulman informed the Police.
PC Joseph Cook arrested Swainson in the Crown Hotel Yard with the boxes under his coat.
The Bench sent him to Northallerton Prison for 21 days with hard labour, there being several previous convictions recorded against him.
24th April -
CLEVELAND AMATEUR BRASS BAND CONTEST.
The first contest was held in the Priory Gardens, Guisborough on Saturday. The weather was bitterly cold and the attendance suffered.
8 Bands were entered. 5 in Division One and 3 in Division Two. The results were:-
Div One. 1. Grangetown Steelworks. 2. Guisborough Priory. 3. Skinningrove. 4. Charltons Terrace. 5. Skelton Old.
Div Two. 1. Brotton Temperance. 2. Lingdale. 3. North Skelton.

24th April -
40 POUNDS COMPENSATION FOR BIKE DOWN A HOLE.
At Stokesley today, Judge Templer, awarded &pound40 to William Short, a Clerk and cyclist of Skelton against Joseph Denham, contractor, Condon for personal injuries for leaving an excavation unprotected.

28th April -
SKELTON BENEVOLENT SOCIETY.
The first of a series of Concerts was given in the Drill Hall on Sunday night in aid of the aged and poor of the District.

30th April -
LADY TRAMP CONVICTED.
At the Guisborough Court today, Mary Kirvin, a tramp, for begging at Skelton Green, was send to prison for a month.

4th May -
MINE ACCIDENT.
Longacres Mine. William Bowers, miner of Skelton, fractured his leg by catching it in a rope on the engine plane.

5th May -
STANGHOW LANE SCHOOL CONCERT.
A large attendance at the Skelton Institute last night saw a Concert given by the pupils of the School.
Solos, part songs and action ones were given along with gramophone selections by Mrs Webster and others.
The proceeds go to the aged and poor of Skelton and the Teachers' Orphanage.

18th May -
KEEP THE RED FLAG FLYING ON THE GREEN.
On Saturday night, under the auspices of the Independent Labour Party, an open air meeting was held on Skelton Cross Green, the speaker was Mr Henry Wall of Redcar.

22nd May -
NOWT IN THE METER.
See 13th January for previous.
Thomas Hall, a labourer of North Skelton, was charged with breaking into 11 Randolph St, Saltburn, the property of the North Eastern Railway Company on the 9th May.
Tom Fletch, a locomotive foreman, said that Hall was not employed by the Railway Company and had no right to be on the premises.
Miss Laura Pollard said that she lived next door to the house in question and on the 9th Hall came to her house about 9 o'clock and asked for the key of their door stating that he had to lift some floor boards at No 11.
She gave him the key and he returned, saying that it did not fit and then took a ladder from her yard and went up to the bath room window, by which he entered the house.
In about 10 minutes he returned and asked for the loan of a cold chisel, or a piece of iron, by which to lift the flooring boards.
She gave him the piece of iron, which was produced in Court.
When arrested by Sgt Marwood, Hall said that he broke open the gas meter, but found no money in it.
When charged he had nothing to say and was committed for trial at the Quarter Sessions.

29th May -
DRUNK AND DISORDERLY.
Robert Mackenzie and Joseph Robinson, miners of Boosbeck, were each fined 7 shillings for being drunk and disorderly in the Township of Skelton on the 16th May.

29th May -
NO SCHOOL FINE.
Frank Cuthbert, a miner of North Skelton and Arthur Christon, a labourer of Skelton were both ordered to pay 5s costs for neglecting to send their children to school

2nd June -
LADY PUB LANDLORDS BETTER THAN MEN ?
At a hearing at Guisborough today, for the transfer of the license of the Miners' Arms, Skelton Green to Mrs Clissold, the widow of the former tenant some discussion arose to how a lady license holder would act in the case of a disturbance.
Mrs Clissold stated that she could easily get assistance and Supt Rose remarked that he had no objection and, amid laughter, added that sometimes women managed public houses better then men.
The license was granted.

4th June -
PARK PIT LAID OFF - SERIOUS CAGE ACCIDENT.
Over 500 men, employed at Bell Bros Park Pit, Skelton are idle today in consequence of a cage accident of a serious character.
While ironstone was being withdrawn, one of the cages left the 'skids' and came into contact with other.
Both were damaged and the two tubs fell to the bottom.
Fortunately not a single person was injured.
The shaft timbering, however, was considerably damaged and the men had to be brought to the surface by the 'old shaft'
It is doubtful if the Mine will resume this week.

8th June -
TERRITORIALS PARADE AND BAND CONCERT IN THE WOODS.
A large company turned out to witness the Annual Church Parade of the Skelton Company of the North Riding Territorial Force.
The Skelton Old Prize Band, under the conductorship of Mr E Thorpe, gave a sacred Concert in Saltburn Woods, with a collection for the instrument fund.

5th June -
BOOKIE BETTING A LOSER.
Tom Harker of North Skelton was charged with an offence under the Street Betting Act.
Sgt Marwood and PC Hutchings noticed Harker loitering in Vaughan St, North Skelton and William St. They saw two men approach him in Back Richard St.
He was given something and made entries in a book. He was arrested and on him were found some betting slips, a note book and over &pound5 in money.
Hall strongly denied taking bets, adding that he would not be so silly as to do any betting when he knew the police were in their hiding place.
The Bench inflicted a penalty of &pound5, including costs.

12th June -
DRUNK AND KICKED POLICE.
William Harris of North Skelton, a Miner, was charged with being drunk and disorderly at Old Saltburn on Whit Monday and also with assaulting PC Thomas Hutchings.
The Constable said that Harris was at the Ship Inn, Saltburn near Cat Nab, creating a disturbance. He tried to get him away, but he kicked the officer several times.
He obtained the assistance of half a dozen civilians, who helped to carry Harris to the Police Station.
Harris was remanded for a week.


25th June -
MINE DEATH - ROOF FALL.
South Skelton Mine.
Frank R Wood, a drifter aged 21, residing at Lingdale, was killed.
He was driving on one of the main roads of the Mine, when a fall of stone occurred.
"He was bringing two full tubs outbye along the main road to the landing, when a large piece of dogger fell from the roof on to him and killed him.".
His right leg was broken in several places and it is supposed he sustained internal injuries.


3rd July -
PITCH AND TOSS.
William Jex, J Stockdale, J R Little and William Richardson, all of Skelton Green were ordered to pay the costs for playing pitch and toss at Skelton on the 21st June.

6th July -
NEW TERRITORIALS IN ANNUAL CAMP AT SCARBOROUGH.
For the next fortnight the extensive plateau at the summit of Stepney Hill, Scarborough, known as the Scarborough Racecourse, [although the last races were held a number of years ago], is the scene of an encampment of Territorials from Durham and North and East Yorkshire.
It is the first time that Artillery and Infantry have been encamped together here and is the outcome of the new regulations regarding the Territorial Forces.
The 4th Battalion of the Yorkshire Regiment, which includes 2 Companies from Middlesbrough and others from Stokesley, Guisborough, Redcar, Northallerton, Richmond and Skelton arrived by special train on Saturday evening.
Led by the lively music of the band, the marched to the Racecourse, where a sea of tents had been erected for them by the advance fatigue party.

6th July -
COMPENSATION FOR MINE DEATH.
At the Middlesbrough County Court Judge Templer sanctioned the payment out of Court of &pound100 to Mrs Ruth Kyme, whose husband was killed in Bell Bros Skelton Mines.
And &pound132 to be paid in quarterly instalments of &pound6 10s.

7th July -
SKELTON GREEN CYCLING CLUB.
At the general meeting it was decided to visit a list of places this month, including on the 18th the Aged Miners' Gala, Skelton.

18th July -
STRUCK BY LIGHTNING.
Miss N Robinson of 1 Prospect Place, Skelton was rendered unconscious, whilst picking fruit in the garden yesterday.
Drs Wigfield and Thorney were soon in attendance and towards evening she started to recover.

31st July -
DRUNK - WIFE AND 5 KIDS PLEA.
John Lee, a caretaker of North Skelton, was fined 10 shillings, including costs for being drunk and disorderly at North Skelton on the 27th June.
He was further fined 10s for a like offence the following day and on this occasion he also assaulted PC Thomas Hutchings, while being taken into custody.
This resulted in yet another fine of 10s. Lee pleaded for leniency, stating that he had a wife and five children.
The Bench decided to act leniently towards him and defendant said he would take care not to come there again.

31st July -
LEGG GONE TO SLEEP.
Police Constable Pickering told the Court that he found William Legg in an out-house at the Home Farm, Skelton on Tuesday night.
He was amongst some hay and in his possession were a pipe and matches. He had known Legg for a considerable time and had never known him to do any work.
Defendant said that he could not obtain any work owing to his physical condition. He was charged with "sleeping out" and committed for one month's hard labour.
11th August -
REDCAR RACES - TOFFS PARTY.
Large house parties will be entertained by - Marquess and Marchioness of Zetland at Marske Hall, Lord and Lady Londonderry at Wynyard Park, Squire and Mrs Wharton at Skelton Castle, Colonel and Mrs Chaloner at Guisborough Hall and Squire and Mrs Pennyman at Ormesby Hall.

14th August -
NORTH SKELTON FLOWER PARADE.
The fifth Annual parade for the benefit of widows of aged people was held on Saturday.
Prizes were awarded for decorated vehicle, decorated bicycle, decorated animal and rider, basket of hothouse flowers, character dress for children.
A successful tea and dance was held in the Institute in the evening.

14th August -
LIGHTLESS BIKE.
Charles Dunning, a Miner of Skelton, was ordered to pay the costs for riding a bicycle without a light at Marske on the 2nd.
31st August -
BRASS CONTEST.
The third band contest of the season by the Cleveland Brass Band Association was held at Skelton on Saturday.
'Tannhauser' was the test piece in the First section in which Cleveland Ironworks won, with Skelton Old second and Skinningrove Miners third.
Brotton Temperance won the Second section with North Skelton second and Brotton Old third.

1st September -
DRUNK IN A TRAP.
Herbert W Sherwood, a Miner of Skelton, was fined 20 shillings for being drunk in charge of a pony and trap last Saturday at Hulton Cross.

10th September -
BEGGARS CAGED.
At the Guisborough Police Court two beggars were sent to prison for begging at Skelton. John Young, a tramping bricklayer, was given a month and George Middleton, a tramping labourer, 14 days.

11th September -
DISAPPEARING RABBIT TRICK.
John Walker of Skelton, a Miner, was charged with obtaining one shilling by false pretences from Robert Brown, a Brotton newsagent, at the late exhibition of the Brotton Horticultural Society.
Stephen Buckly of West Hartlepool said that he sent a rabbit for exhibition at the show on August 15th. It was catalogued at &pound4 4s.
Newsagent Brown said that he met Walker at the show and he offered him the rabbit, [which was produced in Court], for two shillings.
Witness gave him 1s down and promised to give him the other later.
He was then handed the rabbit out of the pen by Walker, who told him that it was his property.
C Beadnall, the Secretary of the show, said that he was informed that the rabbit had vanished and made enquiries.
Brown returned the rabbit, stating how he had obtained it and later in the week saw Walker at Skelton.
On being accused of the fraud, Walker at first denied it and then offered a shilling to do nothing about it.
Walker was found guilty and fined &pound2 or a month's imprisonment.

SKELTON OLD PRIZE BAND AND CARBIDE LAMPS.
---
---
The Postcard above was sent by Fred Appleton to his brother Laurence in North Ormesby Hospital.
Fred, bottom row far Right with trumpet [which I am informed, by Fred's Grandson, Peter Appleton, is actually a flugelhorn], is the only person identified on the photograph.
The lad on the other side of the big drum could be his brother.
There are several references to Skelton Old Band playing at local contests etc in this website.
The lads' home at this time was 4 Wood's Yard, Skelton.
Fred would have been about 17 at this time and his brother about 19. They both worked underground in Skelton Park Ironstone Mines, Fred as a miner and Laurence as a Horsedriver.
The photograph of Fred, below, must have been taken before this time you would think, as he is holding a Candle Lamp.
| | |
| --- | --- |
| Fred Appleton with Candle Lamp. | North Ormesby Cottage Hospital. |
---



North Skelton Miner with Carbide Lamp.

---

Their father Robert, aged 42, born in Whorlton, Yorks, was a Deputy in the mines and their mother was Sarah Jane, aged 41, born in Ugthorpe, Yorks.
They had 6 other children in the house, Eva, 14, Lily, 11, William, 12, Jessie, 8, Annie, 4 and Alice, 2. Two other children had died.

Amazingly, but not unusual in those times, at the 1911 census, the family also had a 39 year old miner, William Legg, lodging with them in a small terrace house.
The sleeping arrangements are beyond top to toe imagination.
This William Legg is not to be confused with the gentleman of the same name, who is recorded in the above entry for the 31st July receiving a month's hard labour for being an incorrigible Tramp.
This William had been living with the Appletons at the 1901 census and over all those years must have become quite a part of the family.
He had spent his youth at 11 Thomas St, New Skelton and the worst offence he was ever charged with, that this website has found, is pinching peas at the age of 14 and fined 7s 9d.

"Little Johnnie" was almost certainly Fred's cousin, aged 17, who lived at 5 Yeoman St, Skelton and was a Horsedriver in the Mines.
"Tommy Porritt", was not likely to have been anyone else other than the 24 year old "Shifter" [the lads who did the back breaking work of shovelling the blasted Ironstone into the tubs], who then lived at 1 Harker St, Skelton Green.

[Thanks for all this family research is due to, Owen Rooks, a native Skeltoner, now living in Sunderland.]

In 1908 Carbide lamps must have still been a novelty and only recently introduced for lighting in the mines as they had just been invented in the USA in 1895.
Calcium Carbide was placed in a lower chamber in the lamp and water held in another chamber above was dripped through a valve onto it.
The resulting chemical reaction produced Acetylene gas which was fed by another valve to a burner at the front of the lamp, the light from which was directed and increased by a reflector.
In the days when local houses were still lit by candles the miners must have taken the lamps for use at home.
This postcard suggests that they were subjected to some experimentation by young lads.
What "trick" young Johnnie used on his light and whether Laurence was in Hospital as a result of similar is not known.
Fred Appleton served throughout the First World War with the Band of our local Territorial Force, the 4th Battalion of the Yorkshire Regiment and survived.
Search my website on the 4th Yorks Battalion here.
18th September -
KICKED BOBBY IN THE EYE.
William Galliford, a Miner of Skelton, was charged with being drunk and disorderly at Skelton on Sunday night and with assaulting PC Hope.
Galliford was drunk and declined to go away when requested. In consequence he was arrested.
He became extremely violent and assaulted the officer, striking and kicking him in the eye.
On the first charge he was fined 10s and for the assault 30s.

25th September -
B & B ON THE HOUSE.
Thomas Hall, described as a labourer, who hailed from North Skelton, was charged with obtaining food to the value of one shilling by false pretences from Mrs Mary Ann Fenny, a widow of Carlin How, on the 19th September.
The evidence was that he called at her house and stated that he had been recommended by a Railway man, named Blanchard, to come to her. He had obtained work on the N E Railway.
Mrs Fenny agreed to take him as a lodger at 13 shillings weekly.
Hall slept at the house on Friday night and left shortly before 6, returning for breakfast.
William Blanchard, a platelayers ganger, denied that he knew Hall or that he had recommended him to Mrs Fenny.
He had never given him work, as he had no authority to do so. He had never been employed on the railway.
PC Warriner said that when arrested, Hall admitted that he had told Mrs Fenny a pack of lies and that he was guilty.
Hall told the Court that he had just come out of prison on Thursday and went to Skinningrove. He intended to pay the money when he got into work.
He was committed for trial at the Quarter Sessions.
26th September -
MINER BADLY BURNT.
John Jones, a Miner employed at Park Pit, Skelton was admitted to the Guisborough Mines Hospital last night suffering from burns about the face and arms, the result of an accident while a shot was being fired.

29th September -
TEMPTED NORTH SKELTON MINER PINCHES OVERPAYMENT.
Robert Richardson, a Miner lately employed at North Skelton, was up before the Guisborough Bench charged with stealing &pound5 11s 8d.
Jack Wilson, a Miner who lodged at the same house had asked Richardson to go to the Pay Office and draw his money.
The pay note was for 10s 3d. Richardson returned with this amount, but later told Wilson that he had received more.
Wilson told him to take it back.
Alfred Burnop, a Clerk at the Mine testified that Richardson presented a token at the Pay Office, which was No 73.
The Clerk mistook it for No 75 and paid out &pound6 1s 11d. Shortly after another man presented No 75 and he realised his error.
Detective Patrick Herne arrested Richardson at Railway St, Stockton, but all he had left was &pound1 15s 10d.
Richardson told the police - "I only got &pound5 11s and you are lucky to get this. I got it, but I did not steal it."
At the Court he pleaded guilty and was committed to prison for 14 days.

2nd October -
FANCIED A BRACELET AND GOT 3 MONTHS.
Hettie Hodgson, aged 22, a single woman, formerly of Brotton, but presently of no fixed abode was charged at Guisborough with stealing a bracelet, valued at &pound5 10s, the property of Elizabeth Atkinson of Yeoman St, Skelton.
At about 10 pm on Friday, September 18th a friend brought Hodgson to Mrs Atkinson's house and informed her that she had missed her train to Spennymoor.
Out sympathy she was offered a bed for the night, but a few days later the bracelet was missed from a box in the room where she had slept.
Joseph Cuthbert, a miner of South Moor, told the Bench that he saw Hodgson at Lingdale in company with his sister.
She said that she wanted to go to Spennymoor, but had no money. Later she asked him to buy a bracelet and he gave her 5s 3d for it.
When charged by the Spennymoor police she admitted wearing the bracelet for a few days and selling it.
Supt Rose said that although she had no previous convictions he could not give her a good character and she was sent to Durham Prison for 3 months.

7th October -
CAR ACCIDENT ON SKELTON GREEN BANK
MIDDLESBROUGH FC DIRECTOR AND EX PLAYER INJURED.
Mr Thomas Burdon, of the Albert Park Hotel, Middlesbrough and Director of the Football Club was yesterday severely injured in a praiseworthy endeavour to avoid running into a child, who was crossing the road.
Accompanied by Mr R Atherton, the old Middlesbrough forward, he was proceeding cautiously down the very steep bank and when at the most dangerous point, half way down, he had to apply the brakes suddenly to avoid the child.
The car turned onto its side pinning him under it. He was found to have a dislocated shoulder and badly cut his face and nose, though no bones were broken.
Mr Atherton was thrown clear and escaped with a few bruises.
Dr John Thorney of Skelton and his assistant gave medical attention.

9th October -
CHEEKY BANGERS.
Edward Wilkins was charged with discharging fireworks in Vaughan Street, North Skelton.
PC Hope said that there had been numerous complaints about this habit. When owners of horses complained to the lads, they were given impudence.
In answer to Mr Toyn on the Bench, the officer said they were not cheeky to the police, they reserved that for other people.

13th October -
PAY FOR MOTHER'S WORKHOUSE FUNERAL.
Charles Cobbing, a Miner of North Skelton, was summoned by the the Guisborough Guardians to show cause why he should not refund the sum of &pound1 7s 6d, which were the funeral expenses incurred by the Workhouse for the burial of Myra Brown, the defendant's mother.
The Bench made an order for the payment and a further 12s 6d costs.

23rd October -
CAUGHT RED HANDED IN THE PATCH.
William Cuthbertson, a miner of Skelton, was fined one pound for stealing two red cabbages from the garden of J T Winter at Skelton on the 11th last.
PC Pickering observed Cuthbertson in the garden at one o'clock in the morning. He was the worse for drink, but he knew what he was doing.
Defendant told the Bench that he could not remember a thing and did not know what he was doing. He would have paid for the cabbages if he had been given the chance.
23rd October -
DICKY ARM COULD NOT SHOOT DICKY BIRD.
Fred Grainger, a labourer of New Skelton, was fined &pound1 inclusive, for trespassing after game on land belonging to Mr W H A Wharton.
For the prosecution, evidence was called to show that on October 1st a gamekeeper, called Macdonald, saw Grainger come out of some gardens, which his father had on the Grange Farm, Skelton, and shoot a pheasant, which he afterwards picked up.
Mr Hoggett, for the Defence, argued that Grainger, owing to an injury to his arm, was unable to discharge a gun at a pheasant and said that the bird was found in a snare in the garden.
He had only picked it up and was walking away when the gamekeeper accosted him.
Grainger exhibited his injured arm in Court to show it was impossible for him to shoot, but the gamekeeper recalled said that he was certain the defendant fired the shot.
PC Hutchings also said that he had seen him use a gun on September 9th. Guilty.

23rd October -
ALL INCLUSIVE STAY AT THE WORKHOUSE - NOW COUGH UP.
Richard Baker, a Miner, employed at Long Acres, North Skelton, was order to pay 30 shillings, the amount of Poor Law Relief given to him on loan.
Mr Richardson, for the Guisborough Guardians called the relieving officer, Mr J Parkin, to prove that Baker had applied to him for relief.
He was given an order to go to the Workhouse, but was told that when he got work, whatever relief was given to him would have to be repaid.
This Baker agreed to do, but when he left the Workhouse, he repudiated the bargain and said that he had done as much work in the Workhouse as would pay for his keep and much more.
Mr Richardson said that Baker had only to do the ordinary work set before the other inmates.

27th October -
COFFEE SUPPER AND FILTHY LANGUAGE. The first Annual Coffee supper and social evening of the Skelton Workmen's Club took place last night.
At Guisborough Court Thomas Maron and James Henry Butler, Miners of North Skelton, were fined 15 shillings each for using obscene language.

28th October -
MINER CRUSHED BY TUBS.
A miner named Ward, who lives on Back Lane, Skelton received injuries to his knee through being crushed between two tubs in Messrs Bolckow and Vaughan's North Skelton Mine today.
He was conveyed to the Brotton Hospital.

30th October -
THE JACKSON SONGSTERS.
The Jackson family of Skelton in Cleveland paid their second visit to Rosedale last week and on Saturday evening gave a concert in the Lecture Hall before a crowded audience, which testifed to the popularity which this family has gained.

11th Nov -
INNKEEPER BANKRUPT.
Ernest Andrew, [Great Grandson of John Andrew, the Smuggler], of 5 Monkabecq Tce, Great Ayton, North Yorks and late of the Green Inn, Skelton Green, an Ironstone Weighman and late Innkeeper petitioned for bankruptcy at the Court of Stockton on Tees.

13th November -
COURT - SCHOOL - INDECENCY - DRUNK.
Thomas Brunskill of North Skelton, a Miner, was ordered to pay the costs for not sending his child to school.
Thomas Saunders of Lingdale, a Miner, was fined 12s 6d for indecency in the township of Skelton on the 31st October.
Hannah Lowe of Lingdale, a married woman, was fined &pound1 for being drunk and disorderly in Skelton on the same day.

19th November -
SKELTON FORBIDDEN LOVE VICAR - FUNERAL AT SKELTON.
See 1859 and Skelton Stories page 18.
The funeral of the late Rev C T Bowen, Vicar of Bolam, a village between Gainford and W Auckland, took place today, the body being interred at Skelton Cemetery in the presence of old friends.
He was 74 and as Curate served both at Skelton and Guisborough.



Ironstone ore tub.

---

20th November -
LIGHTING UP NORTH SKELTON.
George Thornton of North Skelton, a Miner, was charged with allowing his chimney to get on fire on the 25th October.
Mr W Richardson prosecuted on behalf of the Council and said that Mrs Thornton threw some paraffin on the fire and flames were seen issuing from the chimney.
Shortly afterwards an adjoining lock-up shop was seen to be on fire and it was suggested that sparks from the chimney fire were the cause.
Fined 8 shillings inclusive.

27th November -
HORSE POWERED OIL VAN AND CAR CRASH.
A serious collision between the oil van of Mr Henry Jackson of Fountain St, Guisborough and a motor car occurred on Tuesday night at Skelton.
At 9 o'clock the car, driven by Mr T Howard of Park Rd, Middlesbrough was proceeding to North Skelton and on going up the bank near Skelton Rectory met the oil van coming down.
Both shafts of the van were broken and the front part of the carriage damaged. Mr Jackson was thrown heavily to the ground.
The horse was thrown and was badly cut about the legs and its knees broken. It got up and bolted with the broken portion of the shafts.
It was pulled up by PC Price near Guisborough Cemetery.
The car and one of the passengers suffered only slight damage and Mr Harris was able to drive back home.

MINE OWNERS AND MANAGEMENT -



Robert Ranson, Undermanager at North Skelton Ironstone Mine at this time.

---

At this time Skelton Shaft and Skelton Park Ironstone Mines were owned by Bell Bros.
The under manager at Shaft was Thomas Welburn and at Park George Watson [website owner's Great Grandfather.]
The Manager of both mines was Thomas Varty and the number of men working below ground at both pits was 644 with 139 employed above.
North Skelton and Long Acres were both owned by Bolckow and Vaughan and the Manager of both was John Thompson.
At North Skelton the under manager was Robert Ranson with 331 miners below ground and 55 on the surface.
At Long Acres the under manager was William Bell with 306 men below and 41 above.
South Skelton was also owned by Bolckow and Vaughan and here the manager was A Gray, under manager William Armstrong with 399 miners below and 63 men above.
Combined totals for all five mines was 1680 below and 298 above.

2nd December -
MEN'S BIBLE CLASS - Parish Magazine:-
The Members of the Class had their Annual Tea, when some 100 sat down together to a sumputuous repast. Afterwards a Meeting was held in the Drill Hall, with Addresses on the Bible and a programme of Music.
7th December -
CHORAL UNION. - The Members of the Skelton and District Choral Society gave for their second concert "The Messiah"

12th December -
NORTH SKELTON MISSION ROOM.
The new room, which has been erected by the Squire for Church work at North Skelton, in lieu of the the cottage quarters in Richard Street was opened by Mrs Wharton.
The Archdeacon of Cleveland offered dedicatory prayers and preached at the service which followed.
The Skelton Company of the Church Lads Brigade were present under Command of Lieut Dickinson and formed a guard of honour.
The Meetings at present arranged are Sundays - Sunday School at 2 and Evening Service at 6. Wednesdays - Mothers' Meeting at 3 and Band of Hope at 6.

12th December -
HOLD A PIG, SING - AND DO NOT LAUGH CONTEST.
A Concert in aid of the Old People's Christmas Dinner was given at Skelton last night by the Clown's Band.
Great amusement was caused by a novel competition in which entrants had to sing a solo, while holding a pig in the arms, without laughing.
Mrs Potts was the only one who accomplished this difficult task and was declared the winner.

SKELTON NEEDLEWORK GUILD.
Parish Magazine. The Secretary begs to thank the Members of the Guild for their kind gifts of articles of clothing for the poor.
Articles have been received from Miss Armstrong, Mrs George Brown of Greenhills, Mrs William Brown, High St, Mrs Dickinson, Miss M Dobson, Darlington, Mrs Ellis, Miss Ellis, Mrs Charles Ellis of St Bartholomews, Sheffield. Mrs Mackenzie, Mrs Maughan of East Pastures, Miss Petch of Hobdale, Mrs Robert Stevenson of Trout Hall, Mrs Tutin, Mrs Walton of Rushpool and Mrs Wharton of Skelton Castle.

THE CHURCH TOWER CLOCK RESTORATION.
The Rector and Churchwardens gratefully acknowledge contributions towards the expense of renovating the Church Clock.
The interior work has been done, the enamelling and gilding of the dials will be done later when the weather is suitable.

22nd December -
FILTHY LANGUAGE.
Walter Kime of Skelton, a horse-driver in the mines, was fined &pound1 for using obscene language at Skelton on the 12th.
---
SKELTON SCHOOL BOOK 1908.
---
A CHRSTMAS CARD FROM SKELTON CASTLE TO KILTON HALL FARM,.
---
Next Page - 1909
Previous Page - 1907
Contents Page