---
13th January -
NORTH SKELTON BADMINTON DANCERS.
North Skelton St Peter's Badminton Club held their Annual social, supper and dance at the local Church rooms last night.
A large number attended, including representatives from neighbouring clubs. Mr J Burluraux, vice president had charge of the proceedings.
Entertainment was provided by Messrs S Goodill, J Allen, R Todd and F Burluraux. The Clevo Band supplied the music.

16th January -
NORTH SKELTON ANNUAL INTER TEAM AMBULANCE COMPETITION.
11 teams took part in this event held by N Skelton Mines on Saturday. Mrs Palmer, wife of the Mines agent, presented the medals.
Mr T E Slater, mines manager, presided at a concert and dance held at night.



---

16th January -
IRA MENACE.
The Irish Republican Army began a bombing campaign in Britain that petered out only in March 1940.

28th January -
4TH BATTALION THE GREEN HOWARDS. - SKELTON COMPANY ORDERS.
7 to 9 pm Issuing Clothing, Equipment and Respirators.
Feb 1st, 7 to 9 pm, Trained Men Lecture W/T. Anti Gas recruits drill. W/T.
Feb 2 Band: Issuing Clothing and Equipment. Anti Gas.

6th February -
CLEVELAND AMBULANCE COMPETITION.
6 teams took part for the Donald Bain Shield at Guisborough. The winners were North Skelton A team, with Skelton Mines B, second and Lumpsey Mines B third.

7th February -
CONSERVATIVE WOMEN UNIONISTS.
Colonel Vickery, the prospective National Conservative candidate for Darlington, was the speaker at yesterday's monthly meeting of the Skelton Branch held in the Wharton Hall, Skelton.
Accompanied by his wife and Capt C H Ringrose he spoke on the international situation. Miss Videan presided.



---

15th February -
WOMEN'S BRITISH LEGION.
Brotton and North Skelton branch of the British Legion [women's section] held their 13th birthday party at Brotton Odd-fellows Hall, which was crowded with guests.

18th February -
FOOTBALL - CLEVELAND LEAGUE GAMES.
Division I North Skelton Mines v Sacred Heart
Dunsdale v Skelton Athletic
Division II
Lingdale Inst v Skelton Athletic - New Skelton v Guisborough Boys - Margrove Park v North Skelton Mines



Adolph Hitler.

---

8th March -
NORTH SKELTON MINE TO RE-OPEN.
Lively satisfaction is felt in the Skelton area at the official announcement that Messrs Dorman Long and Co will re-open the Mine next week.
It is expected that eventually employment will be found at the Mine for 700 men.
Together with the recent re-starting of the Loftus mine, the news has strengthened the hope that the Ironstone mining industry in Cleveland is about to enjoy a period of comparative prosperity.
The North Skelton mine was closed down in November, but though this interval of idleness has been much shorter than previous periods, it has been too long for the men affected.
They and their folk are rejoicing at the prospect of an early escape from existing on unemployment benefit.

15th March -
HITLER INVADES CZECHOSLOVAKIA.
On this day Hitler sent troops into the NW part of that country, the Sudetenland, which prior to the First War had been part of Germany/Austria, on the pretext that the German part of the population were suffering privations.

16th March -
BUS FARES.
Special buses to Easby Point to Point from Skelton Post Office at 12.2 pm and every 15 mins until 1.12 pm. Fare 1 shilling and 6 pence. [7 and a half new pence.]
William Mansfield MP.

---

20th March -
DEATH OF WILLIAM MANSFIELD, FORMER LABOUR MP FOR CLEVELAND.
He died at his home at Saltburn, aged 56. He was engaged in business up to Thursday, the previous week, but was confined to bed with pleurisy and then pneumonia intervened.
Born in Hinderwell, N Yorks, he first worked at Grinkle Mine, where he took part in Union activities and won the confidence of the workers, who elected him checkweighman and representative on the Executive Committee of the Cleveland Miners and Quarryman's Association.
He succeeded Alderman G Hobbs as the General Secretary.
He retained this position after the amalgamation of that Union with the National Union of General and Municipal Workers.
He was an ardent worker in the political field and the Labour movement in Cleveland owed a great deal to his zealous leadership and financial help.
In 1924 he was chosen as Labour candidate for the Cleveland Division and he contested every general election since.
In 1929 he defeated Sir Park Goff, the sitting Liberal MP, Sir Charles Starmer[Con] and was Cleveland's MP for 2 years.
He continued to be the prospective Labour candidate for this area up to his death.
He represented Hinderwell on the North Riding County Council from 1919 and during this time was made a Justice of the Peace.



15th March 1939.

---

In 1922 he became the representative for Skelton in place of Edward Hamilton of Rigwood, who was elected to Alderman.
Two years later he was himself honoured by being appointed Alderman.
He had been a widower for some years and left a son, Sydney.

21st March -
SKELTON AND BROTTON COUNCIL CANDIDATES FOR SKELTON.
Old Skelton Ward - R Clough, Engineer, The Firs, Boosbeck.
F M Hatfield, boot dealer, High St, Skelton.
J A Atkinson, bill poster and advertising agent, High St, Skelton.

31st March -
THE GREEN HOWARDS. - SKELTON HIGHEST SCORE.
Carpenters are badly needed by the 4th Green Howards. An impression seems to be abroad that tradesmen do not receive full pay. They get additional pay provided that they pass a simple test.
Various detachments have been competing for the Territorial Army Company team small bore rifle match in connection with the Lord Wakefield Challenge Cup.
The competition is an Annual affair organised by the Society of Miniature Rifle Clubs.
So far the highest score has been made by the Skelton detachment of the 4th Green Howards, who scored 663, which is a big improvement on last year.
The highest was by 2Lt J E O Roelofsen with 90 out of 100.
Other good scores were by Company Quarter Master Sergeant Shaw with 87. [He was to be killed in action in May 1940]
Pte Atkins, 86. Company Sergeant Major Abrams and L/Cpl Padgett, 85.

4th and 5th April -
GREEN HOWARDS, 4TH BATTALION, SKELTON COY.
7 to 9 pm Empire Test, Sand Table.
6th April Band Practice.



Col T K G Ridley.

---

3rd April -
CALL FOR RECRUITS.
The War Secretary made a dramatic appeal for 250,000 men to strengthen Britain's defences.
Col K Ridley, CO of the 4th Green Howards, said the Battalion was in need of recruits and urged all young men of the area to join their County Regiment.
There were detachments at Middlesbrough, Redcar, Skelton, Guisborough, Richmond, Yarm, Northallerton and Thirsk, where applications can be made at the local Drill Halls.
Employers were also urged to encourage young men to join and give time off for annual camps etc.
Col Ridley was born and bred in Redcar, but privately educated at Oundle School where he served for 4 years with the Officer Training Corps there.
He could have obtained a Commission on the outbreak of the First War, but he joined the local 4th Yorks in the ranks in September 1914.
He never went to France with them, but was commissioned into the 12th Yorks Teesside Battalion in February 1915. He served in the First War with them and was awarded the Military Cross.
When the 4th Battalion was re-formed after the war he was one of the first to join and as Captain was appointed to command the Redcar and Skelton Company.
His hard work was steadily rewarded with promotions until he finally became Commanding Officer of the unit he joined at the bottom.
18th April -
BRITAIN NOT PREPARED FOR WAR - FIRST BREN GUN.
An indication of how poorly Britain was prepared to face Hitler's blitzkrieg of tanks and planes is that the local Territorials only now saw their first Bren Gun.
A German observer in another part of the country was amazed to see lads training and carrying flags to represent their transport.
Skelton 4th Yorks Company - Firing Empire test by squads. remainder Bren gun, A/T rifle. Intensive period of wearing the respirator: lecture.
20th April - Band practice.

20th April -
BOBBIES FOXTROT.
About 150 guests attended a dance at Skelton last night by the Skelton and Lingdale Police in aid of Police and local charities.
Bert Waller and his orchestra provided the music and Sgt Broadley was in charge of the arrangements.
MCs were PCs Warriner, Atkinson, Ford and Walker.

21st April -
SKELTON AND BROTTON COUNCIL.
Councillor G W Simpson of Brotton, who held the position 3 years ago, was elected Chairman in place of Mr F M Hatfield of Skelton, who lost his seat in the recent election.
27th April -
THE MILITARY TRAINING ACT.
Men of 20 and 21 were required to undertake six months of military training.

2nd May -
CRUELTY TO COAL HORSE.
A good word for a man against whom he was taking proceedings was spoken by Inspector O Lake, of the RSPCA at Guisborough Court today.
The man, John Robert Gratton, coal dealer, of Boosbeck Rd, Skelton Green, admitted having worked a horse in an unfit state on April 21st.
"I have known this man a long while and hitherto always found him very good to his horses. I think this offence was committed in ignorance." said the Inspector.
Gratton was fined 10 shillings.

4th May -
INJURED AT THE MINE.
Suffering from injuries to his fingers, received at the North Skelton Mine, John Boon, age 29,
of Northcote Farm, Guisborough, was admitted to the Admiral Chaloner Hospital, Guisborough.

5th May -
NORTH SKELTON CRICKET.
At the AGM of North Skelton Cricket Club, Captain C H Ringrose of Skelton Castle was appointed President in succession to Col W H A Wharton.
Ref J H Molyneux, Chairman. Mr C H May, Treasurer. S Goodill, Team Captain.
A balance of &pound2 15s on the year was reported and the Club had had a satisfactory playing record.
It was decided to join the Cleveland League and the Cleveland Cup Knock out Competition.

5th May -
NORTH SKELTON CHAMPIONS.
North Skelton are this season's champions of the Cleveland Football League. At their final home match Mr K Meadows, League chairman, presented the Challenge Cup to the captain A Hodgson.

5th May -
SKELTON AND BROTTON TO RECEIVE 2,000 EVACUEES FROM GATESHEAD.
2,000 children and Adults are scheduled to move to this area, in the event of War, the Clerk, Mr F Wilkinson, told Skelton and Brotton Urban Council last night.
1,000 would travel on day one and the remainder on the next. The time of the arrivals of trains has been worked out and arrangements have been made for buses to convey the refugees from Brotton and Boosbeck stations to where they would be accommodated.
A hot meal would be provided for them when they detrained and 48 hours rations issued, in order to avoid interference with any plans for the distribution of food to the local population.
All this work had to be performed by volunteers and he appealed for offers of service.
Councillor J Gartside thought it peculiar that refugees should be sent to a District which had been subjected to frequent air raids in the last War.
---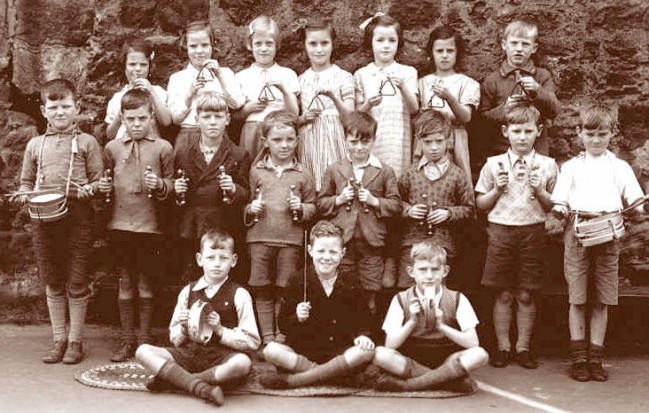 A class at Skelton Infants school 1939.
Names, reading left to right are - Back Row. Olive Pigg, Audrey Ward, Dorothy Drury, Barbara Peacock, Lena Winter, Betty Brown, Gordon Hessay.
Middle Row. Graham Matheson, Tony Watts, Alan Ward, Keith Walker, John Harding, Billy Dale, Roy Young, James Corner.
Front Row. Norman Judson, Norman Robinson and Eric Garret [Famous Opera Star, see emails page 6.].
[Photograph kindly contributed by Alan Ward, third from left, middle row.]
---
5th May -
AIR RAID PRECAUTION TRAINING.
At the same Council meeting, the Clerk reported that a lot still remained to be done to complete the ARP preparations and he complained of the failure of volunteers to take advantage of training.
Shift workers had difficulty when classes were held only at night, it was emphasised and the Clerk said that classes would be held in the day time at North Skelton.
The Council agreed that one of their employees, who was qualified as an instructor, would be released from his ordinary duties on one or two days a week.
It was also agreed to provide training in auxiliary fire services to about 12 employees of the Skinningrove Iron Co.
Councillors H C R Morris, J R Johnson, T Coatsworth and E Harker were appointed to represent the Council on the North Riding No 6 Area Town Planning Joint Board.
It was unanimously agreed that employees of the Council who joined the Forces or gave full time National Service in the event of War, should have their situations kept open for them and that the difference in their wages should be made up to them by the Council.

10th May -
SKELTON SINGER.
Baritone, Ivan Paley of Dixon St, Skelton came second in the Eskdale Tournament of Song held at Whitby.

19th May -
RE-ORGANISATION OF THE 4TH YORKS BATTALION.
Consequent on the Government's decision to double the strength of the Territorial Army changes in organisation are announced.
The first line will move out into the County, under Lt Col Ridley MC with HQ at Guisborough, though the band and drums will remain at Skelton.
A Company will have 2 platoons at Richmond. B Company will be at Guisborough. C Company at Skelton and D Company will have HQ and 1 Platoon at Yarm and 1 at Northallerton.
The whole 2nd line will be located at Middlesbrough.
1st June -
CYCLE ACCIDENT ON SKELTON GREEN BANK.
A 15 year old Guisborough girl, Elsie Watson, lost control of her bike while riding down Green Bank and was badly injured by crashing into a wall. She has severe concussion and abrasions to head and limbs.
She was admitted to Admiral Chaloner Hospital, Guisborough where she was said today to be - Very ill.

2nd June -
NEW SKELTON ALBION FC.
Skelton and Brotton Council rescinded a minute that refused permission for New Skelton
football club to build a pavilion on an allotment adjoining their field.
The money for the proposed building had been raised by public subscriptions.

2nd June -
AIR RAID PRECAUTION.
Because half of Carlin How is in the Loftus Council area and the other half in Skelton and Brotton the respective Councils agreed to form a Joint ARP Committee.
It was also announced that the Skelton and Brotton auxiliary Fire Service was complete and ready for action at a moment's notice.

7th June -
SKELTON BOWLS VICTORY.
The Skelton team that beat Nunthorpe in the N Yorks E B A Bowling League was:-
Milburn, Wilks, Porte and Todd. - Wilson, Hawson, Rudsdale, Hatfield. - R Mott, A E Ward, Barber, Carver. - Garrett, Gill, Mott, Morgan.

7th June -
PARK PIT CHIMNEY FELLED.
The Park Pit Ironstone Mine had closed in 1938.
| | |
| --- | --- |
| | |
---
27th June -
ALLEGED SUICIDE ATTEMPT AT SKELTON.
Marjorie Andrews, a domestic servant, of Woodside, Brotton appeared before the Guisborough Magistrates today charged with throwing herself in front of a passing vehicle in Skelton on June 22nd.
Supt Bywater W said it was a very sad case. The woman was out with a young man at Skelton about 10.50 pm.
They had had a few words, the result of which the girl ran across the road and was seen to throw herself in front of an oncoming van.
Fortunately through the alertness of the driver the vehicle swerved and pulled up within a yard of the girl, who had fainted.
After she was brought round she was taken to the Police Station by Constable Durham.
The next morning she stated that she would not return home to her parents and said - "I intended to do it".
Harry Smith of Skelton told the bench that he had known the girl for some time and on the night in question he met her in Dixon St back lane and she told him that she had been turned out of her home.
I suggested that she go to the Police Station, but she refused. I decided to go myself but she pulled on my coat.
Later she shouted his name and ran across the road in front of the van. She had previously said something about harming herself.
Arthur Appleton of Skelton said he saw Andrews raise her hands above her head and throw herself in front of the van.
"I closed my eyes, when I saw her, for I expected something dreadful to happen", he said.
Andrews, who was crying, said - "I did not throw myself in front. I was running across the road to go to a seat, as I felt dizzy."
The Bench committed her into custody to the next Quarter Sessions on July 6th.

At the higher court a witness for the prosecution said that Marjorie had the mentality of an 8 year old child and she herself said that she had slipped in front of the van.
Sir Francis Dunnell addressing the jury suggested that they return a not guilty verdict, which they duly did.
Evidence was called to ensure that the girl would be looked after by her parents and her mother told that court that she had not been turned out.

29th June -
MOTORBIKE - SKELTON BARMAID AND SOLDIER KILLED.
A Motor-cycle and car collided at the Lingdale junction with Stanghow road, a site of many similar accidents over the years.
Corporal William A Turnbull, aged 27, and his pillion passenger Joanna Piper, aged 23, received fatal injuries.
They both died early on this day at the Admiral Chaloner Hospital, Guisborough, from head injuries and multiple abrasions.
Joanna's home address was Kingsley Rd, Grangetown and was employed as a barmaid at the Green Inn, Skelton Green. Cpl Turnbull, was a married man whose home address was 57 Watson St, Central Est, Hartlepool. He joined the 55th Searchlight Battalion of the Durham Light Infantry last September and was in camp at Skelton in his 3rd week of training.

30th June -
THE WILL OF WILLIAM HENRY ANTHONY WHARTON OF SKELTON CASTLE.
He died aged 79 on December 12th 1938.
The gross value of his estate was &pound1,169,684 16s 7d, on which estate duty of &pound423,470 10s 7d has been paid.
The Skelton and Gilling estates were left to his daughter Margaret Winsome Ringrose on condition that she and her husband assumed the surname and arms of Wharton.
He left &pound500 each to his Executors, his secretary, Thomas William Rawling, his agent Henry Clifford Randolph Morris and Charles H B Blake of London.
2 years wages to each employee of 50+ years service, 18 months wages to each with 40+, 1 years wages to those with 30+, 9 months to those with 20+ and 6 months wages to those with 10+.
The residue to his daughter, Margaret.
4th July -
RUNAWAY LORRY.
Constable Atkinson told Guisborough that a lorry was left outside a house in Skelton Green, but the hand brake had not been properly pulled back and it ran down a bank and damaged 25 feet of Wall.
Bertram Coates, 55 of Middlesbrough was fined 5 shillings.

5th July -
THE BALLOON WENT UP AND THE LIGHTS WENT OUT.
A barrage balloon [they were large balloons tied down by long metal cables to deny airspace to enemy aircraft. 1,400 were used over London in 1940 and forced German bombers to fly higher] broke loose from its moorings at RAF Cardington, Bedfordshire.



Tony Carter of 3 Charlotte Street, New Skelton on the nearby allotments in this year.
He was killed, aged 19, in the Lingdale Ironstone Mine disaster on 24th August 1953.

---

It drifted in a North Easterly direction, the trailing cable causing considerable damage as it passed over Yorkshire.
It floated via Boston, Lincs and Hull, where it broke chimneys, telephone and radio relay wires, crossing the Humber at 1000 feet.
The electrical engineer of the Skelton and Brotton Council, Mr R L Hewling, said - "The lights in the Brotton and Carling How district went out about 9 pm. Cinema shows were brought to a standstill and the power supplies to the Loftus and Skelton Mine were cut off for a time." It fouled wires between Lingdale and Skelton and between North Skelton and Skinningrove and near the railway at Lumpsey Mine.
It was watched at Saltburn and Redcar by large crowds of holiday makers, who thought it was part of some military operations.
RAF stations were on the alert as after it drifted out to sea at Redcar, weather predictions suggested it could head inland again for Southern Scotland.
Where it ended up is not known.

7th July -
NEW SKELTON'S OLDEST RESIDENT.
Mrs Harriet Patience Dack celebrates her 92nd birthday tomorrow. She came to Skelton 52 years ago from her birthplace, Elsdon, Norfolk, with her husband, who worked in the mines at Margrove and then Skelton Park Pit.

7th July -
GREEN HOWARDS IN CAMP.
24 Officers and 656 men of our local Territorials are now in Annual Training Camp at Halton, near Lancaster.
They have a strenuous time ahead for each day they will be engaged in operations designed to give them an insight into what they might expect on active service.

31st July -
SKELTON GREEN WORKMEN'S CLUB.
Mr H Mathews presided at the half yearly meeting. Nominations for the committee were - J Trower, J J Dowey, J Bonnard, W Scuffham, S Gratton, H Cooke, J McLaren, J W Allison, F Beckley and T Clark.



Captain C. H. Ringrose-Wharton.

---

1st August.
BY ROYAL PROCLAMATION - THE RINGROSES AT SKELTON CASTLE CAN RETAIN THE SURNAME OF WHARTON.
London Gazette.
Whitehall, The King has been graciously pleased to give and grant unto Christopher Hildyard Ringrose, of Skelton Castle, Skelton-in-Cleveland, in the County of York, Esquire, Captain -(retired) in the Royal Navy} and Margaret Winsome, his wife, daughter and heir of William Henry. Anthony Wharton, late of Skelton Castle aforesaid, Esquire, Qfficer of the Most Excellent Order of the British Empire, deceased, His Royal Licence and Authority that they may take; and use the surname of Wharton in addition to and after that of Ringrose, that he the said Christopher Hildyard Ringrose may bear the Arms of Wharton only and that-such surname .and Arms may in like manner be taken, borne and used by the issue of their marriage, the said Arms being first duly exemplified according to the Laws of Arms and recorded in the College of Arms, otherwise the said Royal Licence and Permission to be void and of none effect. And to command that the said Royal Concession and Declaration, be recorded in the said College of Arms.

19th August 1939.
DEATH OF FRANK WILD, SKELTON'S ANTARCTIC HERO, IN KLERKSDORP, S AFRICA.
Frank died on this day of pneumonia.
See here for his adventures.

23rd August - German - Russian non-agression pact was signed.

1st September - Germany invaded Poland.

3rd September -
BRITAIN AND FRANCE DECLARED WAR ON GERMANY. In the next months the ill-equipped and ill prepared British Expeditionary Force, including many poorly trained Territorial part-time soldiers was sent to France. There followed what has been called the "phoney-War", while Hitler pursued his rape of Poland. It would be the 10th of May 1940, when he invaded Western Europe that the real War for Britain began.

5th September -
NATIONAL REGISTRATION AND NATIONAL SERVICE ACT.
The Government passed the National Registration Act, whereby every citizen had to have an Identity Card. and the National Service [Armed Forces] Act, which enforced full conscription on all males aged between 18 and 41, who lived in the UK. There were exemptions for reserved occupations and various other categories.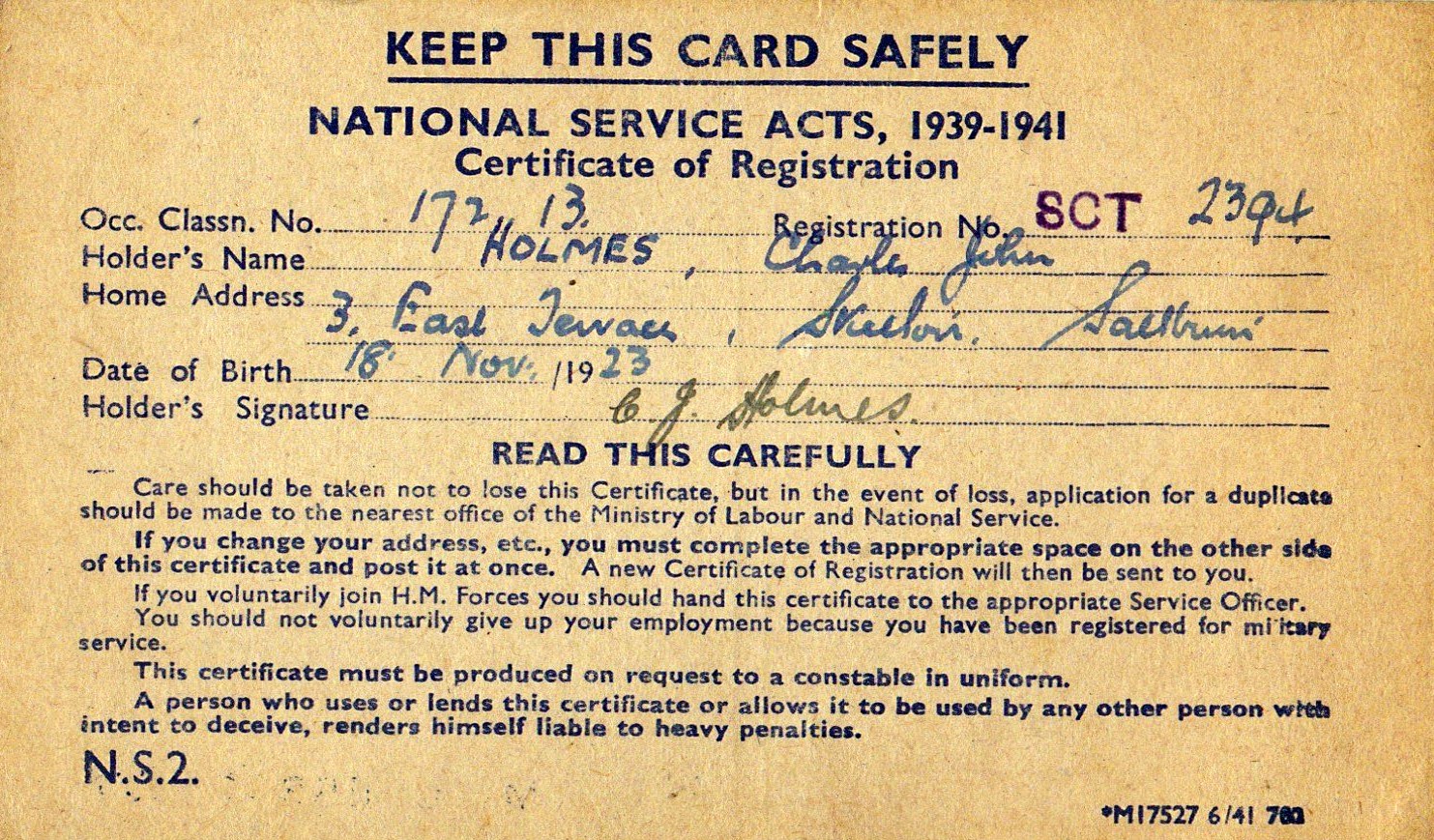 Image kindly contributed by Chris Holmes of Carshalton, Surrey, son of card holder,
Charles Holmes, of 3 East Tce, Skelton, see his Bomber Command story here.
---
8th September -
CYCLIST COLLISION WITH CAR.
Albert Covell, aged 21, was cycling home with some friends in the dark, when he was involved in a collision with a car on Rectory Bank, Skelton.
He received injuries to his head and was removed to the Chaloner Hospital, Guisborough where his condition was said today to be - a little improved.

8th September -
HUNDREDS OF CHILD EVACUEES ON THE MOVE.
Hundreds of Middlesbrough mothers, children, teachers, helpers and officials were up at dawn for the start of the migration of the town's 6,500 children to the eastern half of the North Riding.
The 10 trains left punctually to the cheers of those on the platform.
From West Hartlepool district about 100 were received at Saltburn. There are 500 for Skelton and Brotton district travelling today and an equal number tomorrow. Loftus is accepting 200. Stokesley rural district 700.


---
All over Britain thousands of children were evacuated to rural areas from cities and places that were potential targets for German bombing.
Skelton welcomed 100s of children from Gateshead with some of their teachers.
---
8th September -
FOOD AND FUEL CONTROL.
Skelton and Brotton Council appointed a Food Control Committee and the Surveyor, Mr A R Cranmer was appointed Fuel overseer with an advisory committee to assist.

14th September -
STONE FALL - MINER BADLY INJURED - DIES IN HOSPITAL.
A North Skelton miner, Ernest Barber, aged 42, a married man of Davison St, Lingdale was admitted to the Guisborough Chaloner Hospital suffering from severe bodily injuries.
He died the same day.
A verdict of accidental death was returned at the inquest held on the 20th.
His brother, Alfred, who was working with him at the time said that they had been filling tubs. He heard a fall of stone and going to the spot he found his brother injured by pieces that had dropped off the side.
Mine deputy, Herbert Pool said the place had been examined and found to have been timbered properly.

27th September -
WARSAW OVERRUN BY GERMANY.

28th September -
MAN RUN OVER AND KILLED.
While walking on the road at Apple Orchard, Skelton, last night, Rookes Scales, aged 49, of Cleveland St, Skelton Green, was knocked down by a car.
He was removed to the Chaloner Hospital, Guisborough, suffering from internal and other injuries and died about one hour after admittance.


28 September -
NORTH SKELTON MOTOR CYCLIST KILLED IN MIDDLESBROUGH.
4 brothers attended the inquest at Middlesbrough on Duncan Turnbull, aged 25, an ironstone worker of 13 Bolckow St, North Skelton, who sustained fatal injuries when his motor cycle collided with a lorry in Cambridge Rd, Linthorpe on the 23rd of September.
He had been driving for only 3 weeks. He emerged from Appleton Rd into the Main road where a lorry was travelling at only a moderate speed and pulled in just over 10 yards. Accidental death was recorded.
In October 2019 Howard Wilson of the Skelton History Group found the following plaque screwed to the end of a table in Skelton Old Church. It appears to have come from St Peter's Church, North Skelton when it was converted into dwellings.




6th October -
SKELTON ELECTION APATHY.
A bye-election to fill a seat recently held by Mr J A Atkinson, was contested by - Mrs Elizabeth Anne Atkinson, widow. Mr Herbert Matthews, draughtsman and Mr Arthur Edward Peale, hotel proprietor.

8th October -
AIR RAID PRECAUTION A "FARCICAL" CHAOS.
At the Council meeting complaint was made about the inaudibility of air raid warnings in some parts of the district.
The only means of warning were a works buzzer at Skinningrove and a siren at Skelton. More often than not neither of these could be heard at Brotton, Lingdale, Boosbeck and outlying places.
The Police were responsible, said Coun E Potter, and it was decided to ask them to review the system.

Lack of telephones for air raid wardens posts was also the subject of complaint.
The clerk said dispatch riders would have to be sent to call wardens to their duties.
"The whole position is farcical." remarked the chairman, Councillor G W Simpson.

8th October -
EVACUEES' THANKS - BUT DIRTY KIDS AND SOME BAD PARENTS.
The appreciation of the wonderful welcome they had received in the district was expressed in a letter read at the meeting of the Skelton and Brotton council last night.
Mr H Livingston, representative of the Gateshead teachers, who are with the children, complimented the council and others on the efficiency and smoothness with which the arrangements for the reception and billeting of the children were carried out.
The vast majority of the children are happy and contented and he expressed thanks for the kindness shown by the people of this district.
"In the Loftus-Guisborough-Skelton and Brotton Districts the children to-day were to be seen playing happily in the streets and fields with the friends they had rapidly made among the resident's children."
This report, however, does not tell the whole story.

A local Councillor said that he was "horrified and disgusted at the condition of some of the children".
Some were in a filthy and verminous condition and many cases of impetigo had been reported. Their clothing in most cases was very bad.
"We should try to impress upon some of the Tyneside towns that they have not done their duty or been fair to the children. These children have never had a chance and they are just starting to realise what is their due.
The School Medical authorities at Gateshead were at fault if they allowed the children to go to school in the condition some arrived in Cleveland."
Considerable difficulty arose when mothers arrived on the second day of the evacuation and contrary to any instructions proceeded to move their children not only from one billet to another, but in many cases from one end of the District to the other.
In addition many mothers had taken their children back home entirely against instructions and in many case against the children's wishes.
And later on considerable numbers of the evacuees were returning home, it was reported.
Out of the 698 originally received in the Cleveland District there were now only 304 left. By 1941 on average two thirds of evacuees had returned home.
A lot were being taken back because parents were unwilling to pay anything towards their maintenance.

16th October -
WOMAN KILLED IN BLACK OUT AT BARNS FARM.
"It is very dangerous for people to walk in the middle of the road, particularly in the country, on these dark nights." said Mr H P Barugh, the Cleveland Coroner at an inquest today on Frances Archer, aged 63, a single woman of Bolckow St, Guisborough.

She was killed during the black out on Friday night.
Farmer, George William Hutchinson, of Greenhills, Lingdale said that at 10.30 pm he was driving his car from Guisborough to Skelton at 20 to 25 mph.
Near Barns Farm he suddenly saw a figure in front and swerved to the right, but felt something hit the headlamp.
He stopped and found a woman unconscious.
"I had both side lamps on and the left front headlamp. I was driving in the middle of the road and the woman was walking along the white line towards Skelton.
She was dressed in dark clothes and almost impossible to see.
Verdict - General injuries and shock and no blame attached to the driver.

25th October -
MINER INJURED.
Thomas Freeman, aged 20, a miner at South Skelton mines was today admitted to the Chaloner Hospital, Guisborough, suffering from injuries to his shoulder caused by a fall of stone.
2nd December -
AIR RAID PRECAUTION WORKERS.
An adjustment was made to the payment of full time workers across the whole of Cleveland as a result of a meeting with the Regional Commissioners at Newcastle.
In Skelton the number of Volunteers was 318 and now only 56 would be full time instead of the previous 92.

13th December -
BATTLE OF RIVER PLATE. - German pocket battleship "Graf Spee" was scuttled.

14th December -
MINE ACCIDENT.
William Rye, aged only 14, of Charltons, was admitted to the Chaloner Hospital, Guisborough with a badly crushed hand sustained in the Skelton Mines. He was today said to be - comfortable following an operation.

15th December -
SKELTON MALE VOICE CHOIR.
Last night they gave a musical programme at the South Side Methodist Church, Guisborough. Individual items were given by F Bennison, E Foster, R Husband, K Meadows was the organist and Mr J R Reed the conductor.