---



Neville Chamberlain.

---

April -
AIR RAID WARDENS.
The Government instituted the Air Raid Wardens service. During the next year close on a quarter of a million men volunteered nationwide.

27th May.
NEVILLE CHAMBERLAIN on Stanley Baldwin's resignation became Prime Minister.

SKELTON COUNCILLORS.
The Councillors for Old Skelton were H C R Morris, R Young, Herbert Clough, Fred Hatfield.
For North Skelton Richard Morgan and George Oxborough.


| | |
| --- | --- |
| | |
---



---

September 30th.
SKELTON FIREMAN KILLED IN CYCLE ACCIDENT.
Herbert Ward, aged 32, of 29 Yeoman St, Skelton was killed in Brotton High Street.
While travelling on his cycle at night he tried to avoid a pedestrian and was unseated.
He was a member of the local Fire Brigade and his funeral was attended by:-
A very large company of mourners. The coffin, draped with the Union Jack and borne on the fire engine of the local Council, was headed by representatives of the Fire Brigades of Middlesbrough, Redcar, Marske, Saltburn, Guisborough, Loftus and Eston under Chief Officer A R Cranmer of Skelton.
The deceased's firmeman's helmet was placed on the coffin.
The Rev R W Wheatley officiated at the Skelton Parish Church and at the graveside.
A great number of local notables were present.




Burial of Herbert Ward in New Skelton Cemetery,
4th October 1937.
[Photograph and information kindly contributed by his nephew, Alan Ward.]


---
DIRECTORY OF SKELTON TRADES 1937.




OLD SKELTON.


The Castle - Col William Henry Anthony Wharton
Gamekeeper - William Bunning

William D Bunning, Skelton's Gamekeeper.
On the left, facing the camera.
[Photograph kindly contributed by William's grand-daughter, Barbara Shaw.]
---
Rectory - Rev Robert Warner Wheatley
9 North Tce - Emma Dunn, Fried Fish
14 North Tce - Joseph Mitchinson. Grocer, draper and milliner.
National Provincial Bank - Robert Wild, Manager.
Ye Olde Royal George - George Brown, Landlord.




Mr Clifford Morris.

---

Red House - H Clifford R Morris.

He was "Rubberneck" to we peasant, trespassing yobbos of Skelton.
But he was the Agent to the Skelton Castle and Gilling West Estates for an amazing 61 years service, 35 years as Agent.
He was also a long time public servant in Skelton and the East Cleveland area. On his retirement [date not known] he said,
"I know every gate and every field." of the Estates.
He had served for 32 years on the Skelton and Brotton Urban District Councils, during which time he had been Chairman 4 times.
He was also Chairman of the North Riding and Middlesbrough Joint Local Valuation Panel, since its inception in 1949.
Chairman fo the Skelton Men's branch of the Cleveland Conservative Association and a member of the Cleveland Show Council.
He was succeeded as the Castle Agent by Mr W J Bulmer.
Both men have many other references in this website.

District Nurse - Miss Winters.
17 South Tce - John Morgan, Dairyman.
York House - Dr William Stevenson. Surgery and N Riding CC Tuberculosis Dispensary.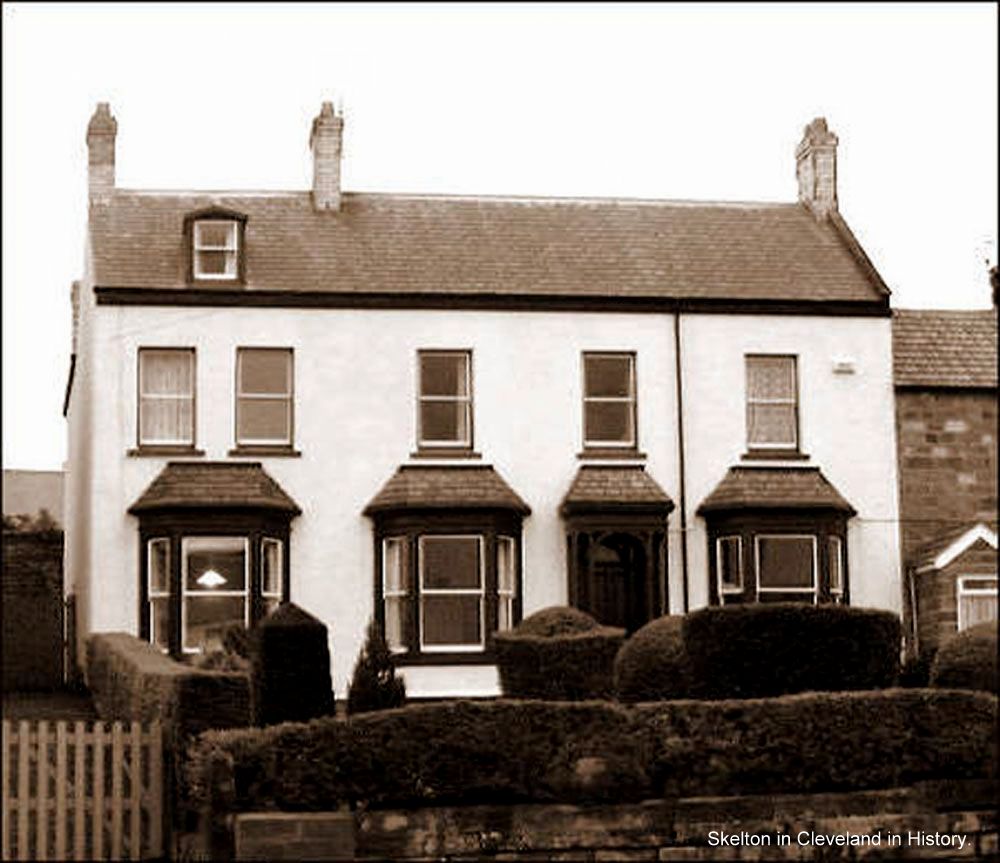 York House, Doctor Stevenson's Surgery.
---
Cleveland House - Mrs Dickinson.
Conservative Club, Green Rd - Joseph Mitchinson, Sec.
[Yorkshire Penny Bank agent]
Back Lane - Herbert Bonas, Dairyman.
Quarry House - Edward Flatter, General Dealer.
3 High St - Florence Georgeson, Shopkeeper.
7 High St - William Thubron, Wine and Spirits.
11 and 13 High St - Robert John Hall, Outfitter and Milliner.
15 High St - Henry Pattinson, Saddler.
21 High St - Mary Baker, Grocer.
21 High St - Robert Barker, Motor Engineer.
Council Offices: -
Frederick Wilkinson, Clerk and Accountant.
Richard Barry, Sanitary Inspector.
Arthur Rowley Cranmer, Surveyor.
Reginald Hewling, Electrical Engineer.
Fire Station -
Hill House - John George Barry, Farm Bailiff.
41 High St - David William Appleton, Joiner.
No 41 David William Appleton, Joiner - Skelton High St. Second on the Left,
On the Right, United Bus outside the Institute and next down wooden Bus Garage.
---
49 High St - K Ridsdale and Son, Builder.
67 High St - Frederick Bell, Church Organist and Music Teacher.
69 High St - John W McLane, Blacksmith.
72 High St - Walter Wright Kingston, Chemist and Post Office.
73 High St - George Robert Garrett, Shopkeeper.
74A High St - Ernest Simons, Hairdresser.
74 High St - Council Electricity Department, Reginald Hewling.
Co-operative Society :- Henry Rudsdale, Secretary. H Penrose, Manager.

Skelton Cooperative Society.
---
75 High St - Arthur Fabre, Draper.
77 High St - Fred Hatfield, Boot dealer.
Skelton Literary Institute: -
George Dack, Secretary.
Relieving Officer 9, Percy Balls.
Relieving Officer 8, Henry Garland.
79 High St - William Mawson, Newsagent.
Cleveland Guardians Committee.
94 High St - Leonard George Buckingham, Insurance agent.
97 High St - Maud Ridgard, Tinsmith.

Skelton Cross Green.
Postcard produced by William Mawson, Newsagent of 79 High St, Skelton.
The business was carried on after the War by his daughter, who married Roland Whittaker.
---
101 High St - F W Boothroyd, Registrar of Births and Deaths.
Attends Mon, Wed and Fri 4 to 5.30.
105 High St - John George Harrison, Tailor.
109 High St - Mrs G Boocock, Confectioner.
111 High St - Nelly Harris, Ladies Hairdresser.
112 High St - Jean Scott, District Nurse.
115 High St - E O Blyth, Draper.
117 High St - William Carter. Dentist.
121 High St - Samuel Waller, Plumber.
131 High St - Albert Sleeman, Boot repairer.
British Legion Club - George Thompson, Secretary.
Wharton Arms - Charles E Skipper.
Smallholding - Mary Dunning - Egg Cup Farm.
145 High St - John Frederick Holliday, Farm Bailiff to Whartons
149 High St - Dowson Bros, Clothiers. See photograph below.
151 High St - Dowson Bros, Grocers.

Dowson Shops.
Bottom Right is the entrance to Robinson Street, with 149 High St on the Left, with the shop blind, and 151 to the Right.
Before the Second War these were Clothier and Grocery shops belonging to the Dowson Bros. They also had a shop in Vaughan Street, North Skelton.
I lived from 1940 to 1962 at 153 High Street and for much of that time 149 High St was the Electric Showroom.
Up to about 1953 151 High St continued as a Grocers run by Annie "Dowson" and her husband Dudley Rees-Davies.
There is a photograph of them on page E69.
It continued as a Grocery shop until the early 1970s under two different owners.
---
157 High St - Cleveland Gas Co Showrooms.
This later photograph shows numbers 153 to 157 in the early 1970s.
The second door from the Left was the Grocery shop Store Room.
I well remember the strong musty smell [Sell-by-dates had not been invented] and going in there with Annie Dowson for things like a jug of vinegar from what seemed like a giant barrel to an infant.
Next door, no 155, was a house occupied by Sarah Futter and her daughter Norah.
Exactly when the old sandstone building was constructed is not presently known, but before the coming of the ironstone mines, it must have stood alone for some time at the East end of Skelton. Possibly as a small farm house.
At the far Right, 157, was the Gas Showroom, which for all my time there was run by Horace Harding, the husband of my mother's cousin, Gladys.
On the other corner of Dixon Street was Raymond Paley's Ironmongers.
Later all the shops and No 153 were converted on the cheap to dwellings, which helped destroy the character of Old Skelton.
---
163 High St - George Paley, Ironmonger.
7 Yeoman St - Laura Goss, Shopkeeper.
Drill Hall - 4th Bat, C Company, The Green Howards.
Rock Villa - E G Rowland.
Rigwood - Mrs J P Hamilton.
Rushpool Hall - Miss G Walton.
Postcard sent from Margaret Winsome Wharton to Mrs Hamilton of Rigwood.
---
SKELTON GREEN.


2a Boosbeck Rd - Albert Covell, Fried fish.
Green Inn - Clifford Bosworth, Landlord.
The Green Inn, Boosbeck Road, Skelton Green.
---
9 Boosbeck Rd - Isabel Mohun, Shopkeeper.
12 Boosbeck Rd - William Carter, Dentist.
Post Office - Evelyn Annie Gratton, Stationer and PO.
William Mawson, Newsagent.
19 Boosbeck Rd - Robert Norman.
21 Boosbeck Rd - Joseph Walker, Furniture Dealer.
24 Boosbeck Rd - William Smith, Hearts of Oak Benefit Society.
42 Boosbeck Rd - William Evans, Baker.
47 Boosbeck Rd - Cornelius Parker, Boot repairer.
The Hut - John Chapman, Hairdresser and Confectioner.
The Hut, Boosbeck Road - Barber Jack's.
Ardmore House - William Alex Kirkpatrick.
Hobdale - William Petch, Farmer.
Miners' Hospital - Doctor W Stevenson, Doctor W A Kirkpatrick, Isabella Hannah Private, Matron.
Manless Terrace - William Georgeson, Shopkeeper.
---
Manless Terrace, Skelton Green.
---
31 Cleveland St - Hannah Cooke, Shopkeeper.
New Inn - Mary Ann Reynolds, Landlady.
Harker St - Nixon and Co, Grocers.
Trout Hall Lane - George Alfred Laing, Painter.
Trout Hall Lane - Ernest Dunning, Smallholder.
Airey Hill Farm - John Bell, Farmer
Manless Green Farm - Alfred Ross.

Manless Green Farm.
---
Newlands Farm - Harry Ross, Smallholder.
Manless Farm - Allan Thompson.



NEW SKELTON.


1 Thomas St - Frederick Carter, Greengrocer.
5 Thomas St - Sarah Claxton, Shopkeeper.
1 Charlotte St - George Carter, Fried fish.
2 Charlotte St - Jeremiah Wilks, Grocer.
19 William St - David Grainger, Joiner.
29 John St - Ben Cook Larder, Painter.
1a Stanghow Rd - Harry Holmes, Boot repairer.
1 Stanghow Rd - George Leng, Beer retailer.
New Skelton - Methodist Chapel
New Skelton - Salvation Army Hall.
Hollybush Farm - Martin Hicks.
Woodlands Nurseries - Allan Hill.



NORTH SKELTON.


Bull's Head, Vaughan St - Robert Addison, landlord.
4Vaughan St - Isaac Smith, Coal Dealer.
6 Vaughan St - Jack Boothby, Fried fish.
11 Vaughan St - Henrietta Bennett, District Nurse.
13 Vaughan St - Florence Harben, Shopkeeper.
17 Vaughan St - Confectioner.
22 Vaughan St - R and W Armstrong, Hauliers.
27 and 28 Vaughan St - Gordon Dowson, Grocer, Draper and Boots.



Vaughan St, North Skelton.

---

East Cleveland Co-operative Society.
Ministry of Labour Employment Exchange.
Working Men's Club.
Garage - Harold Patton.
11 Richard St - John Burluraux.
12 Richard St - John Chapman, Hairdresser.
31 Richard St - Thomas Wilson, Shopkeeper.
Matthew Theaker, Electrical engineer. 4 Wharton St - George Wilks, Shopkeeper.
10 Wharton St - Elizabeth Young, Confectioner.
47 Wharton St. - John Dunn, Fried fish.
5 Bolckow St - David Carver, Insurance agent.
Literary Institute - E W Templeman, Secretary.
North Skelton Pit - Dorman Long Co, Thomas E Slater, Manager. Greenhills Farm - William Hutchinson.
Newbrook Farm - John Kidson.
East Pastures - Thomas Robinson.
Wet Furrows - Matthew Scott, Bailiff to Bolckow Vaughan.
Hagg Farm - Matthew Scott, Bailiff to Bolckow Vaughan.
Trout Hall Farm - Robert Stevenson