---
2nd January -
DRUNK POLICE ASSAULT - 3 MONTHS HARD LABOUR.
Robert M Carver of Lingdale, a Miner. was charged with refusing to quit the premises of Ernest Andrew, Innkeeper, Green Inn Skelton Green and further charged with kicking PC Pickering and PC Hogg.
Fined &pound1 and costs or one month in jail and for the police assault three months with hard labour, sentences to run consecutively.
[Ernest Andrew was the great grandson of the first John Andrew of Smuggling and Hunting fame.
There is much more about the Andrew family Here.
Ernest seems to have been cheated out of his inheritance by his elder brother George, who shot himself in 1900.
In 1901, age 23, Ernest was the licensee of the Fox and Hounds Inn, Scotton, W Yorks and married to Ethel, age 19, who had been born in Skelton.
Prior to that he had been a publican at Guisborough. When he became licensee of the Green Inn, Skelton in October 1903 he had been living in Willington, Co Durham. He stayed at the Green Inn until August 1907.
Between 1912 and 1919 the family lived at Gt Ayton, N Yorks, during which time Ernest served in the First War.
In 1926 they emigrated to Canada and within 6 months Ernest lost the fingers of his right hand.]

12th January -
GENERAL ELECTION - LIBERAL LANDSLIDE.
Voting took place from now to the 8th February. Henry Campbell-Bannerman's Liberals gained an overall majority of 125, the last time this Party would have an absolute majority in the Commons.
Arthur Balfour's Conservatives lost many seats on the issue of protectionist tariffs, which ordinary people thought would increase the price of food.
The "Big loaf, Little loaf" battle it became.
Keir Hardie's Labour representatives increased their seats from 2 to 29 and reformed as the "Labour Party".
The MP for the Skelton area of "Cleveland" was Herbert Samuel, Liberal, who retained the seat he had won in 1902.

19th January -
HOUSEKEEPER CLAIMS CHILD MAINTENANCE.
At Guisborough County Court Mrs Jane Rowland, of Skelton, sued Christopher Sherwood, a Carrier of New Skelton for &pound9 5s wages, as Housekeeper and for the maintenance of a child.
Sherwood agreed to pay &pound5 and all expenses and judgement was given accordingly.



Skelton Band outside the Royal George, which at this time was called the Old Royal George.
[Photo kindly contributed by Julie Riddiough of Brotton.]

---

29th January -
SKELTON OLD BAND.
Conducted by Mr Thorpe, the Skelton Old Band gave a very successful sacred Concert in the Drill Hall, Green Rd, Skelton, last night.

30th January -
FIGHT OVER A DOG FIGHT.
A dog fight led to a serious assault at Skelton on Saturday night.
At Guisborough Court John Andrew, a Miner pleaded not guilty to a charge of inflicting grievous bodily harm on Henry Lightwing, a Back-bye Deputy of 65 High St, Skelton.
Lightwing was in Skelton Institute until 10 p.m and then went to the Wharton Arms until closing time was his version.
It was further alleged that when he came out of the Hotel, his fox terrier began to fight with a black mongrel belonging to Andrew. As he stooped down to separate them Andrew, who was a well known pugilist, dealt him a blow on the jaw and then hustled him against the window of an adjoining draper's shop window, which was thus broken.
Lightwing, being half dazed, staggered and Andrew again rushed at him and struck him violently under the ear, so that he fell unconscious to the pavement.
Anthony Johnston, caretaker of the Institute confirmed that Lightwing was in the Institute 6 hours out of 8 and that he had not incited the dogs to fight.
Sergeant Nelson stated that Lightwing suffered from jagged wounds on the
back of his head and neck from the broken glass.
The men had been on good terms up to the incident.
Mr Punch, in Andrew's defence, said that Lightwing incited the dogs to fight and when he saw his animal was getting the worst of it aimed to kick Andrew's mongrel.
In attempting to do so he fell into the window. He then said, "You have done it" and came at Andrew, who acted in self defence.
William Sanderson gave evidence to support this version of events, but the Bench would have none of it.
They described the assault as most unprovoked and inflicted a fine of &pound3 with &pound1 2s 6d costs or a month's imprisonment.

6th February -
GUISBOROUGH COURT - TRAMP AND POACHERS.
Elijah Coxshaw was committed for 14 days for begging at New Skelton.
William Ridley and Henry Barrett, Miners of Lingdale, were convicted of trespassing in search of game at East Pastures on land belonging to W H A Wharton on the 23rd January.
Ridley was fined &pound1 and costs and Barrett 15 shillings inclusive.

NO HARD BOOZE IN NEW SKELTON.
Mrs Longstaff, a shopkeeper and beer seller, of Stanghow Rd, New Skelton applied for a license to sell wine and spirits.
In the village it was stated there were at present 113 houses and others in the course of erection. The nearest wine and spirit house was the Wharton Arms, a quarter of a mile away.
There was no opposition to the application and a local Doctor and George Mallett, a village resident for 34 years supported it.
The Bench after a short private discussion, however, decided against it.

LAST REGULAR SERVICE IN THE OLD CHURCH WAS HELD.

6th February -
CHILDRENS' CONCERT.
Parish Magazine -
A concert was given in the Skelton Institute by a detachment of children from the Skelton Infants School under the direction of Mrs Herring and her assistant teachers.
The second part of the concert consisted of an Operetta entitled "Fairies of the Season".
The gross takings amounted to &pound7 14s 6d and were in aid of the Church Band of Hope Funds.
It was repeated in the Church Rooms on the 19th. Mr Varty [Councillor and manager of Park Pit] very kindly presented each child with an orange.
&pound3 3s 6d was taken and this will be used to provide a tea for all the children of Mrs Herring's School sometime during Easter.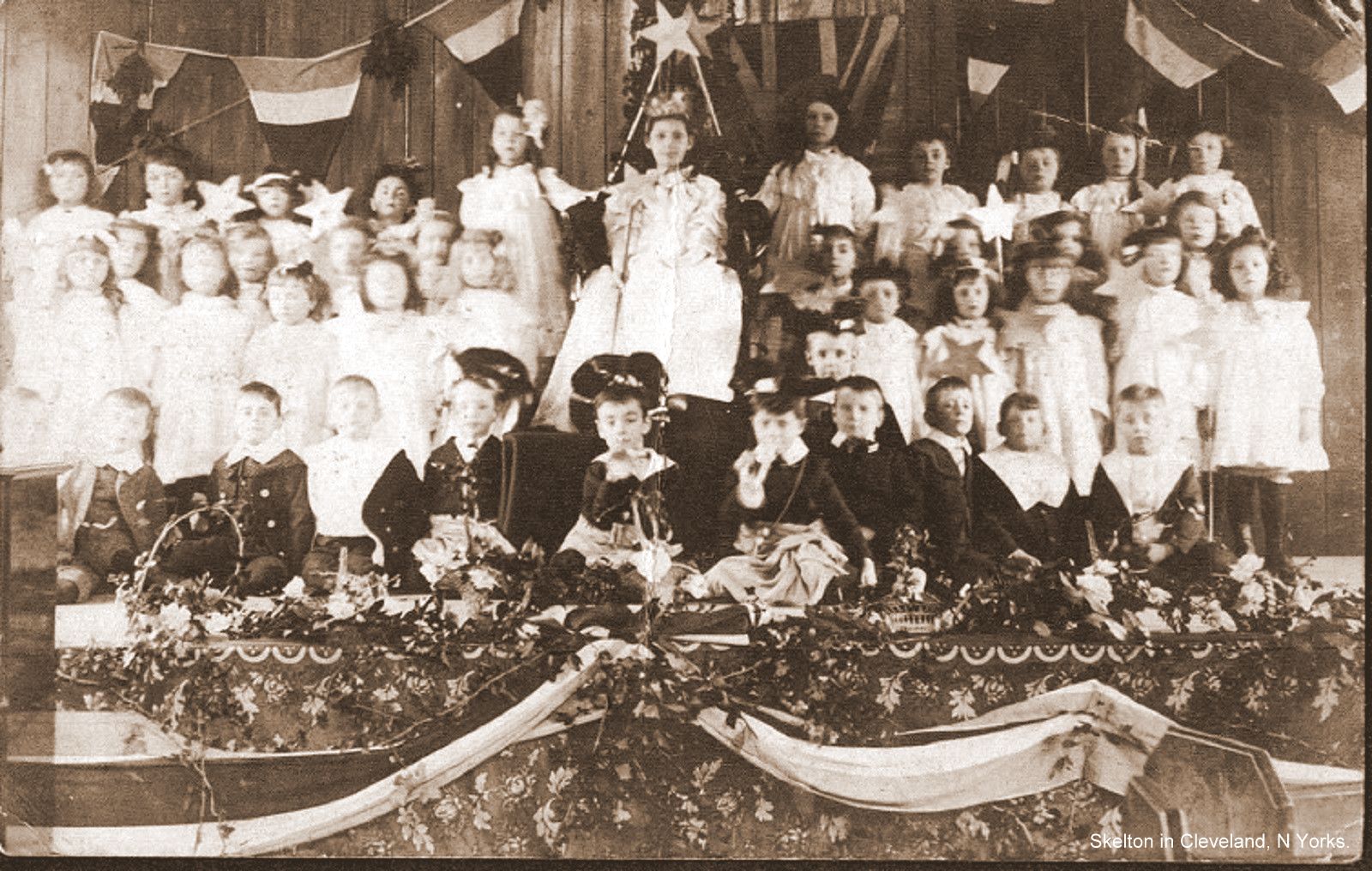 FAIRIES OF THE SEASONS.
A postcard send from Skelton on the 23rd March 1906 says - "This is the result of the Concert".
---
10th March -
MINE DEATH - 3 TON STONE SPLINTERED LEG.
The Death occurred yesterday at the Skelton Miners' Hospital of Ralph Christon, aged 47. He was a Filler at Messrs Bell Bros Park Pit.
On the morning of February 27th he was filling stone into a wagon, when a large piece burst from his working place and fell upon his Left leg causing a fracture that splintered the bone.
Tetanus set in and this caused his eventual Death.
An Inquest was held at the Green Inn, Skelton Green on the 12th.
Thomas Clark, a Deputy and Micheal Bell, charger said that the stone weighed 3 tons and caused the fracture and several small wounds.
The place had been examined and was found to be safe, the stone bursting from between two "backs".
Dr Blue informed the Jury that Ralph suffered from severe shock to an unusual degree and on Thursday he found him suffering from lock-jaw and on the next day he died from this.
The Coroner described the accident as "one of those incidental to the working of Ironstone".

28th March-
NORTH SKELTON CHILD BURNT TO DEATH.
Herbert Sidney Lack, aged 3, of Richard Street, North Skelton died following a burning incident.
He was playing in the streets with some older children on Wednesday and his clothing was observed on fire by one of the householders, who immediately rendered assistance and extinguished the flames.
The boy was however severely burned and death ensued yessterday. It is supposed the children were playing with matches ?
---

Skelton Co-operative Society Milk Token.
Local Co-operative Societies issued their own commodity tokens. Members of the Society would buy these for milk, bread or coal. The amount they spent would be registered for their dividend payments and the tokens exchanged with the men who made the village rounds.

---

29th March -
MINE DEATH - LEG BROKEN.
Skelton Shaft. John Daynes, aged 30, miner, was killed.
An inquest was held at the Miners' Hospital, Guisborough. He lived at Moore's Yard, Belmangate. "Whilst charging a top bole a flake of stone fell from the side, breaking his leg and causing other injuries. He died the same day."

10th April.
BOOZE AT PRIESTCROFTS FARM.
An occasional license was granted to Ernest Andrew of the Green Inn, Skelton Green, authorizing him to sell by retail all intoxicants on 19th April 1906 between the hours of 10 a.m. and 6 p.m. in a tent at Priestcrofts, Skelton, on the occasion of a stock sale.
---
28 April -
NORTH SKELTON MINE DEATH - IRONSTONE TUB FELL ON HIM.
North Skelton Mine. Henry Stonehouse, a filler aged 57, died at the Miners's Hospital, Skelton Green, as a result of injuries received on the 5th March.
An Inquest was held at the Green Inn, Skelton Green on the 30th. Evidence was given by deceased's brother-in-law who reported that Stonehouse had told him that he was getting a drink, when ironstone tubs got off the line and fell on him.
Mr Thomson, the Mine Manager produced a plan showing the scene of the accident.
Fred Chapman, a Horse Driver, stated that about 5 p.m. he was taking two empty tubs into the deceased's working 'place', when they left the rails near the points and this caused the horse to go faster.
The second tub turned over and Stonehouse, who was standing about 3 feet away was struck on the leg.
Fred said that he shouted at him all the way down and there had been much trouble with the horse at this spot.
Horse drivers were supposed to slow the tubs round the points and Chapman did this. The horse was very quick and sharpish.
Dr Thorney stated that Stonehouse suffered from fractures of both bones of the Left leg and there was also a wound.
He died from exhaustion and a verdict of accidental death was returned.
North Skelton Mine. Manager's One Horse Power Limousine.
---


2nd May -
NORTH SKELTON BAND OFFER TO POPULARISE SALTBURN.
The North Skelton Band wrote in reply to Saltburn's Council request that they were willing to visit twice per week and play a programme of music free of charge - on condition that they be allowed to make a collection. The Council agreed.



Bathing Machines at Old Saltburn.
All the beach and land to the East of Skelton Beck, the Ship Inn side, was part of the Skelton and Brotton Council authority until 1934.

---

COUNCIL MEETING - BATHING MACHINES DAMAGE.
At this time Old Saltburn [all the land to the East of Skelton Beck- Ship Inn side.] was the responsibility of Skelton and Brotton Council.
It would remain so until, surprisingly, 1934.
Bathing huts, owned by a Mr Woodrow of Old Saltburn must have damaged posts on the beach owned by the Council due to a rough high tide.
A Council claim for damages was made, but Woodrow's solicitors argued, to laughter, that Woodrow could just as well claim for his machines to have been damaged by the posts.
Further inquiries were decided.

16th May -
MINER INJURED HEAD - PARK PIT.
A Skelton Miner, James Osborne, aged 61, a Machine Driller of 25 Park St, was injured about the head, through a fall of stone at Messrs Bell Bros Park Pit. He was removed to the Skelton Green, Mines Hospital yesterday.

18th May -
COMPENSATION FOR MINE DEATH.
At Guisborough County Court, before Judge Templer, an application was made for sanction to an award under the Workmen's Compensation Act.
The claimant was Mrs Alice Robinson, of 78 Harker Street, Skelton Green, the widow of the late Alfred Robinson, Miner, employed at Park Pit.
He had worked at the Mine for 11 weeks and earned on average 18s 3d.
There was not complete dependence on the earnings and the sum of &pound120 was eventually agreed as compensation
Alderman Hobbs, who made the application said it was proposed to set aside &pound20 for the widow and invest the remaining &pound100 for the 3 dependent children.
His Honour approved the division and the award.

29th May -
MAD MINER AT SEA.
Jabez Gott, a Miner of Skelton, was charged for being drunk and disorderly on Saturday night.
Sgt Dunning of Marske said that about 7 p.m. he received a report that a man was on the sands with his coat off and walking into the water trying to fight the waves.
One of the breakers washed him down and only the assistance of 3 young men probably prevented him drowning.
The police took him into custody, during which he attempted to get away.
He was very drunk and again tried to go into the sea, whilst shouting that he was able to swim.
They eventually got him to the Police Station at Saltburn where he had to be wrapped in rugs.
His conduct in the cells was like that of a madman.
He declared that he was looking for some birds. He got two birds on Saturday at the spot with the object of making the case up.
PC Falkingham stated that Gott shouted and sang in the cells up to midnight.
Gott retorted - "It is no use being downhearted when you are there."
Laughter in court.
Supt Rose said if the defendant had been left he would have probably have drowned.
Gott - "If I had known the Sergeant was going to lock me up, I would have let him come into the sea and then we would have seen whether he would drown or not."
Laughter in court.
The Bench decided to inflict a fine of &pound2 inclusive.

20th June -
SKELTON DOCTOR EXAMINED FOR BANKRUPTCY.
Dr John Thorney appeared at Stockton Bankruptcy Court.
He claimed that he had borrowed money off his mother to help in the purchase of Dr Merryweather's practice for &pound1,0000 and that he had overpaid.
An earlier hearing had shown that he owed creditors and did not have sufficient funds. He had admitted that he liked a gamble on the horses and that his wife had bought items at Newhouses without his knowledge.
Mr Thompson for the trustees - "You say your practice is worth &pound800 per annum. Are you prepared to set aside anything for the benefit of your creditors ?"
Thorney - "These proceedings may affect my practice and I do not know how much I will be able to make now."
Adjourned for a week.

1st July -
VOLUNTEERS ANNUAL CAMP - GREAT YARMOUTH.
The Local Volunteers joined those from Scarborough and the East Riding for the annual training in Camp of the Yorkshire Regiment - some 4.000 men. The place selected was Great Yarmouth.
An Advance party put up tents etc. The men arrived about 6 p.m on Sunday under the command of Colonel W H Mott and Major Mills, when a hot dinner was all in readiness for them after a long march of about ten hours.
Other Officers present were Colonel Wharton, Captain Dorman, Surgeon Leigh de Leigh, Surgeon Whitehead, Major Bell, Lts Matthews, Jackson, Mott, Fife - some of whom and many of the men would figure in the 4th Yorks Battalion in the First World War.
The next day they had a route march which partly led the length of the 3 mile promenade, headed by the band. Thousands of people watched them march past.

2nd July -
SKELTON AND BROTTON COUNCIL ANNUAL ACCOUNT.

9th July -
DEATH OF ALEXANDER ELLIS.
He had established a successful business as Skelton Chemist for over 25 years. He was a staunch Churchman and Warden of Skelton in Cleveland, where he held the offices of Registrar and Postmaster.
Of a studious bent, he read papers at Skelton Literary Society and published books on various subjects.
After retirement he moved to East Boldon, Durham where he died, aged 64.

16th July -
GOT JABEZ GOTT AGAIN.
At a special Court at Saltburn, Jabez Gott, a Skelton Miner was remanded on a charge of assaulting Superintendent Rose on Saturday night.
There was a disturbance at the door of an Hotel and when the Supt proceeded to the Landlord's assistance, Gott struck him in the face and afterwards kicked him on the shins. Afterwards behaving violently on the way to the Police Station.

24th July -
SKELTON MINERS DAMAGE.
Thomas Harris, John William Moody, Robert Rice and John Batterbee, all Miners of Skelton were charged with causing damage to the fence and underwood in New Skelton plantation on Saturday the 14th.
Fines ranging from 2s 6d to 12 shillings were imposed.

MINES ACCIDENT - CRUSHED BETWEEN TUB AND PROP.
While working in Messrs Bell Bros Park Pit Mine today J W Milner was crushed between a tub abd a pit prop, receiving injuries to the lower part of his body.
He was taken to the Guisborough Miners' Hospital on an ambulance for treatment.

26th July -
THE DEMON DRINK RUINS LIVES.
Church of England Temperance Society -
Mr James Loysley, better known as the 'Battersea Navvy', visited the Skelton Parish, in charge of one of the Temperance Vans and held public meetings in the open air.
On Monday the van was drawn through Skelton and found a good "pitch" between the Post Office and the Institute.>br> On Tuesday it was at New Skelton; on Wednesday on the Green; on Thursday at North Skelton and on Friday back at the Institute.
On Monday afternoon he addressed a meeting of Sunday School children on The Hills [where camp meetings are wont to be held].
His ready wit and racy style combined with full knowledge of his subject in all its bearings upon the lives of working men secured him an attentive hearing.
He proved by facts and argument how temperance, religion and self control raise and refine a man while self indulgence, intemperance and sin degrade and ruin him.
In the following week he visited Boosbeck, Lingdale and Margrove Park.

28th July -
FLOWER PARADE AND HAVE A BALL.
The Third Annual Flower Parade in aid of the widows and aged people of North Skelton and district took place in splendid weather.
A procession of about 300 children was formed and headed by the North Skelton Brass Band, along with the Clown's Band travelled all the streets of North, New and Old Skelton taking a collection en route.
On returning tea was provided in the Miners' Institute. Followed by a Ball in the evening.
North Skelton, Vaughan St - parade outside the Institute. Possibly the Flower Parade referred to above ?
---
30th July -
PLATELAYERS WAGES.
The platelayers were the men in the Ironstone Mines, who laid the rail lines underground on which the 'tubs' or ironstone were carried back from the blasting face to the pit bottom over varying undulating ground and gradients. In response for claims for a rise an Umpire was called in and decided that at South Skelton an advance of 2d per day, making 3s 9d, and the wages at Long Acres and North Skelton to remain the same.



Skelton Undertaker, William T Wood's Account for Funeral Expenses of William Wood of 3 Robinson Street.

---

3 August -
PARK PIT - MINE DEATH - MASSIVE FALL OF STONE.
William Wood, a deputy, aged 41, of 3 Robinson St, Skelton, was killed.
"He, with others, had drawn the timber from two juds, right and left of a crossing.
They then purposed to draw the crossing timber. William was chopping out one of three props set beneath the in-bye bearing baulk, when it suddenly broke and let down some dogger.
The other two props gave way, and the crossing collapsed. He was killed."

5th August -
FREE GARDENERS.
Parish Magazine -
Club Service - The Free Gardeners arranged a Church Parade with a view to help the Convalescent Home at Grange over Sands.
They hope to raise sufficient money to pay for a cot there to be called the 'Skelton cubicle.'
The Institution is well known to Skelton men and not a few have found it a delightful haven of rest to themselves when recovering from the effects of illness or accident.
It is, however, not so well patronised as it deserves and but for the money received for extra stays and from visitors it may be necessary to increase the sum charged for Friendly Society forms.
Five pounds is required to furnish a cubicle and we feel sure Skelton men will secure one.
The Club members will meet near the Miner's Hospital and march through the Green and Park Street District collecting contributions on the way.
After the service they will reform and visit New Skelton and North Skelton.

14th August -
TAKING BETS IN PUBLIC FIDDLE.
James Drinkwater, a Loftus bookie, was charged with frequenting and taking bets in Claphow Lane, Skelton.
Sgt Harrison and PC Mercer had seen men approach him and give him something that he put in his pocket and he admitted being in the lane every day.
Drinkwater denied the charge and it was dismissed after his solicitor said it did not specify a particular date and it was unfair for his client to give information covering 11 days.

21st August -
CLEVELAND MINERS' ASSOCIATION THRIVING.
The balance sheet showed over &pound12,000 in hand and membership growing to 6,865. North Skelton led with 585 and Skelton Park second with 512.
The most expensive item during the last 3 months was &pound111, the cost of sending members some 80 miners to various infirmaries, medical institutions and convalescent homes.
3 East Terrace, William Wood, Joiner and Undertaker. He was aged 48 at the 1901 census.
Chris Holmes, the present owner of this property informs me that William Thomas Wood and his elder brother John Robert inherited the business and the house from their father James Wood.
James originally bought the house and set up business in 1838, according to the house deeds.
James died in 1874 and left the house and business to John and William.
John Robert died in 1909 and passed his share onto William. He died in 1921 and thus the photo seems to have been taken soon after 1909.
---
COST OF LIVING.
A farmworker at this time earned about 17 shillings and sixpence a week, [88p].
Typical costs were:-
Rent 7.5p - Pint of beer 1p - 2oz tobacco 3p - pound of butter 5p - half pound of tea 4p.

24th August -
COOPERATIVE EXAMS.
At the recent examinations for Co-operative Managers held under the auspices of the Co-operative Union Ltd, two of the local society's employees, namely Mr G W Brooks and Mr W A Brooks, gained the "pass with distinction" honours in the "advanced stage".

28th August -
DOCTOR'S WINDOWS SMASHED.
Thomas Henry Lowther, a Miner of Skelton was charged with damaging a window, the property of Dr Wigfield of Skelton Green.
The Doctor's house was situated near to the Miners' Hospital and for some time past the servants had been frightened by people knocking at the windows after dark.
On August 18th the Doctor heard a window being broken in the kitchen and a stone thrown through it. He dashed outside and caught Lowther in the act of running away.
Charles Skipper, landlord of the New Inn said Lowther called shortly after 10 p.m and asked him to say that he had just left the premises, whereas he had been out about an hour.
Lowther denied the charge, but the Bench imposed a fine of &pound2 2s inclusive.

30th August -
FIRE AT VAUGHAN ST, NORTH SKELTON.
A fire broke out in the cartshed at the rear of Mr Sidney Smart's grocery and drapery establishment at Vaughan Street, North Skelton.
The Guisborough and Skelton fire brigades were summoned, but locals were able to extinguish the flames.
Smart's Stores, Vaughan St, North Skelton.
---



Harker Street. Later photograph.

---

5th September -
BEGGAR JAILED.
James Graham, a tramp, was committed for two weeks imprisonment for begging at Skelton.

8th September -
NO WATER AT SKELTON GREEN COMPLAINT.
A complaint had been sent from the Council to the Cleveland Water Company saying that Skelton Green and the High parts of Brotton for some hours each day could not obtain tap water.
Mr Ianson, the Company secretary replied saying that according to his inspectors the supply was not worse than last year.
The houses in the said areas were built on very elevated ground with deep valleys on each side. During the summer months the demand in the valleys was so great that the Company could not maintain the pressure to constantly supply these high areas.
It was therefore the duty of the property owners to provide proper cisterns to store water for such times.
Some years ago, Messrs Bell Bros mine owners, had fixed a large cistern at the back of Harker Street, Skelton Green and his inspectors had never found it empty.
If any more complaints were received, the Council should investigate whether the property owners had or had not complied with the provisions of the Waterworks Clauses Act, 1867.

SPEEDING BIKES AND CARS.
At the same meeting Mr Thomas Varty and Mr Watson both spoke of narrow escapes from accidents in the district during the past few weeks arising from the riding of bicycles and the driving of motor cars at excessive speeds. It was decided to call the attention of the Police to these dangers.
27th September -
SKELTON MINERS' HOSPITAL RATIONED TO WHARTON ROYALTY WORKERS.
The Skelton Green Hospital, which is maintained by Mr W H A Wharton of Skelton Castle will in future be open all the year, instead of being closed for the holidays of the staff.
But the Squire cannot consent to workmen from Lingdale being admitted to the Hospital.
The royalty worked by the Lingdale Miners does not belong to Mr Wharton [It was the Pease family] and it is understood from his letter that the Hospital is to be confined to injured men who are employed working the royalties of the Castle Estates.

STONE FALL - MINER INJURED.
While working in Messrs Bolckow and Vaughan's Longacre Mine, Skelton, a Brotton Miner, Thomas Shepherd, was injured about the back and ribs by stone falling upon him.
He was afterwards removed to the Brotton Cottage Hospital.

6th October -
COUNCIL MEETING - TWOPENCE RISE.
Mr W P Robinson, the Surveyor, was instructed to carry out private improvements to the streets at the back of Dixon and Yeoman St, Skelton. Estimate &pound678.
The wages of W Longstaff, the driver of the steam road roller and J W Longstaff, his flagman was increased by 2 pence per day each.
Mr W Stephenson gave notice that the wages of employees who have not received recent advances to be increased by the same.

8th October -
SKELTON MINERS' HOSPITAL - CHANGE OF MIND.
Mr Joseph Toyn has received a letter from Squire Wharton [see 27th September above] saying that he has made arrangements for 3 beds to be kept for consumptive patients in the first stage at Mount Vernon Hospital, Hampstead.
These will be available only for patients from the North Riding of Yorkshire.
He has also agreed to admit, for free, critical cases from the Lingdale Mine, should there be a bed vacant.

16th October -
JABEZ JABBERED AGAIN.
Jabez Gott, a Skelton Miner, was today at Guisborough fined &pound2 for being drunk and disorderly. Mr W H A Wharton, who presided stated that he had 3 convictions against him just this past year.


17th October -
ELECTRICITY COMING TO THE MINES.
It is stated that the Cleveland and Durham Electric Power Co Ltd propose to erect overhead wires, which will permit all the Mines in Cleveland tapping into an Electricity supply.
A double pole line is to be run from the Company's power station at Grangetown to Spawood, from whence the two lines will spread out, one going in a northerly direction by Skelton and Brotton to Skinningrove and the other continuing almost due East to Lingdale and from thence to Loftus, where it will be linked up with the northern line.
The two pole lines are so designed that in the event of one breaking down, the other will continue the supply.
The system is to be laid out for a maximum load of 6,000 kilowatts and calculated to be completed in 7 months.

18th October -
NORTH SKELTON FOOTBALL - HARD LINES AND NO WHITEWASH.
In the qualifying rounds for the North Riding Cup North Skelton were defeated by Guisborough Red Rose on the 6th October.
They protested that the ground was marked out with soil instead of whitewash.
The Ref said the marking did not affect the result.
The North Skelton linesman said the marking could not be seen.
The Red Rose representative replied that the previous speaker must have had one eye closed and the other shut.
Two members of the North Riding FA were sent to inspect the ground.

29th October -
GREEN BANK - BRAKE SNAPPED - HORSE KILLED.
A heavily laden furniture van was being driven from Slapewath to Skelton on Saturday night.
4 horses were attached and all went well until halfway down the bank between Skelton Green and Skelton.
The chain on the "skid" on the wheel snapped and the heavy load completely overpowered the horses.
They were forced down the bank and being unable to take the sharp turn they dashed against a house which stands in the middle of the bank.
Both shafts were broken and one horse had its back broken and died shortly after. It is expected the other 3 will recover from their injuries.
The driver, George Lenton, fortunately escaped without injury.

30th October -
VIOLENT WOMAN IN SKELTON POLICE CELLS.
Mary Knaggs, a well dressed married woman of Margrove Park was charged with being drunk at Lingdale on Sunday night.
Sgt Harrison found her lying asleep on the street and when he woke her up she used abusive language.
As she was unable to walk, a conveyance had to be obtained to take her to Skelton Police Station. In the cells she threatened to kill herself and behaved violently.
In court Mary alleged that it was the Police who knocked her down, but the Bench decided to convict and fined her 12 shillings. Mr Toyn advised her to take the pledge.

20th November -
POOR RELIEF HIGHEST IN SKELTON.
The half yearly return for the Guisborough Union showed the number of persons in receipt of out-relief [payments in money and kind, without going in the Workhouse] was 860.
The proportion of paupers to the population as a whole was under 2 percent.
The cost in the Eastern division was &pound1071 of which &pound578 was distributed in the Skelton township, by far the highest in the Union.

8th December -
NO POST OFFICE AT NORTH SKELTON.
At the Council meeting it was was resolved to ask Squire Wharton if he had any land in a central situation in Skelton, which could be used as a recreation ground by children under 14.
Mr R Cross called attention to the inconvenience arising from the action of the postal authorities in closing the post office at North Skelton and it was resolved to write to the Postmaster General urging him to re-open it.

10th December -
NORTH SKELTON MINES DEPUTY AND COUNCILLOR CUT HIS THROAT.
The death occurred of Mr William West, a Mines Deputy, aged 56, of 18 Vaughan Street, North Skelton.
His wife died a few months ago and he had been attended by Dr Thorney of Skelton Green for mental depression during the past fortnight.
He was well respected by his fellow workmen, who had elected him to the old School Board and the present Council.
He was also connected with the management of the Brotton Cottage Hospital.
An Inquest at North Skelton heard from his daughter, who kept house for him, that on Saturday morning he got up and had breakfast in the kitchen. He complained of feeling ill and went back to bed.
At 2.30 p.m she found him on the bedroom floor with his throat cut. He had been off work two weeks and could not eat or sleep.
A verdict of 'suicide, whilst of unsound mind' was returned.

24th December -
A HAPPIER CHRISTMAS FOR NORTH AND NEW SKELTON OLD FOLKS.
The efforts of the Aged People's Christmas Fund Committee raised &pound71 from Flower Shows and a Flower Parade.
46 widows received 16s 6d each. 9 old men had 20 shillings each and 5 old couples 30 shillings per couple.
---
North Skelton Wesleyan Methodist Chapel about this time.