The Wharton Arms Hotel, Skelton in Cleveland.
---
Shirley Wunibald [nee Skipper] has kindly contributed the following photographs of her family and some of the Hotel's regular customers. Most of them date from the early 1950s.
Shirley's Grandfather, Charles and her Father, George after him ran the Wharton Arms Hotel for a total of 52 years.

The name Wharton first appeared in Skelton in 1788 when John Hall Stevenson of Skelton Castle assumed the surname of his Aunt, in order to inherit her fortune.
A previous Wharton Arms Hotel existed in Skelton in the early 1800s and was situated further down Skelton High Street, next to where the Fire Station now stands. In 1900 Skelton Literary Institute was built here and currently a rough Car Park. [map on page for 1850-57]
The Hotel figures largely in the pages of this History as the venue of many village events from Celebrations and Dances to Inquests into sudden deaths:-

1878 The Hotel is built.
1879 5th August. Skelton Co-operative Society Tea. 600 sat down and capital songs rendered.
1880 31st July. Inquest on Edward Wotton, platelayer. Tried to jump on moving train and foot run over by last van.
1881 7th January. Inquest on Thomas Hart, killed by a blast in Long Acres Mine.
1881 April. The census of this year records the occupants as William T Maughan, his Wife, Anne, 4 children, 3 Servants, a Groom and 2 Travellers.
1881 21st September. Annual Dinner of the 1st North Riding Rifle Volunteers.
1881 11th October, Dinner held in the Concert Hall to celebrate the coming of age of William Henry Anthony Wharton.
1881 The Court Leet and Court Baron of Mr J T Wharton, Skelton Castle held at the Hotel.
1883 10th January. Splendid dinner for the Volunteers v Coastguards shooting competition.
1883 13th January. Annual Ball of the Skelton Cleveland Agricultural Society danced till the small hours.
1884 30th June. A dinner given by J T Wharton for the workmen at the New Church in the High Street.
1884 24th July. Dinner for the competitors in the North York Rifles versus Durham Light Infantry Shooting.
1885 10th January. Police Sgt Robert Haw presented with testimonial after 17 years devoted service in Skelton.
1885 A Quoit Club called the "Skelton Zoedone" conveniently practiced behind the Hotel.
1888 20th November. John Garthwaite, an Ostler at the Hotel has his coat stolen by visiting Normanby footballer. 2 months jail for the offender.
1890 Proprietor is John Pattinson, "victualler".
1891 18th May. A Saddle was presented to Mr R W Stevenson by the Gordon Highlanders Football Club for letting them use his field.
1892 26th November. Literary Society Concert in the "assembly rooms". Violin solos, songs and a lecture on the "Humorous Songs of England"
1895 May. Local Council considers flagging the footpath in front of the Hotel. The Parson said in the Parish Magazine " it is generally dangerous to travellers who object to walk through pools of water, or to people who like to go to Church with clean boots."
1895 27th November. Concert by Skelton Brass Band for the Instrumental Fund.
1896 20th March. Inquest on William Hodgson, suffocated by gas in Longacres Mine.
1896 15th December. Auction. House in New Skelton sold for &pound87.
1912 4th November. Inquest on William P Robinson, local Council Surveyor. Found shot in the temple with his spaniel lying on his dead body.
1913 Proprietor, William G Gibson. Owner W H A Wharton. Rateable value = &pound72 10s.
1921/22 Charles Skipper [4/3/72 to 19/0/44] moved to the Wharton Arms with his wife Hannah [16/4/66 to 9/4/34].
They had already been the proprietors of three other Inns in Skelton.
Charles Skipper, a lifelong teetotaller, of East Parade married Mrs. Hannah Isabella Todd (widow) of the old New Inn, Skelton Green on 13th June, 1899.
Hannah's husband had died of a heart attack on Newcastle Railways Station returning from a race meeting leaving her with 8 month old Edith.
Charles' father, Horatio George Skipper had been born in Cossey, Norfolk in 1842 and came to Skelton like so many to work in the Ironstone mines.
The Skipper family, Charles, Hannah, Edith Todd, Phoebe, George and Wilf Skipper are shown as living at the New Inn on the 1911 Census).
In 1913 they moved to the Green Inn, Skelton Green.
In 1921 they were running the Duke William and shortly after moved to the Wharton Arms.
During the Second World War part of the cellar roof in the Wharton Arms was reinforced with girders and an Air Raid Precaution Communications centre was installed.




During the Second World War, the Skelton Air Raid Precaution Report Centre was in the cellar of the Wharton Arms.

---

1940/45 Shirley Skipper remembers a telephone switchboard being there and the centre was manned round the clock.
"During the war a bomb was dropped behind the High Street and the Wharton lost 23 windows as a result of the blast. I understand the men playing billiards at the time took refuge under the billiard table. The windows seemed to be boarded up forever."

1944 Charles Skippers' son, George [12/2/02 to 17/02/83] ran the Hotel from this year to 1972 with his wife Rhoda [5/10/05 to 14/02/91].

Shirley Skipper remembers that the Wharton Arms Hotel was always used as a meeting place for socials,dances etc. by the Society for the Prosecution of Felons.
This group of local landowners and businessmen had been in existence since August 1788, when there was no Police Force as we know it.
The photograph below of 11 local businessmen was probably taken on one of these occasions.
By this time the Society's meetings were more a good excuse for an alcoholic social event rather the pursuit of local villains.
---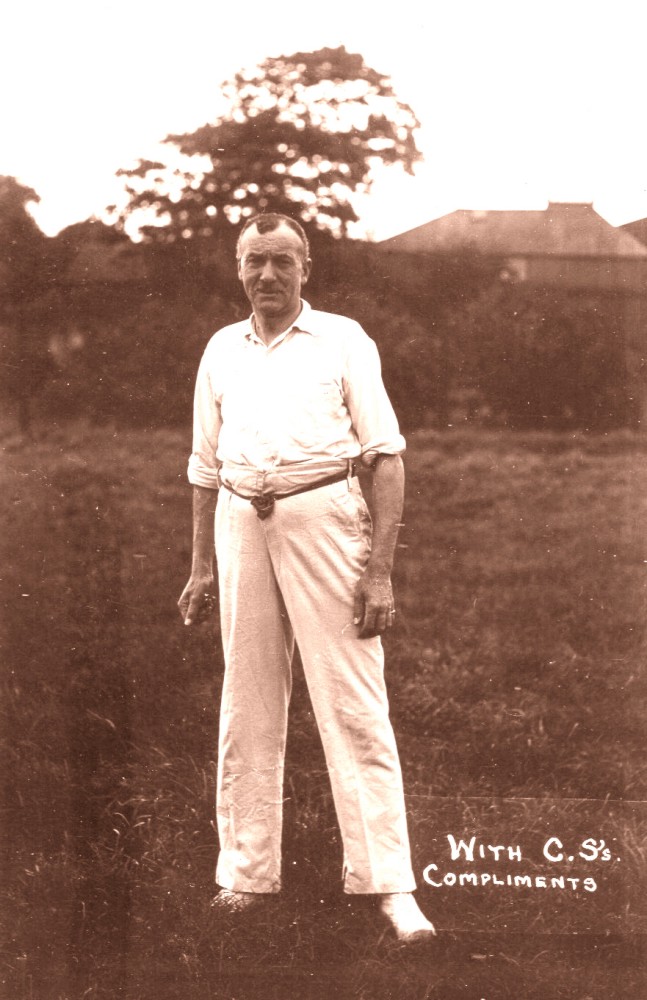 Charles Skipper, 1872 to 1944.
Probably Priestcroft Farm in background.
---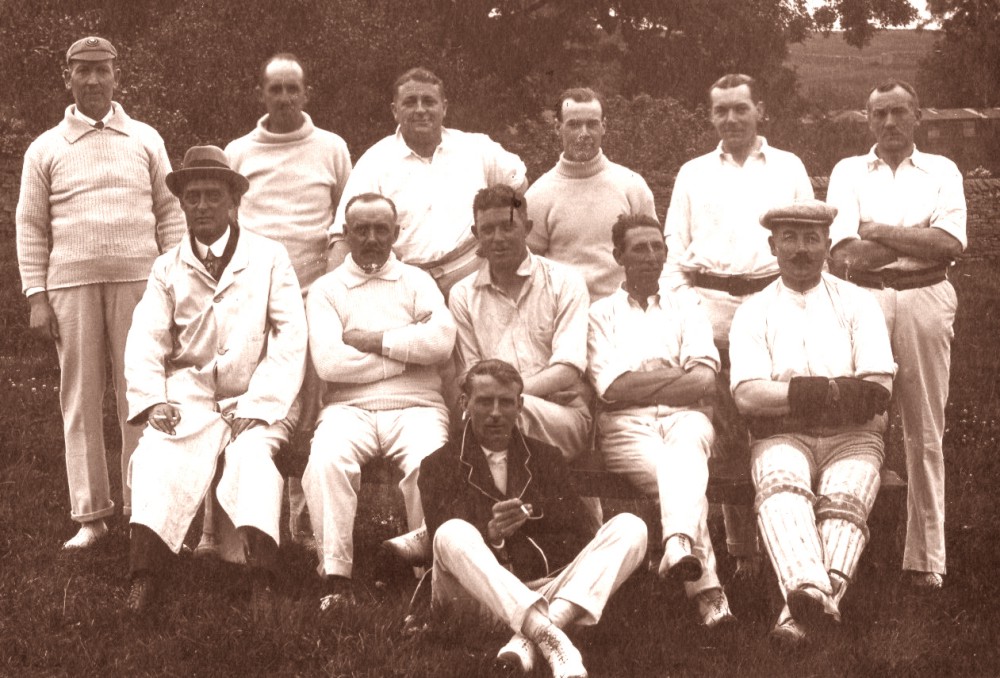 Probably Priestcroft Cricket Team. Only man identified is Charles Skipper, Far Right in the back row.
---
Charles and Hannah Skipper at the Wharton Arms.
---
Charles and Hannah Skipper.
---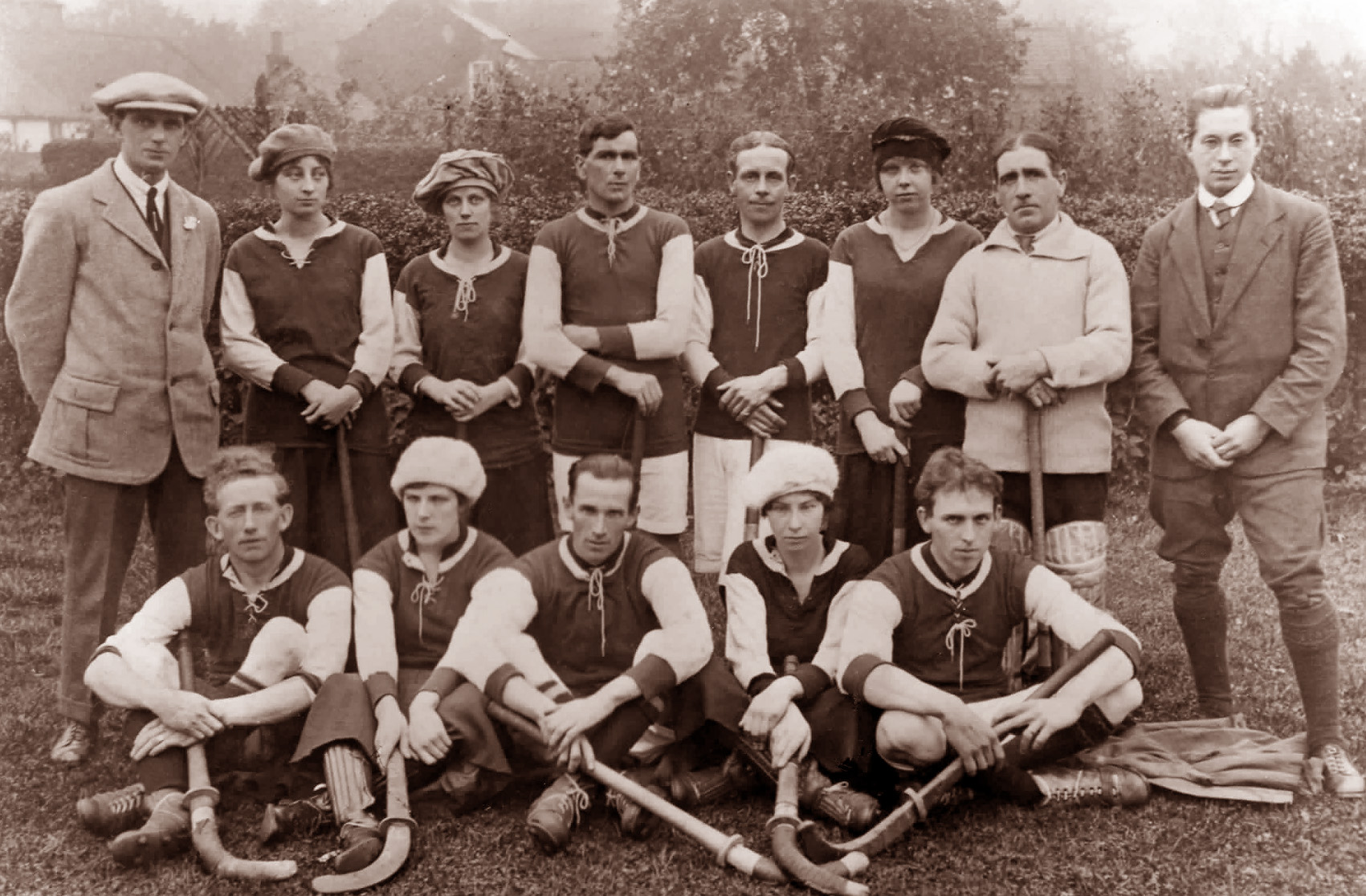 Skelton Castle Hockey Team. Left to Right. Back row:-
--- ? ---, possibly Alice Judson [nee Emmerson], --- ? ---, George Smith [survived gas attack in First War], --- ? ---, Phoebe Skipper, George Smith's future wife, Alf Weatherall [odd job man at Skelton Castle], George Skipper.
Front row:- Stephen Emmerson, --- ? ---, --- ? ---, Edie Todd [Stephen Emmerson's future wife], --- ? ---.
---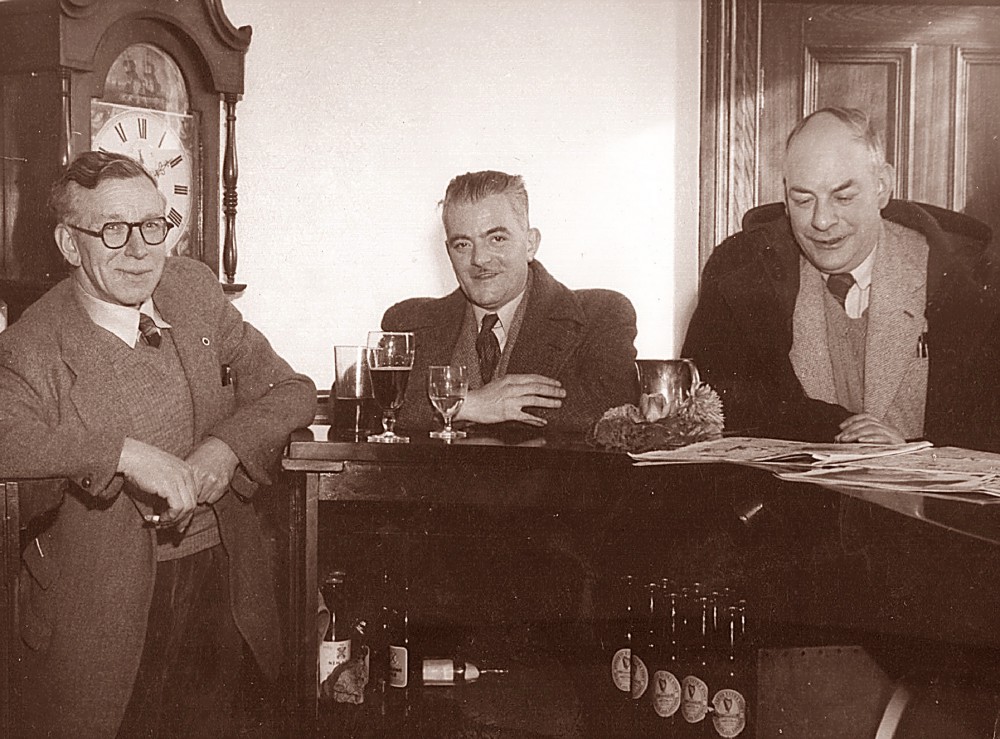 George Skipper, Arthur Ellingham [plumber, New Skelton.], Tom Kingston [Chemist, High St.]
---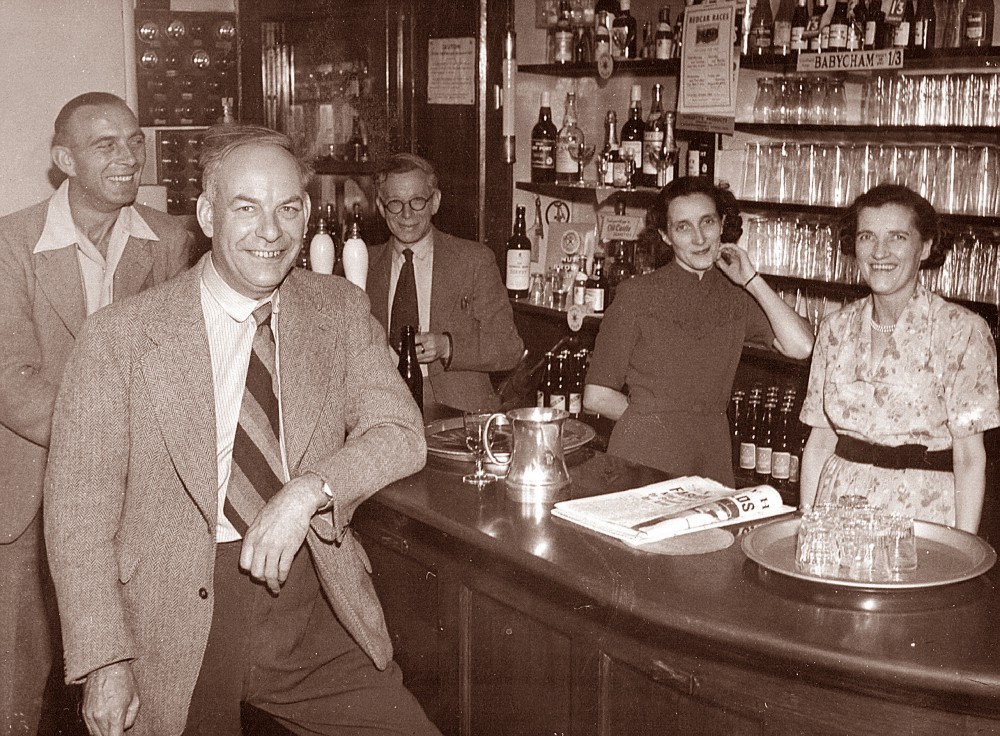 Roland Whittaker (Newsagent, High St.), Tom Kingston (Chemist), George Skipper,
Dorothy Birtwhistle, Rhoda Skipper [Shirley's Mother].
---



James Ruddock [Butcher, Brotton], R.W. Armstrong [haulage business North Skelton], possibly Barker [garage in High St], Clarence Ruddock, Cyril Ridsdale [builder], Roland Whittaker [Newsagent], Bob Young [Butcher], Tommy Evans, Tom Kingston [Chemist] , Arthur Ellingham [Plumber], possibly Frank Harrison [radio/bike shop].

[Owen Rooks, a native of New Skelton, informs me that Arthur Ellingham was the first person in that place to have a Television installed and at one time actually bought a brand new Ford van.]
---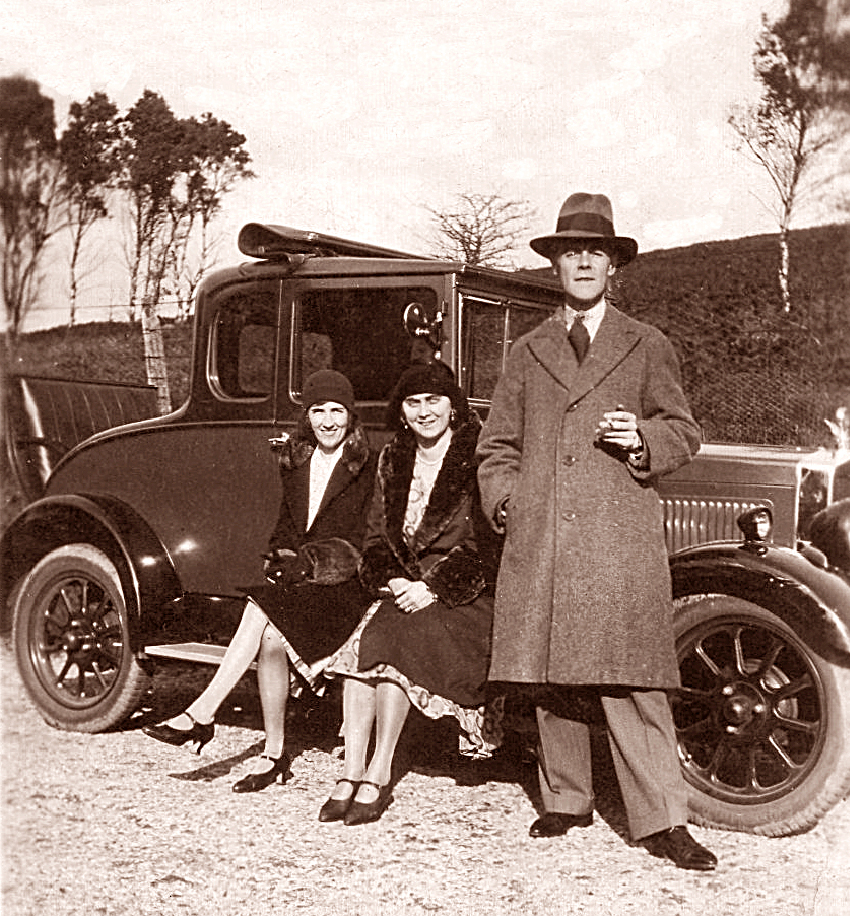 Rhoda Skipper, Annie Davies [nee Dowson]
and Dudley Rees-Davies, [Grocers, 151 High St.]
---
Rhoda & Shirley Skipper dispensing stirrup cups to the local hunt.
---
Foxhunt Meet at the Wharton Arms.
---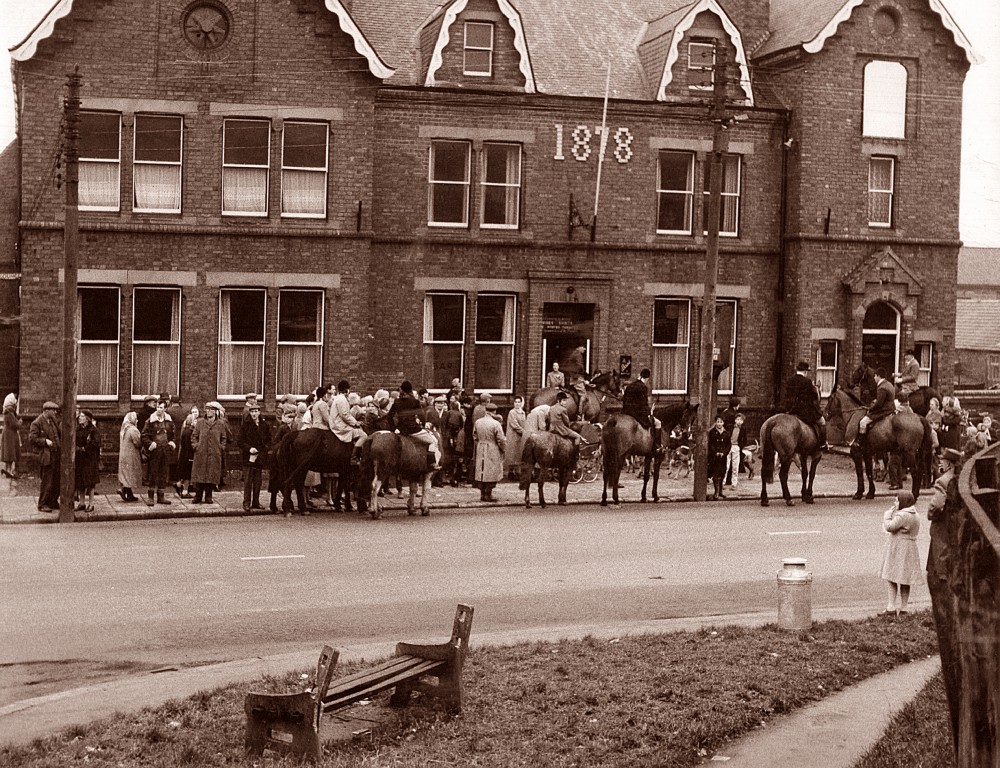 Foxhunt Meet at the Wharton Arms.
---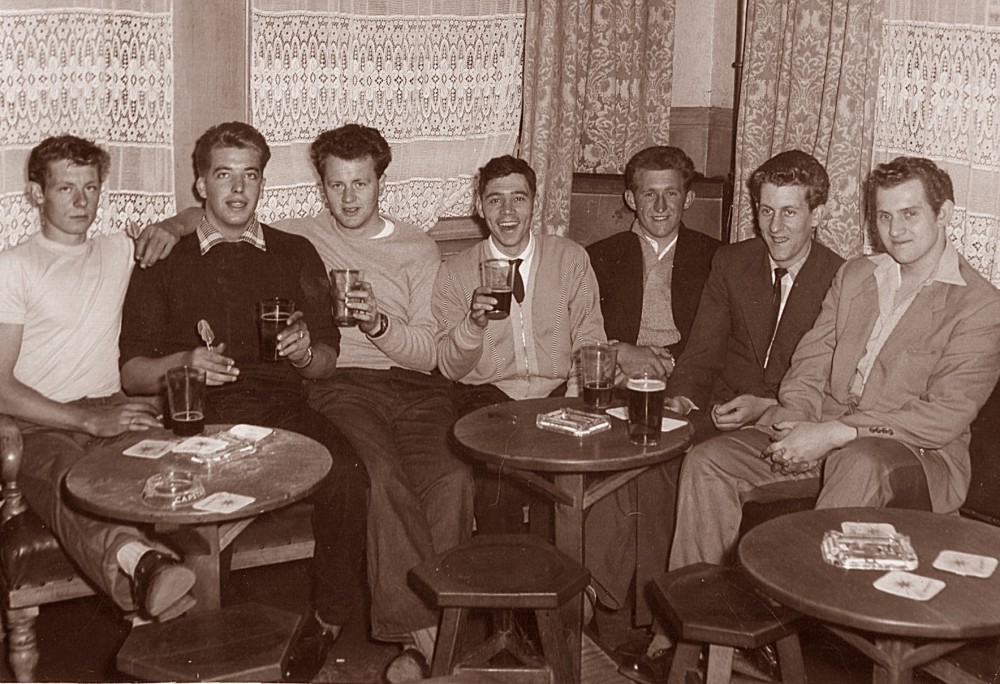 Eric Bennison, Frank Ward, Colin Wunibald, Bill Hamilton, Ian Keeler, Norman Johnson, BarryBloomfield.